Marc by Marc Jacobs
$10
Bargain Find
Thanks to Anya Hindmarch, canvas totes have become this year's "It" bag. At Marc by Marc Jacobs on Bleecker Street, I found a row of small cloth bags, each with a different city logo. I liked the faded green "London" one best. The red double-decker bus and solid blue lettering were fun and young, but the mint green kept the bag from being too loud. Plus, the overly washed canvas gave it a great vintage look. 403 Bleecker St., at W. 11th St.; 212-924-0026.
Whole Foods
$7.99

In an attempt to use fewer plastic bags,
The Strand
$7.95

I wandered into the
Baggu
$8

At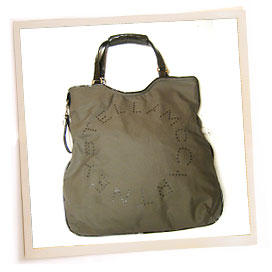 Stella McCartney
$495
Splurge Find
The
45 RPM
$60

I strolled into 45 RPM to look for my favorite faded bandanas when I saw a khaki bag on the wall. Made by hand on site, the tote was crafted from a pair of old chino pants—ideal for recyclers. But the shoulder straps were too short, so the bag rested uncomfortably and awkwardly on my arm, even when it was empty. 17 E. 71st St., nr. Madison Ave.; 212-737-5545.
Built by Wendy
$40

I heard a rumor that
Etsy
$12

At Etsy Labs in Fort Greene, Brooklyn, I found a huge array of tote bags, many made by local artists. This hunter-green bag with a cartoonish image of two kissing birds in a heart-lined circle was cute, but the colors and theme were a bit too "Harajuku Girls meets Hello Kitty" for my taste. 325 Gold St., nr. Flatbush Ave., Fort Greene, Brooklyn; 718-855-7955.