Keds
$60

My friend Zack needed help scoring some high-top sneaks for art school. Our first stop was 99x, where we found an inexpensive pair of plain black canvas Keds with a white rubber sole and white stitching. We'd never seen high-top Keds before—intriguing! But they made Zack's foot look strangely elongated and were too narrow to be comfortable. Still, the store was playing an awesome Pipettes song that I went home and downloaded. 84 E. 10th St., nr. Fourth Ave.; 212-460-8599.
Van Chukkas
$75
Bargain Find
Our next stop was down the block at Dave's Quality Meat. Zack picked out a pair of Vans Chukkas that resembled Wallabees. With brown suede and tan soles, they looked like boots but felt like sneakers. The thick material looked already worn—in a good way. The reasonable price combined with rugged stylishness made this Zack's favorite. 7 E. 3rd St., nr. Bowery; 212-505-7551.
Nike Dunk High
$75

After a freezing walk down Bowery, we popped into Classic. Zack picked out a pair of Nike Dunk Highs in gray and orange. Sadly, the shiny orange leather was way too bright and flashy for Zack's understated style. Perhaps a more subtle combo would have worked, but the only other styles in the store were for women. 298 Elizabeth St., nr. Houston St.; 212-979-9514.
John Varvatos
$110

Next, we went to John Varvatos to look for a jacket that Zack was hoping would be on sale. The jacket was long gone, but I forced him to try on a pair of painted Converse from the Varvatos/Chuck Taylor collaboration. I thought the leather laces were cool, but the paint looked silly—like jeans with premade holes. Why mess with a classic? 122 Spring St., at Greene St.; 212-965-0700.
Spring Courts
$146
Splurge Find
Over at Steven Alan in Tribeca, there was a great selection of Spring Courts, a French brand I found while living in Paris (I still wear my red leather high-tops I bought three years ago). We both instantly loved the tan leather with heavy matching laces and a thick gum sole. Zack said the shoes were really comfortable and warm—a perfect winter sneaker. Plus, they're hard to find in the States, giving them extra cool points. 103 Franklin St., nr. Sixth Ave.; 212-343-0692.
Y-3
$480

Uptown at Barneys New York, the bass-heavy techno was way too loud and the heat was blasting—making us both a little cranky. We found a retro-style pair of silver high-top Adidas from Y-3. We both really liked the matte silver base with shiny metallic details and the Velcro ankle strap. The "Yohji Yamamoto" label on the strap was a little too splashy for me, but it didn't seem to offend Zack's label-conscious sensibility. He did lose interest, however, when he saw the price tag. 660 Madison Ave., nr. 61st St.; 212-826-8900.
Dior Homme
$365

At the Dior Homme boutique—after being pulled away from some bizarre man bangles that I found riveting—we found canvas high-tops that resembled overly stylized Converse. I made Zack try them on, ignoring his cries that they were "so girlie!" He was right: The shoes were definitely wrong for a straight art-school student. They were too futuristic looking, and neither of us could imagine what to pair them with. 17 E. 57th St., nr. Fifth Ave.; 212-421-6009.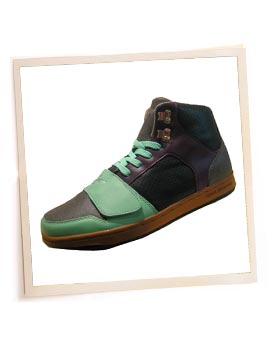 Creative Recreation
$115

For our last stop, I made us trek all the way up to Harlem to check out the consistently reliable Atmos, where the newest sneaker labels are always stocked. We found a brand called Creative Recreation that neither of us had heard of. We were both impressed; the dark leathers looked great with mint-green details and gum soles. But once Zack put them on, the color combo and the green laces were too overwhelming. 203 W. 125th St., nr. Adam Clayton Powell Jr. Blvd.; 212-666-2242.