Gucci
$3,395

My first stop: Gucci, where it was impossible to miss this bright-pink bomber, $3,395. I loved its glam details, like the interior gold chain and chunky gold zippers. And I didn't mind the loud logo-covered lining. But on the whole, it was too ostentatious for my style, despite its beautiful construction. The jacket, muted by only a small amount of chocolate-brown trim, was way too pink—and way too pricey for me. 685 Fifth Ave., at 54th St.; 212-826-2600.
Jenni Kayne
$1,268

Henri Bendel's leather jackets were more suited for my mother than for me. This cheerful Jenni Kayne version for $1,268 was a very prissy take on leather with its centered bow and sunshine-yellow coloring. The color was so bright that I would have needed a quick Mystic Tan to avoid looking pasty. Though I liked the crisp white-and-navy pin-striped lining, the cropped, boxy fit left me completely shapeless. And as an avid iPod listener, I can't wear a jacket that has no pockets. 712 Fifth Ave., nr. 56th St.; 212-247-1100.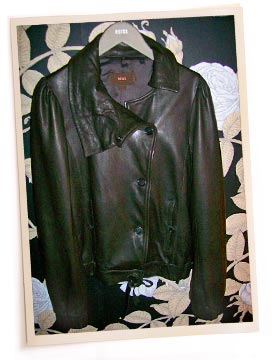 Reiss
$381.50
Bargain Find
I hit Reiss' after-Christmas sale next. After digging through a rack of beaded blouses, dresses, and outerwear, I came across a dark-brown Tambora leather bomber jacket. The asymmetrical buttoning added some curve to my midsection while still maintaining a streamlined silhouette. And with the top button left undone, the jacket had a very polished—but still relaxed—feel. It would have been perfect to wear to a Bushwick house party. Marked down from $545 to $381.50, I nearly forked over half my rent money. 309-313 Bleecker St., nr Grove St.; 212-799-5560.
Rags-a-GoGo
$48

I've scored cheap vintage boots at Rags-a-GoGo in the past. But when I headed back to where the women's clothing hung, I was decidedly underwhelmed. I tried on a fire-engine-red number, priced at an applause-worthy $48. Though the color was fun—reminiscent of Michael Jackson circa Thriller—the shape doomed it. With shoulder pads and puffy sleeves funneling down to a tapered and belted waist, I understood why someone had discarded this embarrassment. 218 14th St., nr Eighth Ave.; 646-486-4011.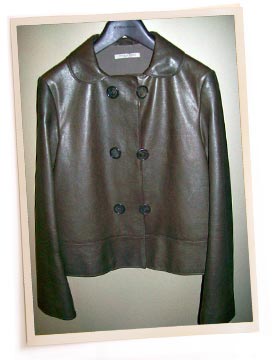 Bottega Veneta
$4,100
Splurge Find
After Rags-a-GoGo, I went to the opposite end of the scale: Bottega Veneta. A European saleswoman followed me up the winding staircase to the women's clothing section. She picked out a "darrrhling" dark-brown double-breasted leather jacket, also available in a longer version. Instantly, I fell in love. The mauve silk lining inside was just as smooth as the leather exterior. This would be perfect to wear to the Arcade Fire concert on Valentine's Day. And offering me a tiny sliver of hope, the saleswoman mentioned that the $4,100 price tag was about to be cut in half! 697 Fifth Ave., nr. 54th St.; 212-371-5511.
Banana Republic
$328

Feeling decidedly more practical, I made a beeline to Banana Republic. Since white is one of my favorite winter colors, I tried this $328 jacket. Miraculously, I pulled the pristine snow-colored leather on without marking it up! But after buttoning up, I didn't like how its shape flared out at the waist, giving me the illusion of wider hips. The large front pockets, buckled collar, and four small holes beneath the underarms for ventilation made this sporty apparel better suited for the slopes than streets. 107 42nd St., nr. Vanderbilt Ave.; 212-490-3127.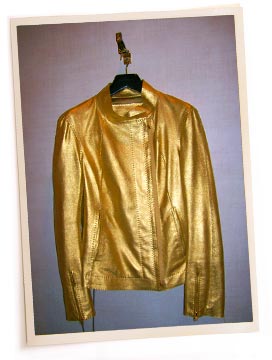 Donna Karan
3,500

It was hard to pick just one jacket from Saks' new spring inventory, but I eventually opted for this gold Donna Karan number ($3,500). The material was so light that I actually had to double-check the tag to see if it was leather. The motorcycle shape was very sharp, especially with zippered sleeves offering optional extra flare at the cuff's end. But while I usually love metallics, this was just too much gold. Plus, I hated the exposed stitching: It looked as though the garment was falling apart at the seams. 611 Fifth Ave., at 50th St.; 212-753-4000.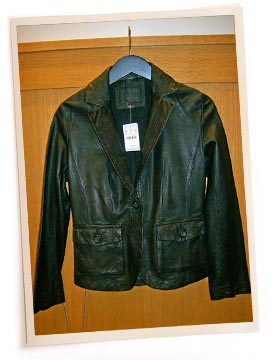 J.Crew
$595

Though I hadn't shopped at J.Crew since college, when I OD'd on peacoats and sundresses, I thought I'd take a gander at their leather goods. I did discover a rack of two-button blazers in green, yellow, brown, and black. The material was incredibly soft and thin, and the fit was flattering, curving in at the midriff. However, the tight sleeves took a little tugging to fit right. In the end, these would have been awesome for my cable-knit-loving friends, but they were too preppy for me. 30 Rockefeller Plz., nr. 50th St.; 212-765-4227.