Alexis Bittar
$300
Splurge Find
Lucite jewelry sparkled down spring runways, so armed with my own plastic (Visa, that is), I started searching at Alexis Bittar. Scanning an entire wall of translucent accessories, I couldn't stop looking at the gold Deco Revival Bangle. The metallic closure made it super easy to put on, and it stayed closed tightly enough to withstand a night of wild and uncoordinated dancing. Of course, $300 is a lot to spend on a plastic bracelet—but this one also had 24-karat gold triangular studs. 465 Broome St., at Greene St.; 212-625-8340.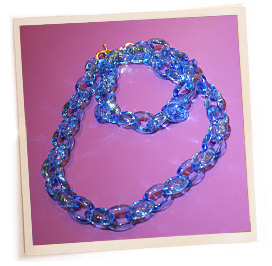 Sequin
$98

Henri Bendel's atrium was overflowing with plastic. There were tons of see-through gems to browse, but my favorite was a blue chain-link necklace by Sequin. (It was also available in pink, yellow, and green.) The chain was so delicate, though, that I feared it was one yank away from breaking. On the plus side, it was long enough to wear as two shorter chains. 712 Fifth Ave., nr. 56th St.; 212-247-1100.
Oscar de la Renta
$1250

Farther north at Oscar de la Renta on the Upper East Side, I found a varied selection from the spring collection. I thought most plastic accessories looked young and cheap, but the assortment here was completely sophisticated and also totally expensive. The Lucite disks on the necklace I loved the most were interspersed with three large white pearls. That made it extremely heavy. After a full day of wear, I'd look like a hunchback. 772 Madison Ave., at 66th St.; 212-288-5810.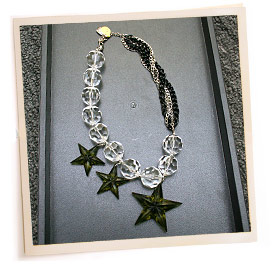 Yochi Designs
$92

After a quick train ride into Williamsburg, I popped into Otte. Pickings were slim, but a necklace by Yochi Designs was amazing. The salesgirl informed me that the item had been specially made for the Japanese market. Reflected in the mirror, the dangling green stars and silver and black chains toughened the rounded, clear baubles. When displayed on its own, I loved the combination. But on my neck, I knew the asymmetry would drive me crazy. 132 N. 5th St., nr. Bedford Ave., Williamsburg, Brooklyn; 212-229-9424.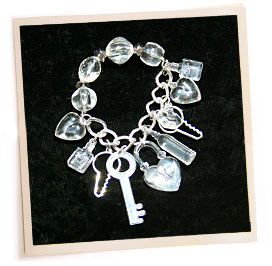 Tatiana Battistuta Rodriguez
$20

The next day, I passed one of the tourist-tempting vendors that flood Soho sidewalks. Tatiana Battistuta Rodriguez had some wonderful Lucite pieces on the cheap. The $20 charm bracelet I tried on looked like something my mother had given me in middle school. Upon closer inspection, I noticed that amid the hearts and keys, one of the charms was actually a Kahlúa bottle. Apart from a White Russian or two during Big Lebowski reruns, I don't care for the liquor, nor would I want to wear it around my wrist. Spring St. at Broadway; 646-731-4368.
Erickson Beamon for Anna Sui
$393

Just a block away, I hit up Anna Sui. Inside the narrow and exceptionally purple store, I was shown one of the accessories from the runway. The clunky necklace had several Lucite pieces hanging on a black chain dusted with a silver polish. A black butterfly, two blue dice, and a purple fairy created an offbeat—yet charming—combination. I could totally rock this necklace, paired with a simple white tank, at the next Panda Bear concert. But I decided I could make a similar one myself from scratch. 113 Greene St., nr. Prince St.; 212-941-8406.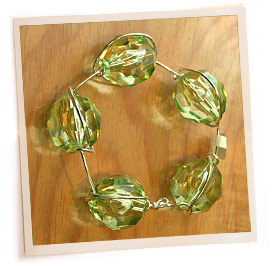 Beads on Fifth
$12
Bargain Find
At Beads on Fifth, I discovered much of the merchandise was for wholesale only. An exception, luckily, was this bracelet, which came with clear or lime-green beads—I opted for the green. I was almost in shock when I saw the price. Sure, the quality wasn't great—I could easily bend the silver band. However, if I would pay this much for a tossed salad at lunch, I felt compelled to fork over the money for a bracelet I would sport all season long. 376 Fifth Ave., at 35th St.; 212-244-6626.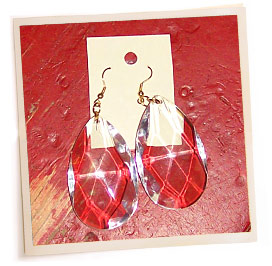 Beacon's Closet
$8.50

Swallowing my hipster-phobia, I tried out Beacon's Closet where I was met with stuffy air and swarms of pouting girls in dowdy dresses and Ray-Bans. Though they aren't secondhand like most of the items in stock, these teardrop earrings would match nearly any outfit while simultaneously accenting a summer tan. And for being so large, they felt pretty lightweight. For just $8.50, they were a cheap way to sample the trend. But I don't have my ears pierced. So they went right back on the shelf. 220 Fifth Ave., nr. President St., Park Slope, Brooklyn; 718-230-1630.