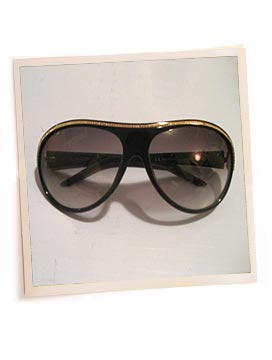 Valentino
$275

Shades should be fun, not serious, so I searched for funky, original shapes. Valentino wasn't the most obvious first stop, but a pair of enormous black glasses with rhinestone trim called out to me from the window. I entered the immaculate boutique and asked an extremely unfriendly saleswoman if I could try them on. She stood frowning and told me that they "drowned" my narrow face. And they did. 747 Madison Ave., nr. 64th St.; 212-772-6969.
Armani Exchange
$58

After shopping at Whole Foods, I braved the shops at the Time Warner Center. I bought some new, revolutionary-sounding mascara at Sephora and then popped into A/X where I found a pair of wraparound plastic aviators in a soft camel color. The shape flattered my face, and the shades sat comfortably on my head, but unfortunately, this particular tan was too similar to my dirty-blonde hair. If only they came in other colors. 10 Columbus Circle, at 58th St.; 212-431-6000.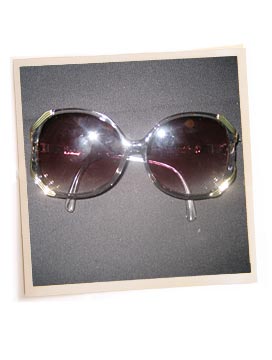 Kiss
$12

On my way home, I walked into the Mini Mini Market on Bedford Avenue in Williamsburg. It always has an awesome assortment of retro sunglasses for reasonable prices. The owner handed me a pair by a brand called Kiss—giant clear-plastic frames with gold detailing on the sides and gray lenses. The large shades looked completely ridiculous on me, and though I wanted humor, I didn't want to look like Mary-Kate Olsen. 218 Bedford Ave., nr. N. 6th St., Williamsburg, Brooklyn; 718-302-9337.
H&M
$6.90
Bargain Find
The next day I headed to the 34th Street H&M (my favorite branch—the accessory selection is huge), where I picked up a large round pair of black sunglasses, with a little detailing on the corners. The width of the glasses suited my long, narrow face, and the black looked surprisingly good against my winter paleness. The small ridges on the sides added a touch of retro flair without being too intense. For under seven bucks, I could afford to leave them in a cab, but they didn't feel so cheap that they would break. I paid for them and wore them right out of the store. 435 Seventh Ave., at 34th St.; 212-643-6955.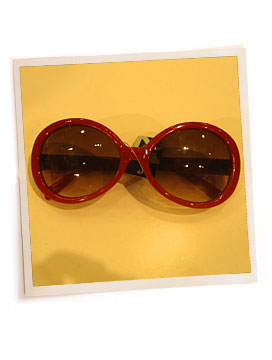 Forever 21
$4.80

Next up: Another favorite store, Forever 21. Amid the 14-year-old girls yelling "cute!" at each other, I found messy piles of sunglasses. Though they cost a whopping $2 less than their H&M counterparts, they all looked and felt very cheap. I tried on a lipstick-red oval pair that could be cool for a day at the beach. But I wouldn't be caught dead in them otherwise. 50 W. 34th St., nr. Sixth Ave.; 212-564-2346.
Selima Optique
$325
Splurge Find
At Selima Optique in Soho, a nice salesman helped me pick out a few styles and colors to play with, but I had already fallen in love with a pair of small plastic aviators. The "Money," as they were called, had thin plastic frames and a squared-off shape that was perfect on my oval face. I gravitated toward the tortoiseshell first but was encouraged to try on a pink pair with brown on the inside—and they looked amazing. 59 Wooster St., nr. Broome St.; 212-343-9490.
A.P.C.
$130

Around the corner at A.P.C (where I embarrassingly tripped on one of the wooden floorboards upon entry), I tried on a hot black dress that I couldn't afford. Just as I was leaving the store, I noticed a pair of black-and-tortoise unisex shades in a classic rectangular style. Unfortunately, they seemed to be for men, and they were way too wide and clunky. 131 Mercer St., nr. Prince St.; 212-966-9685.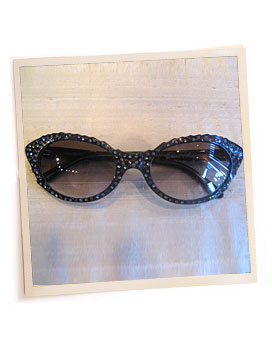 Francis Klein
$699

My last stop, after Sunday brunch, was Oculus 20/20 in Carroll Gardens. I sorted through a bunch of sparkly pairs by designer Francis Klein, who uses rhinestones in her flashy styles. I tried on a pair of dark-gray cat's-eye glasses covered in tiny stones of silver, gold, and pink. Instead of looking fun, however, I was instantly transformed into a crazy-looking fifties secretary. 267 Smith St., nr. Sackett St., Carroll Gardens, Brooklyn; 718-554-6230.