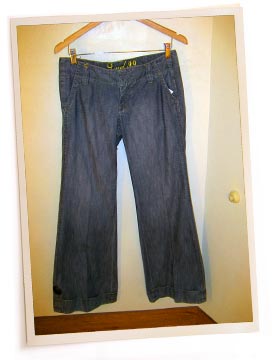 Level 99
$118

I wholeheartedly embraced the skinny-jean trend and was in no hurry to give it up. But after spying seventies-inspired wide-leg denim trickling into stores, I started to warm to a looser silhouette. Wider-leg jeans are more forgiving than tapered pants, so I can easily hide any holiday weight gain. The first pair I spotted: Level 99 wide-legs at Anthropologie ($118). The thin, soft fabric came in just two washes—faded, pale denim and very dark blue. Sadly, the hem fell really short of my ankles, making the jeans look more boxy than flattering. 375 W. Broadway, nr. Broome St.; 212-343-7070.
Paige
$167

I rarely shop on the Upper East Side, but I couldn't resist popping into Scoop, which has the most stylish jeans in the city. I found well-made jeans by Paige ($167), a brand all my friends rock because it fits so many body types. I loved the cool, abstract motif on the back pockets; it was just the right amount of detail. I liked the fit, but the medium-blue color looked out of date. It made the jeans look cheap. And although they were called "full leg," the pants were less wide than flared, a style that I haven't worn since my mall-rat phase in the nineties. 1273 Third Ave., nr. 73rd St.; 212-535-5575.
Hudson
$190

I found these Hudson pants ($190) at Bergdorf Goodman and instantly loved the adorable, three-button detail. The dark-blue wash and crisp fabric were nice, but the pleated waist wasn't flattering—it created a weird stomach bulge. Aside from that, the full cut and high waist made my legs look endless. If paired with some very high heels, these jeans could look better. But I'd never be able to eat dessert while wearing these. 754 Fifth Ave., nr. 58th St.; 212-753-7300.
Gold Sign
$210
Splurge Find
At the Co-op on the eighth floor of Barneys New York, where my favorite Kooks song was playing, I found the Gold Sign "Dietrich" jeans ($210). The denim was soft and thick, and the mid-rise waist was perfect. The best part was the long length, which made the full-leg are very flattering—especially with heels. Inside the waistband was a cute cotton Liberty print fabric, a detail that really won me over. If the holiday season hadn't taken its toll on my checking account, I would surely be wearing these jeans all the time. 660 Madison Ave., nr. 61st St.; 212-826-8900.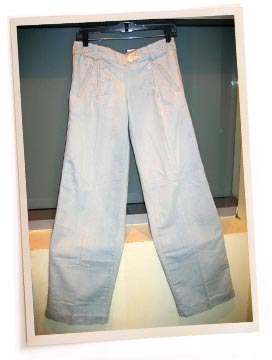 Lux
$58
Bargain Find
The selection at Urban Outfitters was predictably sparse—there was only one style in stock. But it was a good one! The jeans came in two colors, dark blue and very, very pale blue, with a sailor-style button front. The legs were on the short side, making them great for flats or sneakers and the sizes ran a little bit big, which is always a quick way to boost shopping morale. And the extra room in the waist and the leg paired perfectly with a tighter shirt, a fun alternative to the billowing top, tapered leg look I've been attached to recently. I even waited on the endless checkout line because at such a low price ($58, Lux) this pair was a great way to give the trend a test drive. 162 Second Ave., nr. 10th St.; 212-375-1277.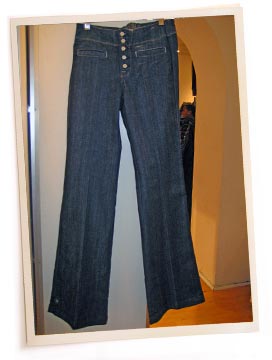 Seven
$209

On a recent visit to my childhood neighborhood, Chelsea, I was surprised to come across Gerry's on a block that has always been a shopping wasteland. The denim selection was impressive for such a small space. With some aid from a very friendly and helpful staff, I found this pair of "Farrah" jeans ($209) by Seven. I immediately liked the exposed buttons and the forgiving elastic triangle on the back of the waistband. The jeans looked nice on—tailored and crisp—but also long and wide. Ultimately, though, the style was just a bit too retro for my taste. 110 Eighth Ave., nr. 16th St.; 212-691-2188.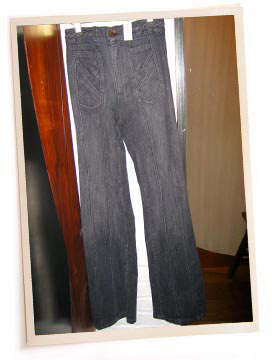 Grey Ant
$316

I had been on a quest for Grey Ant jeans ever since a very stylish friend showed up to dinner sporting them two weeks ago. She tipped me off that Otte carried a few styles, but after striking out at their West Village outpost, I checked the Brooklyn store, which stocked the "High Braid" jean in a faded-gray wash ($316). The combo of the super-high waist and long wide legs was flattering, but the braided detail looked sort of tacky. Sadly, the jeans looked much better on my girlfriend. 132 N. 5th St., at Bedford Ave.., Williamsburg, Brooklyn; 718-302-3007.
Diesel
$240

I've never been a fan of Diesel's jeans. The overabundance of details detracts from the fit and fabric (which aren't great). However, I thought I'd see what their options were. The massive store in midtown was surprisingly quiet, which was a relief, and I did find one pair of extremely wide-leg jeans with a large cuff at the hem ($240). But once on, the exaggerated bell-shaped flare looked clownish. And worse yet, the huge back pockets were covered with colorful striped embroidery, which made the jeans very hard to wear with, well, just about anything. The loud details and the huge cuff reminded me of the rave days I endured through high school—and would like to forget as quickly as possible. 770 Lexington Ave., at 60th St.; 212-308-0055.