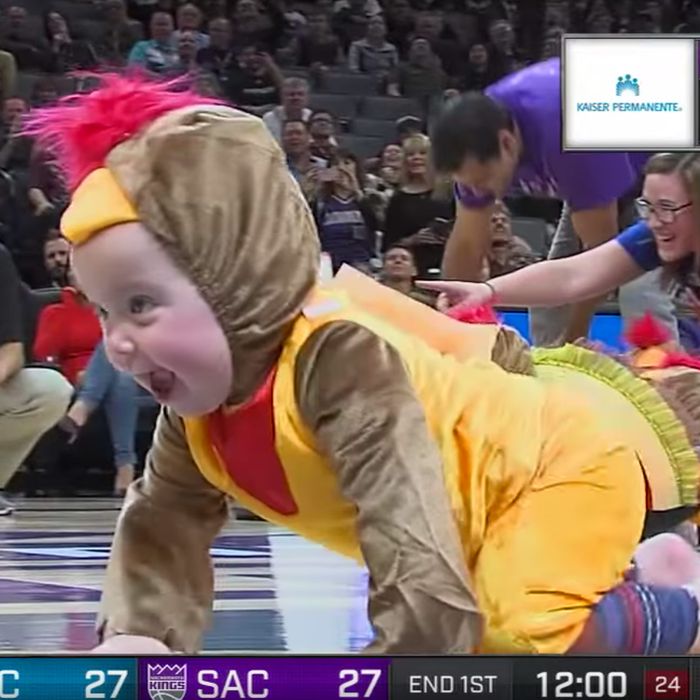 Crawl of the Titans: The Kings are currently looking for the fastest babies in Sacramento to compete for the crown.
Do you live in Sacramento? Do you have access to a baby? Is that baby a fast baby? If you answered yes to all three of those questions, brace yourself, because your life is about to change.
The Sacramento Kings are casting their next Kaiser Permanente Baby Race, which will take place during their home game against the Memphis Grizzlies on December 31. What better way to ring in the New Year than by watching disoriented, tearful infants crawl in utterly random directions on a basketball court?
Aspiring racers' parents are to submit a video of their child to the team by December 23, after which point the miniature athletes will be judged based on two formal criteria: crawling speed (60 percent) and video creativity (40 percent). (Yes, really, and also, how do you get that job? Because we want it.) Ten contestants will be chosen, but only one will emerge the fastest baby in the West.
If you've never watched a baby race in action before, you're in for a treat. It is truly the sport of kings. Thanksgiving 2016's baby race saw all the entrants dressed as turkeys.
Last season, one clever mom lured her baby across the finish line to a glorious victory by scattering a breadcrumb-like trail of organic banana snacks.
And who could forget the time Baby Landon lost his lead when he decided to roll over on his back and take a nap mid-race?
And in back in 2016, a winning baby's mother courted controversy by scooping up her kid before she'd actually reached the finish line. Little Natalie is truly the Lance Armstrong of baby racing.