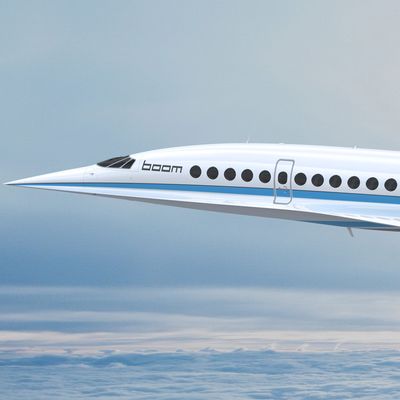 Boom's passenger jet will seat 40–50 and hit speeds of Mach 2.2.
Photo: Courtesy of Boom
Blake Scholl, CEO of the Denver-based aerospace start-up Boom, is putting it out into the universe, The Secret–style: By 2023, we'll have ushered in a brand-new, high-speed Jet Age in which supersonic planes will transport travelers from New York to London in three hours and 15 minutes flat. Or, roughly the time it currently takes to slog from New York to D.C. on Amtrak.
"People are going to start to commute across the Atlantic," says Scholl, a pilot and former Amazon engineer. "The first flight of the day from New York lands in London in time for you to get an afternoon set of meetings done, go out to dinner, and be home to tuck your kids into bed. It gives you a whole day off of a typical itinerary. That's one less night in a hotel."
In the company's hangar in Denver, Scholl recently announced that Boom is partnering with Richard Branson and Virgin Galactic on a slick, 40-to-50-passenger plane that, like the now-defunct Concorde, can fly at the speed of sound — almost three times faster than today's planes — and slice travel times approximately in half. San Francisco to Tokyo, once a grueling, 11-hour transpacific flight, could become a five-and-a-half-hour day trip on Boom. As the company suggests on its website, that means you could leave mid-morning, grab a sushi lunch and be home by midnight. L.A. to Sydney would come down to six hours, 45 minutes from the currently brutal 15, and so on down the line. "It's going to be so awesome," Scholl says.
"We're getting better computers, getting better phones, and yet we're still flying, basically, these 1960s airplane designs," he says. "We've made planes safer. We've made them more efficient. But we haven't made it any easier to get around the planet."
Of course, not everyone is on board with his mission. There were doubters when Scholl and Branson unveiled their plan last month: High-speed flight didn't work for the Concorde, the fuel-guzzler that once upon a time shuttled the one percent from New York to London for around $20,000 a flight. It crashed in 2000 and faded into obsolescence three years later. How would Boom be any different, especially in aviation, an industry in which innovation is both expensive and highly regulated by the government?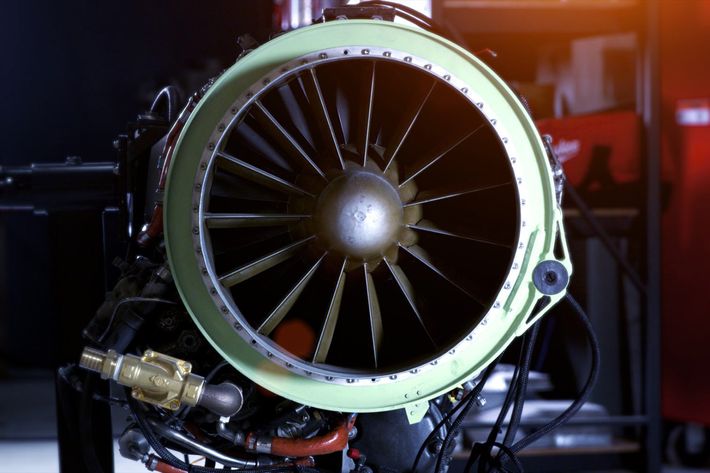 "We have the technology to do a massive speed-up," Scholl says. Digital aerodynamic design makes it easier to update supersonic aircraft, and new carbon-fiber composite materials that can withstand the high temperatures of supersonic flight have only in recent years gained FAA approval.
Others point out that at $5,000 per round-trip ticket, jetting via Boom is a far cry from JetBlue. But Boom flights, which Scholl argues cost about the same as today's business-class tickets, afford passengers the most precious commodity of all. As the company's gooey tagline puts it, "Time saved is life gained." "The even bigger thing is not just saving a couple hours," Scholl said. "But saving entire days of travel, making it possible to go places you otherwise just wouldn't go."
Scholl's father, for example, lives in Hong Kong, an 18-hour flight from Denver. "My children are never going to be close with their grandfather because they only see each other, like, once a year," he says. When you're breaking the sound barrier in-flight, however, distant relatives could become less distant, and far-flung bucket-list vacations much more doable, particularly if prices come down. "Before the Jet Age of the 1950s and '60s, if you were in San Francisco and you wanted to vacation in Hawaii, it'd take you 16 hours to get there," he said. "That's like the Australia of today."
Boom is hardly a lone wolf — aviation giants like Boeing and Lockheed Martin are developing new supersonic jets, and at least two other aerospace start-ups, Aerion in Reno and Spike in Boston, are at work on high-speed business jets. Aerion will cater to wealthy entrepreneurs, corporate flight departments, charters, and government VIPs. "The common factor is a desire to get somewhere fastest and first," Jeff Miller, Aerion's vice-president of marketing and communication, said in an email. "And the willingness to pay a premium for speed."
But Boom is intent on being first in the new era of supersonic flight. "As far as other folks doing this, more power to them," Scholl says. "I don't think there's anything wrong with people flying around in private jets, but we want to build something we can see our friends and family using."
Boom has set a launch date for 2023, with the first test flights scheduled to begin late next year using a scaled-down prototype of the plane that Scholl says will allow for extensive safety testing. "That's going to be a Kitty Hawk moment," he says, convinced he'll be able to prove the viability supersonic commercial travel. "It's not decades-away sci-fi. It's real, and it's coming quickly."