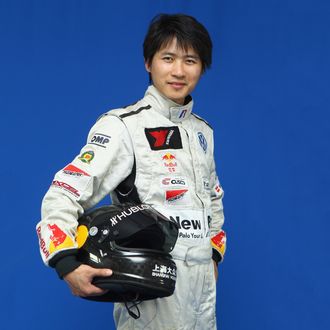 Chinese rally-car driver Han Han was a literary sensation before he was a racing one.
Photo: Robert Cianflone/Getty Images for CTCC
In September, Simon & Schuster published The Problem With Me, a collection of translated essays from author Han Han. Although the moniker may not resonate with Americans outside of academic and Sinophile circles, the 34 year-old is a household name to 1.3 billion Chinese. He has written six novels and eight collections of essays, launched two magazines, become a blogging juggernaut, and has recently delved into filmmaking (his debut as a writer-director, the 2014 road-trip comedy The Continent, grossed over $100 million at the box office). With a deft combination of sarcasm, insight, and sharp social commentary, Han Han has been anointed as the voice of China' s post–Tiananmen Square generation. Yet for all of the fame, money, and accolades, he readily admits that his true passion isn't pen and paper. It's fast cars. And as he's ascended to cultural superstardom, he's simultaneously managed a way to become one of China's top race-car drivers.
Han Han grew up an only child in the suburbs of Shanghai, where he inherited a love of writing from his father Han Renjun, an aspiring novelist who served as an editor at a regional party newspaper. His mother Zhou Qiaorong, a social worker, instilled in him a sense of justice. After taking first place in a sophomore-year essay contest, Han Han dropped out of high school to write a novel about disenchanted and disenfranchised high schoolers. Triple Door, published in 2000, proceeded to sell over two million copies, making it one of the most popular books in China of the past 20 years. A star was born.
The teenager soon began indulging his racing obsession, one he'd developed since watching a Hong Kong–Beijing rally years earlier. With his Triple Door royalties, he spent countless hours zooming around a Shanghai karting track. At 21, he bought and modified a beat-up old Mitsubishi Evolution, and a year later, in 2004, he entered a Beijing rally race. In rallies, drivers compete in souped-up real cars against the clock on closed-off, often unpaved sections of road. Han Han managed to eke out a stage-one victory. The fact that his transmission blew in stage two of the race meant little. "The rally gave me confidence," he says. "I knew if I could win with my terrible car, I could race against anyone."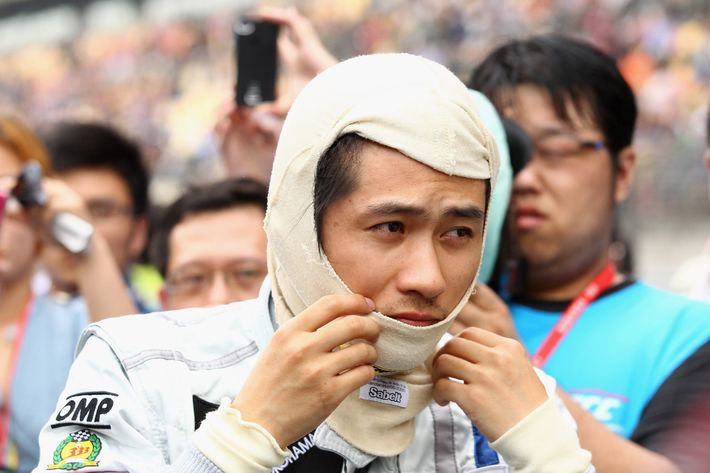 The following year, Han Han made news signing with Shanghai SVW333, China's premier rally and touring car team. Skeptics pooh-poohed the move as a publicity stunt. "People laughed at me," he says. "They thought my racing was a joke." Even besting his teammate, a three-time China Rally champion, in the first SVW333 rally — then winning a China Touring Car Championship race — couldn't quiet the detractors. "After I won my first touring car race, people still didn't say that I was a good driver," Han Han says with a laugh. "They said the CTCC must be a very poor racing series."
Eventually, he out-drove the skepticism. By the end of 2012, Han Han had claimed two titles in both the China Rally Championships ('09, '11) and China Touring Car Championship ('07, '12), becoming the first driver in Chinese history to win in both disciplines. "People really doubted him," says Sun Qiang, Han Han's rally co-driver. "He had to prove himself."
As he gained experience behind the wheel, he was also building a tremendous literary fan base. While his fiction remained popular, his blog, started in 2006, made the biggest impact. "Han Han has a strong social conscience — rare for writers of his age," explains Alice Xin Lu, an editor at Pathlight, a journal of translated Chinese literature. "His blog entries presented arguments not as pedantic rants, but sharp, sometimes scathingly funny stories. And he found unique ways at digging at authority." His delivery system included imaginary Q&As, mock interviews, and heavy doses of sarcasm, uncommon in Chinese prose. Subjects ranged from soccer, auto racing, and Jackie Chan to corrupt politicians, government hypocrisy, injustice, gentrification, and censorship. His blog on Sina.com has attracted more than 600 million visitors, while he's amassed 42-million-plus followers on Weibo, China's version of Twitter.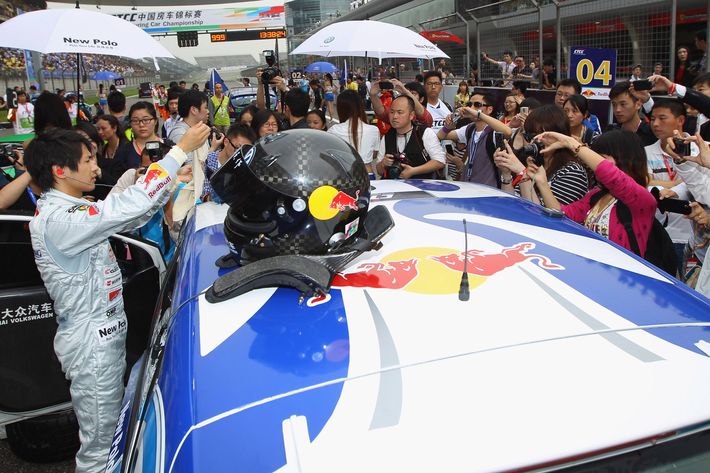 Blowback from the Chinese government was inevitable. In the summer of 2010, Han Han launched the magazine Party, 128 pages of provocative essays, poetry, and art. Within a day, Party leapt to number one on China Amazon and sold more than 1.5 million copies in its first six months. Yet in December of that year, with a million printed copies of Party's second issue ready to hit stands, Han Han's publisher — without warning or explanation — received a phone call that ordered the magazine shut down. "Of course I was sad," says Han Han. "But there was nothing I could do." There were also, according to Han Han, repercussions on the track. Like the race where he was disqualified after FIAC officials claimed the author's car hit 9,000 rpms — when CTCC rules restrict vehicles to 7,000. "I told them the engine would blow up," he says, noting that at the next race he flipped the bird to the same officials. "But the FIAC is like the Chinese government. They're never wrong." Then there was the time when he was the only driver penalized for passing a stopped car — after two other drivers had done the same. And the race in Ordos where officials unjustly stripped him of a victory when a replacement part in his chassis failed inspection.
Although he's been censored often, Han Han hasn't, to date, been arrested. Nor has be been "invited to tea" — the Chinese euphemism for being detained by authorities. Yet that can change in an instant. It's easier to predict Jose Conseco's next tweet than the Chinese government's next move. Guidelines don't exist, and rules don't apply. "Anything can happen at any time," says Peter Heller, a former New Yorker correspondent to China, even with people as popular as Han Han. "I think this is true with issues of human rights and freedom of speech in China. Certainly, some people have more leeway than others, but even somebody like Ai Weiwei — who is very well connected, very public, much more protected than the typical Chinese activist — eventually crossed a line. The lines move."
Whether or not it's a reaction to moving lines, Han Han blogs little these days. Instead, his focus has narrowed to filmmaking and rally racing. He's currently shooting his latest movie, Cheng Feng Po Lang, which tells the story of a son whose father doesn't understand his career in auto racing. And after signing with the Subaru Rally Team China, he continues to compete year-round. It's a demanding schedule with plenty of risks, but not the kind he worries about. "In China, racing is safe," he explains. "We have helmets, hands, and seat belts. It's writing that's dangerous."