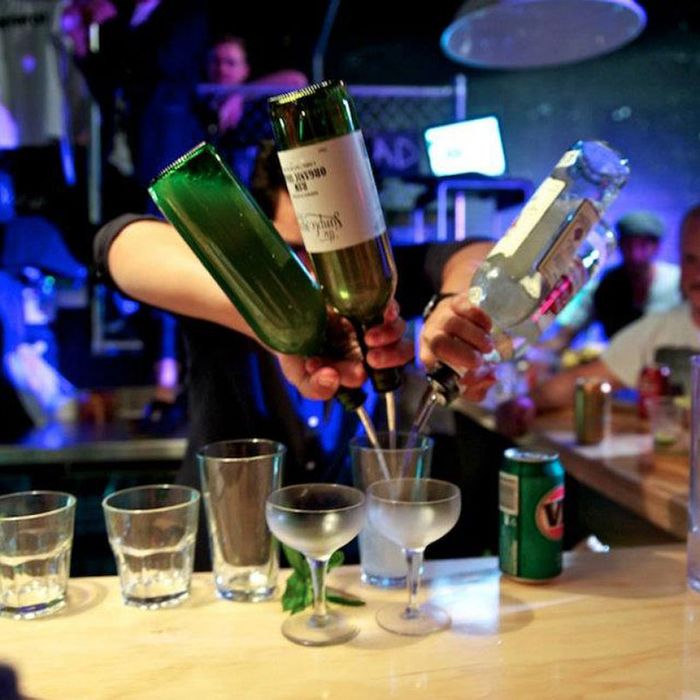 The international speed-bartending competition Rematch Beeyatch literally sets the bar on the fastest tenders in the world.
Photo: Courtesy of Rematch Beeyatch
Grizzled dive bartenders and craft-cocktail artisans don't agree about much when it comes to making drinks, but one thing the whole industry can get behind is the need for speed. Nerves of steel, balletic grace, and reflexive accuracy are a must behind the bar when the clock strikes happy hour. Bartenders might tell you they're Road Runners, but when it comes to official bragging rights, there's only one benchmark that counts: It's a Rematch Beeyatch. The cultish speed-round competition, which has been called "Fight Club for bartenders," was started by barmen Paul Mant and Tim Stones in 2006 and now takes place in multiple cities around the world each year. Entrants in the contest must make ten drinks — a mai tai, a mojito, a Cuba libre, a piña colada, a zombie, a planter's punch, a caipirinha, and two daiquiris before cracking open a beer — as fast as they can while enduring the screams of intoxicated audiences and insults from the MC. Points are deducted for sloppiness or undrinkability. To the quickest time, the spoils.
Longtime Rematch champion Bobby Hiddleston honed his craft at some of the best cocktail bars in the world, including Milk & Honey and The Dead Rabbit in New York. He set the world record in 2012, finishing a round in a blistering one minute and 24 seconds (his official time was one minute, 29 seconds, due to a five-second penalty). You can watch the madness below. His record stood for four years, only falling this September as Dean Callan did it in 1:24, without a penalty.
With holiday-party season upon us, if you're the designated bartender of your home or office, you may find yourself cornered in a kitchen fielding requests for a couple rye Manhattans, an old-fashioned, and a whiskey sour. And do you have any red wine? Hiddleston took a break from his latest project — opening the new cocktail bar Swift in London's Soho — to offer a few tips on how to blast through the orders with the best of them.
1. Learn to free pour
Jiggers — those hourglass-shaped measuring utensils — enable bartenders to create consistent, more precise cocktails (and deprive us of the stiff pour we deserve), and many can use them with flashing speed. But when push comes to shove, "free pouring is faster for certain," says Hiddleston, who employs the technique in Rematch. "It can be done quite accurately." To free pour correctly, you'll need speed pourers or pour spouts in your bottles, which ensure a regular flow of booze. Four seconds equals one ounce.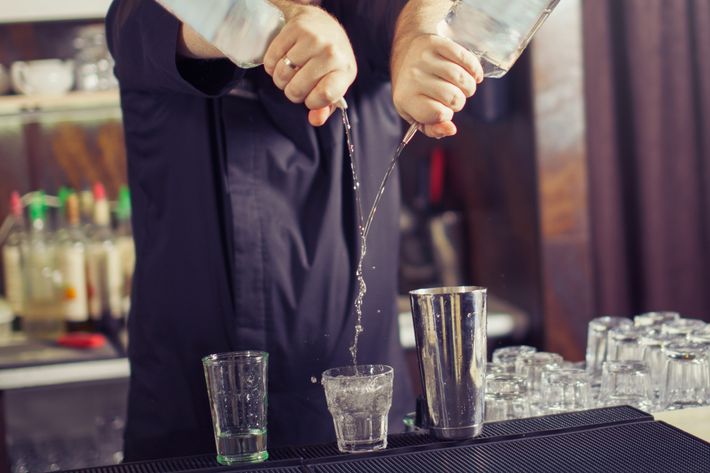 2. Set up mise en place
"Ask any chef," says Hiddleston. "You need to have everything ready. A good system makes everything run so much smoother." For Rematch, Hiddleston memorized the order of glasses he was pouring into and where each bottle stood in his speed rack. "By the time of the event, I wasn't even looking down at what I was picking up." You probably have an intuitive sense of where your chef's knife and salt and pepper are. By applying the same principle to your bar — having a consistent place where your bitters, bottles of booze, and equipment (stirring spoons, shakers, pint glasses) live — you can reach for what you need in a crush without having to think.
3. Use the order of operations
"The 'get-it-done-fast' mentality has been drilled into me since day one," says Hiddleston, who cut his teeth doing high-volume club bartending. But the gig that most aided him at Rematch? Milk & Honey, the proto-typical Lower East Side speakeasy that helped launch the modern cocktail renaissance. "The efficiency there was critical." What Milk & Honey helped pioneer was an order of operations that can be easily applied at home to bang through multiple drinks. The first key is, "touch each bottle once," a principle you can see Hiddleston employing at Rematch. If you're making a Manhattan, a rye old-fashioned, and a boulevardier, pour the rye once for the three drinks, instead of assembling each drink individually. Ditto for citrus, sugar, or any other common ingredient: layer across multiple glasses. The other key is knowing the sequence of types of drinks. For example, says Hiddleston, pour and serve any wine or hot drinks first. Then set up your stirred drinks (Manhattans, martinis, etc), which can sit on ice while you prepare other cocktails. After you make your shaken drinks, finish the stirred drinks, and serve them all at once, with any beers.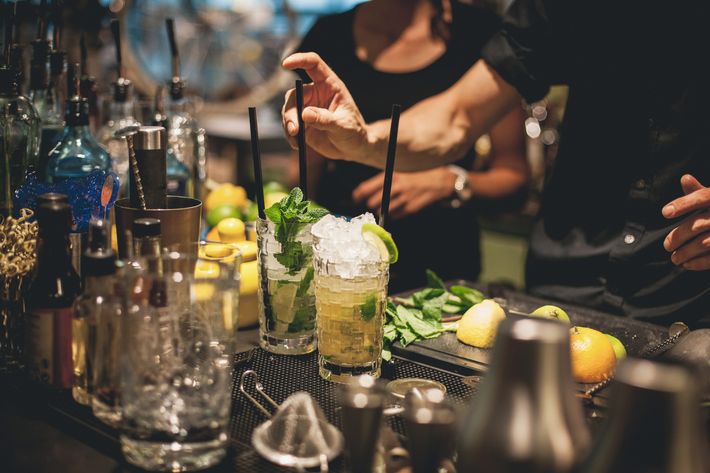 4. Embrace the stress
If you find yourself getting a little hot under the collar while your guests thirstily eye-dart you, don't sweat it: The adrenaline rush can help you move even faster. Hiddleston had more than a little of that juice when he set the record, thanks to a mob audience that was shouting itself hoarse. "My live times are always at least five seconds faster," he says.
5. Serve yourself last
When you're trying to make a lot of drinks at once, you might be tempted to take a shot or down a beer to help oil the gears. But if you're really trying to go as fast as you can, start sipping only once you've gotten all the other orders out. "Everyone else was competing a few drinks deep but I did it stone-cold sober," says Hiddleston. Disagree? He'll see you at Rematch.