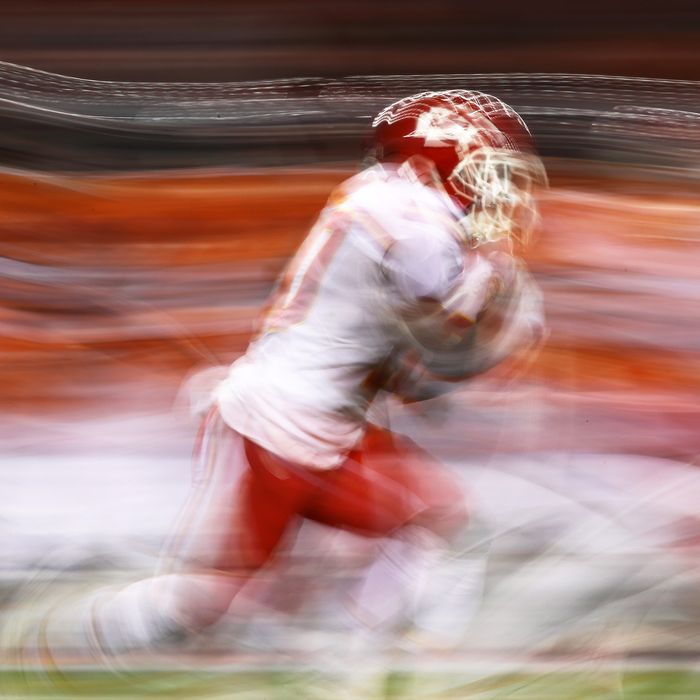 Tyreek Hill of the Kansas City Chiefs outran a pack of dogs as a kid.
Photo: Ezra Shaw/Getty Images
Odell Beckham Jr. may be reaching out to Usain Bolt to set up some off-season speedwork, but Tyreek Hill knows that the greatest possible trainer isn't human.
A native of Pearson, Georgia, the wide receiver for the Kansas City Chiefs recently recounted the moment he discovered just how fast he is, in a scene that sounds both terrifying and like a highlight of his future biopic. Per ESPN:
"I was about 6 years old. My older cousins took me on this dirt road. There [were], like, wild dogs. It was crazy. I was the youngest. My cousins were, like, 12 and I'm the youngest. So the dogs came and I outran everybody. I was scared, though. I was the first one to make it back to the house."
The 22-year-old rookie, whose aptly chosen Twitter handle is @ImFasterThanYa, currently leads the Chiefs in TDs. He's earned the nickname Cheetah for his blazing fast speed on the field: His 86-yard touchdown return against the Broncos on November 27 saw him hit a top speed of 22.77 miles an hour.
Hill also ran track in high school and college, taking gold in the 4x100 relay at the 2012 World Junior Championships in Barcelona.
A fifth-round pick, Hill might have been drafted earlier if not for an utterly horrifying incident of domestic violence against his pregnant girlfriend in 2014, which saw him dismissed from Oklahoma State's football and track teams and sentenced to three years' probation. To what extent you feel comfortable cheering for Hill, fast as he may be — well, that's up to you.