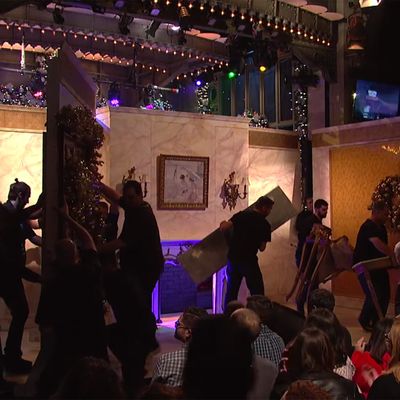 It's objectively amazing that the writing staff and cast of Saturday Night Live script and perform a 90-minute (live!) show every week, but let's take a long-overdue moment to appreciate the crew. This behind-the-scenes clip released by NBC Thursday morning proves that the off-camera spectacle is equally impressive.
The cold open from last week's episode saw Alec Baldwin's President-elect Trump conspiring with his secretary of State nominee Rex Tillerson (John Goodman) and a shirtless Vladimir Putin (Beck Bennett) in the opulently tasteless environs of Trump Tower. But what those of us at home didn't see is what happened immediately after the familiar chorus of "Live from New York, it's Saturday night!" That's where this video picks up.
As the broadcast switches to the opening credits, Baldwin, Bennett, and Goodman dash off-camera. A squadron of more than a dozen crew members, all dressed in black, descend on the stage. They rapidly remove columns, flowers, carpets, and entire walls — including faux doors and fireplaces — as a voice calmly but firmly counts down their remaining time.
"Come on. That big wall's got to go and we'll be all right," he says with about 25 seconds to go.
The house band plays on in the background, and the studio members keep clapping — which seems like a rational response, because, honestly, this is pretty impressive. Two crew members even find a spare moment to fluff the onstage poinsettias before it's time for host Casey Affleck to deliver his monologue.
When SNL returns from its holiday break, can we get an episode-long backstage livestream?