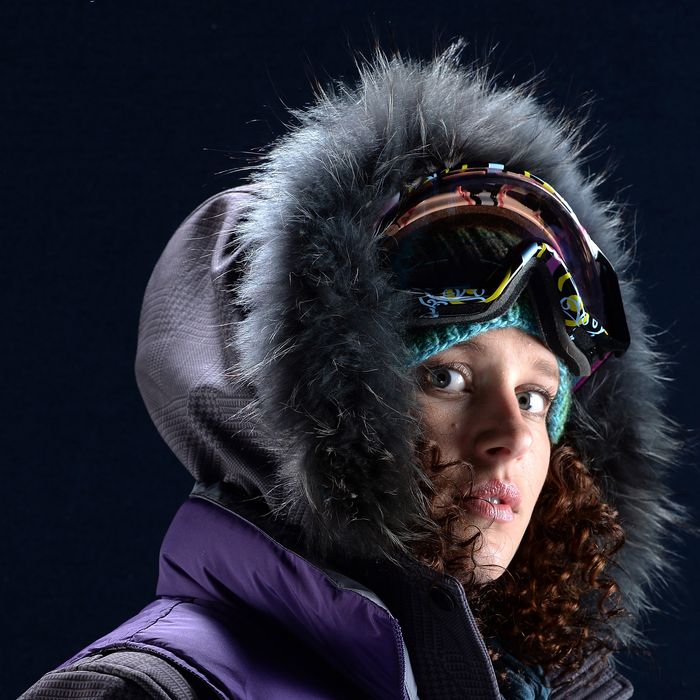 The world's most accomplished boardercross athlete, Lindsey Jacobellis.
Photo: Harry How/Getty Images
Lindsey Jacobellis is the most decorated female X Games athlete of all time. With ten gold medals in the extreme-sports championship, four more in the Snowboarding World Championships (the first in 2005 and most recently in 2015), and 43 World Cup podiums, the Vermont snowboarder is also one of the sport's all-time greatest athletes. Jacobellis's chosen event of boardercross — a high-speed chase down the mountain interrupted by stretches of jumps, moguls, and other challenges — is not only harrowing, it's also one of the most thrilling to watch.
But despite Jacobellis's illustrious résumé, it just may be an ignominious defeat that feeds her boundless ocean of motivation. In her first Olympics, the 2006 games in Torino, Jacobellis blitzed from the starting gate to a huge three-second lead. But just before crossing the finish line, the then-19-year-old Olympian opted to pull a trick. The attempted method-grab on the final stretch was pure hubris (or adrenaline, or youthful exuberance) and she spilled, allowing her pursuer, Switzerland's Tanja Frieden, to overtake her and claim the gold.
It was one of the biggest silver-medal gut punches in Olympic history. Ill-timed crashes and disqualifications marred her successive games in 2010 and 2014, meaning Jacobellis's Olympic career has thus far lacked the burnish of her X Games and World Cup bona fides.
As she enters yet another ruthless training season prepping for the 2018 Olympics in Pyeongchang, South Korea, we sat down with Jacobellis to discuss what got her started in her perilous career, the transformational effect of that 2006 Olympic race, and what exactly goes through her mind as she waits at the top of a mountain to hurl her body down a frozen piste.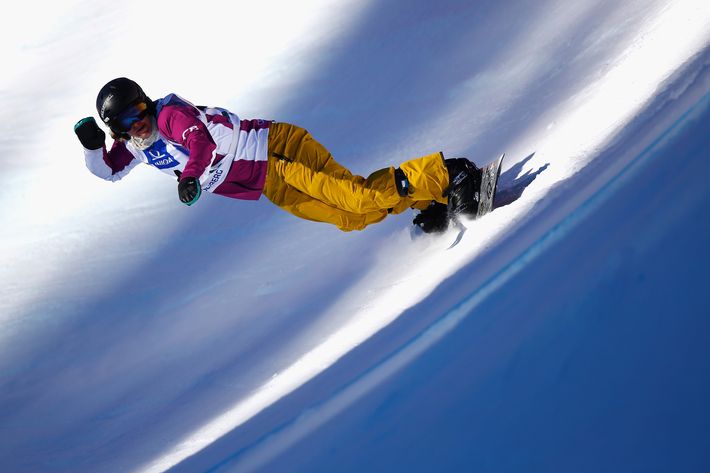 What first got you into boardercross, the speed or the tricks?
It was definitely speed. I was a skier. I was a weekend warrior with my family, always chasing my older brother, my dad, and his friends down the mountain, and if I wanted to ski with them, I had to not be afraid to go fast. And my mom was always like, "You don't have to stay up with them, we could go on other runs." And I was like, "No. I like going fast, I wanna stick with them." And then my brother picked up snowboarding and basically turned everyone in our family, and our friends, into snowboarders. So he set the bug in everyone's brain.
Walk us through the moments before a championship run. What's your emotional state as you prepare for the starting gun?
Well, there's a lot of anxiety that happens when I'm at the top, because I'm not just preparing for a run, I'm preparing for multiple scenarios that could possibly happen in that run. Whether I'm first out of the start gate, what's my plan? Whether I'm second, third, or fourth, what's the plan? We go over the first jump, and I'm in first. Okay, what's the line? Or if I'm going over that jump in fourth, what's my plan of attack? So there's no way of really knowing how things could be coming together, and that's why it becomes very overwhelming.
And then, also I have excitement. I have fear. But I've learned that fear is also important to recognize, and acknowledge. And I have expectations of myself, and there's also adrenaline. So, there are a lot of emotions happening at the top of a course. Usually, when I'm done, I get pretty tired. I don't really party so much after my races anymore, because now that I'm more "seasoned" [laughs] — I like using that word a little bit more — I need all the recovery I can get.
Is your whole body on level 11 at such a heightened state?
Exactly. And that's impossible to always have. When it does come together, there are moments that things have slowed down and I feel like I have all the time in the world to make a decision. And you know how fast the racing is happening, so I can definitely remember certain moments where everything has gotten really slow. And it's an amazing feeling — I feel like I'm operating on such a high level.
Is that what athletes call the zone? When your brain is still functioning at the same speed it normally does, but comparatively the world is moving at a way slower pace?
Yeah, and you get this form of tunnel vision. Nothing outside of this moment can really be affecting you. And I've had great success when those moments have come around. How to replicate that all the time is very challenging. Sometimes it just doesn't happen; sometimes you're just not feeling it in a race. And that's okay. But when it comes together, it's a pretty unique experience.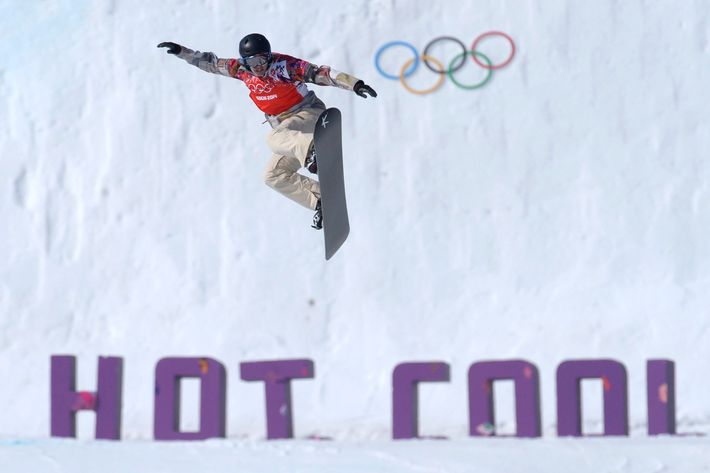 When was the last time you felt that kind of zone-level of focus?
I had that at the X Games and then another time in La Molina, Spain, and then Vésenaz, Switzerland [all victories]. And sometimes it's just avoiding a crash: You'll see someone moving in a way and you're like, "You know what? I have to start reacting now, because this isn't going well for this person right in front of me." Or you see a lot of traffic and people are trying to pass each other, and how you weasel through that to avoid a crash.
Are you aware of the raw speed that you're experiencing at that moment?
Definitely. But also something turns on in me where I get less fearful in the moment I'm doing it. And I'd rather fall trying then back off and be like, "Oh, it's not my day." I want to go for the win. It's how I've always raced. How I do a lot of things in life, really. [Chuckles.]
If there's a rider directly in front of you, how do you negotiate that? What's the difference between being in first place and following in second?
It's just adding another variable you have to read. You're riding and you're reading snow conditions. You're listening to other people around you, and you're looking at somebody around you, so it's constantly scanning and then looking for an opportunity to pass. You're right behind them, so maybe you're going to draft, or maybe you don't trust how this person is riding, so you don't wanna be right behind them. And that just comes with years of racing. There are really no two scenarios that are exactly the same, so it's hard to always learn from mistakes because you can't always get an exact replica of that moment.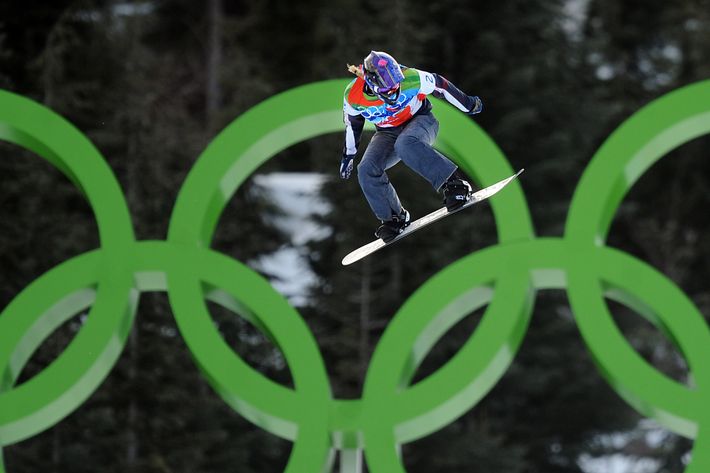 Is your priority at that moment "Pass this person" or "Avoid crashing"?
Well, at that moment I am jumping ahead to other places in that course and know, "Okay, this is a passing point. This is another option for a passing point. What's the speed that I'm carrying right now? Do I wanna try to pass in this section, or could it potentially be hazardous? Or could it just kill both of our speeds, and then someone from the back is passing us?" It's knowing the course. It's knowing the location. Sometimes it's not always the best to be in first, especially in Pyeongchang when we had the test race. No one who was leading won, because the wind was so strong it allowed everyone behind to catch up, and you had this wind fence for everyone else to then just pass you.
And the crazy thing about boardercross — like motocross or BMX — is you're also getting jumps and obstacles thrown in along the way.
I think that's why boardercross is so well-received on TV and as a spectator sport. It has NASCAR, it has motocross, it has roller derby, all kind of mixed together. There are so many wild cards that can happen that make it exciting for people to watch, and that's what makes it exciting to race — there are no guarantees. But when it comes together, it's a pretty amazing thing.
Take us back to that infamous first Olympic race, in Torino. You had it all but won, showboated at the very end, and it cost you the gold. Where are you mentally with those games and that silver medal?
At the time, that moment was shattering. I could not express that because I was put in front of an audience immediately. Interviews on TV and in the papers, in front of panels of all different kinds of people. And I was always taught to be a gracious loser, but that was very, very challenging to me as an individual. But looking back and seeing where I am now, that silver medal has shaped me into the individual that I am today, because I know if I had won the gold back then I would've been done, out of the sport. I did not love the sport as much as I do now, because when you're 19 years old, do you really know what you want to do in life? Do you really know what you love? It was something I was good at, but you have those questions in your mind. Every time I'd be winning, I'd be referencing that. I would win and win and win and win, and I'd look back, and people would say, "Oh my gosh! Congratulations on your win. How does that feel with Torino?" And no one would ever drop it.
As a young person, to always feel like, "I just won and you're bringing this up again," it never was allowing me to heal. And so, it was just over these last couple years, and when I was injured, that I really had time to reflect on the emotional toll that moment had taken on me. And what was the scenario, exactly? Was it an emotional reaction in that present moment that made me want to grab the board? Or was it just something I wanted to do? Who really knows. Some people in the country thought I was being disrespectful or obnoxious, or lifting my nose to the whole Olympic experience. But in actuality, I was just 19 years old and excited. There's so much pressure for kids to be performing at that level and at that age. Maybe that was just me wanting to be a little rebellious in that moment and, for once, not having to do exactly as I was told or expected. That could've been the emotional underline in that scenario.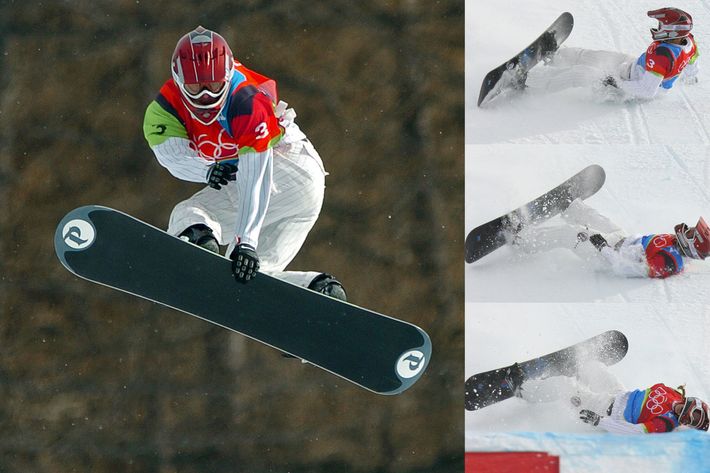 You've won ten X Games golds and four World Championships since. Is the weight finally off your shoulders?
There was that time when I was younger — even into 2014 in Sochi — moments where I had to constantly prove that, "I have to win again, I have to win again!" But I realize now that even if I don't win a gold in the Olympics, I have still won more than any other snowboarder in the history of the World Cup Races. I know the level that I have impacted this sport, and what I want be remembered for is how I raised the level of women's sports, and now I will help develop the next generation of women in this sport.
Even going into 2014, I have a memory: I'm on the chairlift with one of my coaches and I look over to him and I was like, "You know what? I could win today, I have the ability, but I will be okay if I don't." Because there are just so many variables in our sport: We're not on the course alone, there are variables in weather conditions, equipment, and there are only so many things you can control. I really try to focus on the things I can control and be more forgiving toward myself for the things I cannot control.
That moment shaped me as an individual, as a competitor, as an adult. So, who knows why it had to happen, but this is what has come of it.