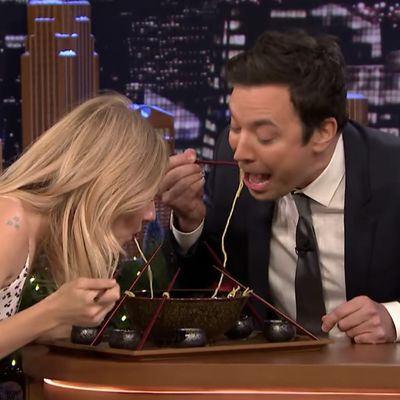 To cram down as many hot dogs as possible as quickly as possible, competitive eaters recommend dipping the buns in water, improving jaw strength by chewing up to six pieces of gum at a time, and even consulting a biofeedback specialist to learn to overcome the gag reflex. But to eat ramen noodles faster, we don't know — get booked on The Tonight Show?
When host Jimmy Fallon isn't too busy rustling the hair of rising demagogues, he routinely invites his celebrity guests to participate in wacky games like Box of Lies and Wheel of Impressions. Last night, actress Sienna Miller joined him for the Ramen Challenge.
The task that awaited them: a race to slurp down three four-foot-long noodles, each followed by a shot of sake. She starts off with a comfortable lead, but the proceedings quickly get messy. Miller, who managed to get some broth (or sake? or both?) in her eyeball, observed, "That was the most inelegant thing I've ever done in my life, and it was on TV."
Then, naturally, Fallon welcomed eight Rockettes to the stage, whereupon he and Miller unsteadily joined their kick line. The real victory is that no one choked.