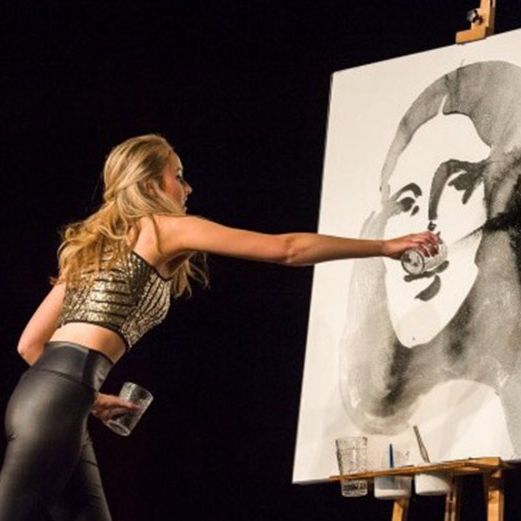 Emma Foss paints the Mona Lisa in 90 seconds at the Miss City of Orange 2016 competition.
Photo: Courtesy of Emma Foss
As far as the live audience could tell, Emma Foss wasn't accomplishing much of anything, but she sure was moving quickly. The 17-year-old Miss California 2014 contestant, a beautiful girl wearing a white jumpsuit and a playful grin, rapidly applied black paint to a black canvas — the paint appears gold on video, thanks to the reflection of a spotlight — only tearing herself from her feverish project and its 90-second time limit to work the crowd and encourage them to clap along to the beat of her electro-swing soundtrack.
With just a few moments to spare, Foss showered her canvas in glitter. As the music transitioned to "Diamonds Are a Girl's Best Friend," the wet paint was newly visible, taking the form of a flawless portrait of Marilyn Monroe. Foss won the talent award that night. The video of her performance is approaching 11,000 views on YouTube, and it's easy to understand why — it's totally riveting.
Emma Foss, now 20, is a studio-art major at Chapman University and the reigning Miss City of Los Angeles. For Miss Tustin 2014, her first pageant, she had considered speaking about her art in a monologue as a talent, but emboldened by speed-painting videos she found online, she decided to give it a try just a few weeks before the competition. And she won.
The talents presented by the 52 contestants of Miss America 2017 could be divided into fairly predictable categories: 21 dancers, 17 vocalists, nine musicians (including one vocalist who also played piano), three baton twirlers, and two monologists. But these days, there's a lot more room for alternate forms of creative expression at the local, state, and even national levels of the pageant program. Miss America 2014, Nina Davuluri, was the first competitor to bring Bollywood dance to the stage. Miss America 2015, Kira Kazantsev, accompanied her own vocals on Pharrell's "Happy" with a red Solo cup. Miss District of Columbia 2013, Allyn Rose, chose "artistic roller skating." Speed painting — pioneered by the likes of performance artist Denny Dent in the '80s, with hardly any prominent female practitioners — is catching on as the next niche pageant talent to make a mainstream splash.
Annika Wooton's first brush with speed art happened unexpectedly, when the future Miss Kingman County 2017 was asked if she'd be interested in painting to accompany her high school's jazz ensemble. She agreed, and without any rehearsals, completed her debut live piece in about eight minutes. She'd competed in teen pageants as a singer, but for the budding young artist, painting felt like a much better fit. "I figured, if I could do it in eight minutes with no practice, then why couldn't I do it in the 90-second time limit for the talent division, with a lot of practice?" Wooton told me.
A senior at the University of Kansas, Wooton has collaborated with the head of the KU shop on unique easels designed with performance in mind. For a speed painting of a soldier, scored to an instrumental track from the Avengers movie, they custom built a three-panel canvas that she painted facing the audience at Miss Kansas 2015, only to slide the pieces down into a complete triptych painting of a soldier offering a salute. For an homage to The Wizard of Oz this year, she designed a five-foot-by-five-foot rotating panel that started out as a tornado before she spun it to reveal that the same image doubled as a portrait of the Emerald City, with the former tornado reborn as the yellow brick road in the foreground — just as a flick of her wrist transformed the white dress she'd been wearing into Dorothy's unmistakable light-blue gingham.
The easel for Wooton's Wizard of Oz painting was so big that it wouldn't fit in her low-ceilinged basement apartment. "I had to set up in our little carport and practice out there, in the Kansas wind, so it was very fitting," she said.
When she was first starting out as a speed painter, Wooton had seen the performance painting team David Garibaldi and His CMYK's on America's Got Talent, but didn't really know how to go about learning herself. Among the potential role models she identified on the internet was Jessica Haas, who was crowned Tennessee's Miss Collierville 2013. "She was super talented," Wooton recalled. "And I was like, 'If she can do it, I can do it.'"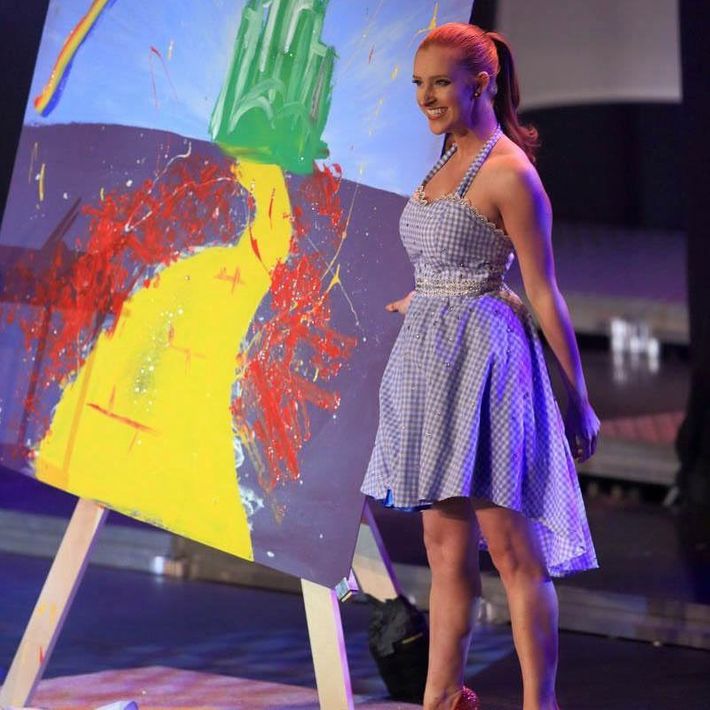 Jessica Haas may only be 26 years old, but she's effectively the mother of the pageant speed-painting movement. She's loved art for as long as she can remember — "ever since I could a hold a crayon," she told me. The professional speed painter won her first-ever pageant (Miss Teen Texarkana Arkansas) as a jazz dancer, but with the support of her pageant directors, resolved to find a way to adapt her passion to fit the competition's 90-second time limit.
Every day after school, Haas would work on her first live piece, a self-portrait in charcoal scored to "Reflection" (yes, from Mulan), with her art teacher Nicole Brisco. Though she didn't have any prior knowledge of speed art, Brisco — as Jessica affectionately calls her — put her student to work in practice sessions Haas likened to The Karate Kid.
"Nicole would start a timer, and I only had, like, eight seconds for an eye," Jessica said. "Eight seconds for the next eye. Five seconds for the nose. Ten seconds for the lips. If I went over, she'd be like, 'Move! Move! Move!'"
"You don't have time to think, you only have time to do," Haas explained. "You have to trust your body, your arms, your mind." And that's no easy feat: "It's almost like breaking a horse. You have to break yourself."
The logistics of speed painting are considerably more complex than most other talents. As a singer, "I could just put a song on in the car and practice it eight times on the way to work," Annika Wooton recalled. Now, to rehearse her live art, Wooton primes her panels with chalkboard paint, then practices her strokes in water. Haas and Emma Foss both use washable paint to encode their motions in muscle memory.
But an outstanding pageant talent isn't just about execution. It's also about entertainment value, which, as Haas sees it, depends on two key factors: "relatability and unpredictability." It took her years of trial and error to realize that the success of a live portrait hinged largely on the audience's ability to recognize its content. No one will appreciate how well you've captured a subject's likeness if they have no idea who your subject is. The same logic inspires Emma Foss to paint celebrities like Audrey Hepburn, Elvis Presley, and Albert Einstein — the kinds of faces "people will undoubtedly recognize," she told me in an email. Foss, too, emphasizes the importance of the "element of surprise," painting upside down or throwing glitter to reveal the final image — much as Wooton builds her canvases with enthralling the audience in mind.
Although Haas is sometimes hesitant to talk pageants with strangers — there's all those negative "Honey Boo Boo" associations to contend with — she's effusive in her praise for the mentoring and scholarships that the Miss America Organization provides. But the Memphis College of Art graduate readily admits that her experience as a pioneering speed painter in the MAO was "very rough."
"I had done a ton of research, and I hadn't really seen anybody with the speed-painting talent in the Miss America Organization, or in any pageant," she said. And because it was so uncommon, the judges simply didn't know how to judge it. Then there was Voy. "If you talk to any girl in the Miss America Organization, they know about Voy," Jessica explained. Pageant directors will tell girls not to read this online forum, but of course, they do. Pageant enthusiasts will discuss contestants by name, debating their strengths and weaknesses. "It's almost like they're betting on racehorses," she said.
Jessica saw her talent lambasted on Voy, with commenters speculating that it was holding her back. By the time she was 21, the criticism had gotten to her. She decided to take a break from speed painting and try singing in a pageant instead. She came in first runner-up, and she was devastated: "It was like I gave up a piece of myself. That paintbrush belonged in my hand." After that, she realized that she'd rather lose and be herself than win as someone else.
Haas returned to speed painting for her next pageant, Miss Tennessee 2013. She was slated to perform amid a "sea of vocalists," well aware that her audience had probably never seen anything like her talent before. And for most of the 90 seconds she was onstage, the portrait she created was upside down, giving the appearance of a decidedly less-than-accessible abstract piece. "Honestly, it probably looked like I was about to embarrass myself," she said.
But then, she flipped the canvas. The audience finally realized the bold choice she'd made, painting a potentially controversial but undeniably familiar subject: Jesus Christ. Relatability? Check. Unpredictability? Check.
"I tell you what, I will never forget the roar. I almost dropped my brushes," Haas recalled. "Women were standing in the aisles with their hands up, like, 'Praise Jesus!' Wow."
She won the talent competition that night, becoming the first speed painter in the history in Miss Tennessee — and, as far as she knows, in the entire Miss America Organization — to do so. (An MAO spokesperson said the organization does not track talent trends and declined to comment for this story.)
Hass remembers that Miss Tennessee was one of a handful of states that webcast their pageant live that year, which has led to what she calls a "mini-movement." Girls and pageant directors across the country started to reach out to Jessica for advice in pursuing speed painting. "My whole experience, I felt like a black sheep. And then all of a sudden, all these calls, all these messages — I could cry. And speed painting has grown tremendously since then." Foss and Wooton both told me they regularly hear from the next generation of pageant speed painters, eager for guidance from those who've been there before.
Competing in 2016, Annika Wooton sees the relative rarity of speed painting as an advantage. "From the get-go, when you're looking at a list of the talents, you're going to see vocal, vocal, vocal, piano, dance, dance, vocal … speed painter. When you're flipping through the program book, it stands out. There's already intrigue," she said.
At the next Miss Kansas competition, to be held in June, Wooton plans on singing, "to change it up a little bit." But should she win that crown, she told me, "they can't stop me from painting at Miss America. I will be taking speed painting to that stage." She'd almost certainly be the first woman in the history of the Miss America competition to achieve that milestone.
For her part, Jessica Haas never imagined she'd build a career out of speed painting after she aged out of the Miss America Organization at 24. "I thought I might perform it here or there," she said. "Maybe on a Sunday morning, because churches really loved it." But that's changed: The day before I spoke to Jessica on the phone, she'd revealed the Greater Nashville Association of Realtors' new logo to its members in a live painting. Not long after that, she brought her speed art to Memphis to celebrate Ikea's grand opening there. She's even speed-painted on TV, for the A&E reality series Country Bucks. (Jessica believes she may have been the first female speed painter in the U.S. to perform on national television.)
"It's always a good idea to be who you are," Haas said.