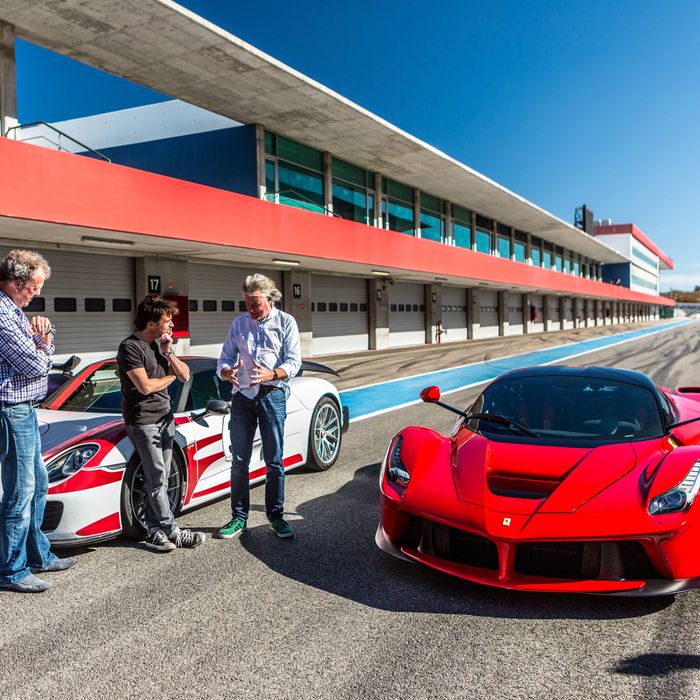 Jeremy Clarkson, Richard Hammond, and James May on Amazon's The Grand Tour.
Photo: Roderick Fountain/Courtesy of Amazon
Top Gear alums Jeremy Clarkson, Richard Hammond, and James May — also (fondly!) known as Jezza, Hamster, and Captain Slow — have earned the dubious distinction of most illegally downloaded program ever for their new Amazon series The Grand Tour.
The show's premiere, released November 18, is the most watched in the history of Amazon Prime. And according to the data analysis firm MUSO, that first episode has also proven to be wildly popular on less savory websites, having been pirated more than 7.9 million times already. Eat their dust, Game of Thrones.
The beloved British car show from which the three men came — which has been recognized by Guinness as the world's most widely watched factual TV program — was stopped in its tracks in March 2015, when Clarkson was fired following what a BBC inquiry described as an "unprovoked physical and verbal attack" on a Top Gear producer. Co-presenters Hammond and May decided to leave with him, and to Amazon they went.
All that lost revenue has got to be painful for the streaming giant. In the words of CEO Jeff Bezos, the show is not expensive, nor even very expensive, but "very, very, very expensive." Rumor has it that Amazon may have paid as much as $250 million for the series. The Grand Tour shoots around the world in 4K, with a dedicated test-driving track and a massive traveling tent with a built-in panorama view. The opening scene — an elaborate desert sequence involving 150 cars and six jets — is said to have cost $3.2 million alone. Those few minutes of TV work out to more than 32,000 annual Amazon Prime subscriptions, at $99 a pop.
Meanwhile, Top Gear's still trucking along on BBC Two, with new presenters like Matt LeBlanc — selected by a Mathematically Random Likable Actor Generator — behind the wheel.