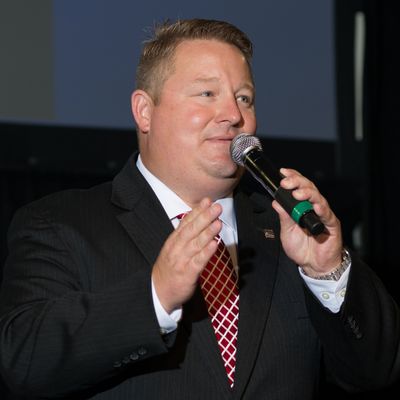 T.J. Freije has all the syllables.
Photo: David Knapp/Courtesy of the National Auctioneers Association
When T.J. Freije steps to the podium to sell an auction item, he's often dressed in a black suit. The sleeves inch up his arm to reveal the cuffs of a white shirtsleeve underneath and the thick band of a silver wristwatch. He holds a microphone in one hand, not in full grasp as a singer might, but by his fingertips, like a clarinetist. He offers a few pleasantries to the crowd and introduces the item for sale. Then he takes a deep breath and launches into the vocal equivalent of a virtuoso banjo solo, tongue-picking syllables with unrelenting cadence. T.J. is the owner of Freije & Freije Auctions & Marketing, but at the moment he's probably best known as the reigning International Auctioneer Champion, arguably the profession's highest honor, awarded by a panel of judges each year at a competition held by the National Auctioneers Association.
At his most rapid fire, Freije (pronounced Free-gee), 39, can sell more than 100 lots an hour at auction. The keys to a good bid chant, he tells us by phone after stepping out of a barber's chair in Clayton, Indiana, are speed, clarity, and rhythm. "And really enunciating and opening your mouth and popping your lips. That will give you the distinction between fill phrases."
Fill phrases are the words auctioneers insert between dollar amounts, and they're particular to each the way a catch phrase is to a sports announcer. Freije's include "dollar bidder," "He's not in up there," and "Do you wanna buy 'em." Other auctioneers use "Will you give?," "Bid to me," and "Put 'em at." In the midst of a live cry, as an in-person auction is known, they are practically incomprehensible to the inexperienced ear. To the professional buyer, they're part of a seasoned conversation between auctioneer and bidder. The hotter the item on the block, the less fill you need. It's the time in between bids that calls for artistry.
Freije specializes in sales of cars, estates, and construction equipment, but on any given day it might be art and antiques, farm equipment, or even living things — cattle, thoroughbred horses, and fish are often sold at auction, too.
But they don't all receive the same tongue-twisting acrobatics. "Each niche is going to have its different cadence," explains John Nicholls, president of the National Auctioneers Association. While livestock auctioneers are among the fastest in the world, art auctioneers often work at a far slower pace. Cars get the classic bid chant for a reason.
More than 400,000 are expected to attend the weeklong Barrett-Jackson collector-car auction next month in Scottsdale, Arizona, where 1,600 cars will be auctioned on stage — many by Freije himself — to the tune of more than $100 million in sales. The event will be broadcast daily on the Velocity and Discovery channels. Supercharged spectacles like these get supercharged auctioneers like Freije — he's part of the draw.
Still, while the auctioneers might attract all the attention, they don't do it alone. At an event like Barrett-Jackson, there can be as many as 35 bid spotters working in tandem. A few will handle bids coming in over the phones and the internet, but the majority will be out on the floor covering sections of as many as 200 people, a dozen of whom might be bidding at once. It's no simple task. Bidders are a notoriously eccentric bunch, and many like to be as discreet as possible. Some wave a number or put their hand in the air, but others merely wink at the auctioneer or ring person. Others stand in the back and nod their heads or sidle up next to the spotter and whisper. The auctioneer keeps a running tally while generating excitement to keep the bids coming in — what Nicholls refers to as "the white-hot of selling."
It's an aspect of the trade that Freije, a third-generation auctioneer, has mastered. (He even won the team competition at the 2014 World Automobile Auctioneers Championship.) His grandfather, a Lebanese-Syrian immigrant, started the family business from his grocery story on U.S.-40, dead-center between Indianapolis and Terre Haute. "He got tired of throwing away the perishable items, so right before the stuff would start going out of date, he'd put them on a grocery cart and he'd hire an auctioneer to sell them," Freije says. Eventually, his grandfather got an auction license of his own, as did his father. When Freije was a kid, Friday nights meant accompanying his father to auctions of horses, tack, used tack, and hay. To this day, his father still sells at the Indiana Public Auto Auction twice a week.
Freije hadn't intended to get into the auctioneering business — he originally wanted to be a teacher and football coach, and he has the build for it — but when he was 19, his father took him to an auction in Indianapolis he'd never attended before. It was there that Freije first saw the late Midwest auctioneering legend Jack Davis selling Ford Motor credits, or off-lease repossessed cars.
"He was selling the fire out of them," Freije recalls. "Moving at a really quick pace, selling one and a half or two cars a minute. His speed, his clarity, his rhythm, he had command up there. It was like a well-oiled machine, he and his ringman working seamlessly together. And those cars never stopped in front of him. They just kept rolling them out and he kept selling them, one after another after another. I thought, 'I want to be able to do that.' That's when I caught the bug."
For years, Freije has kept a notebook to chronicle the evolution of his bid chant, keeping track of the words and phrases that work and the ones that don't. He graduated from a three-year program at the Certified Auctioneers Institute, at Indiana University, where he earned what is essentially a master's degree in the business of auctioneering, but most of the hard work came in practice. "I built my chant slowly into what it is today," he says. "I'm very fortunate to have been around it my whole life."
"One day we'll be selling cars and the next day we might be selling tractors and that weekend we'll be selling teacups and napkins from an estate to little old ladies sitting in the front row," Freije says. "Our family likes to say that we make our entire living with the rise and fall of the gavel."