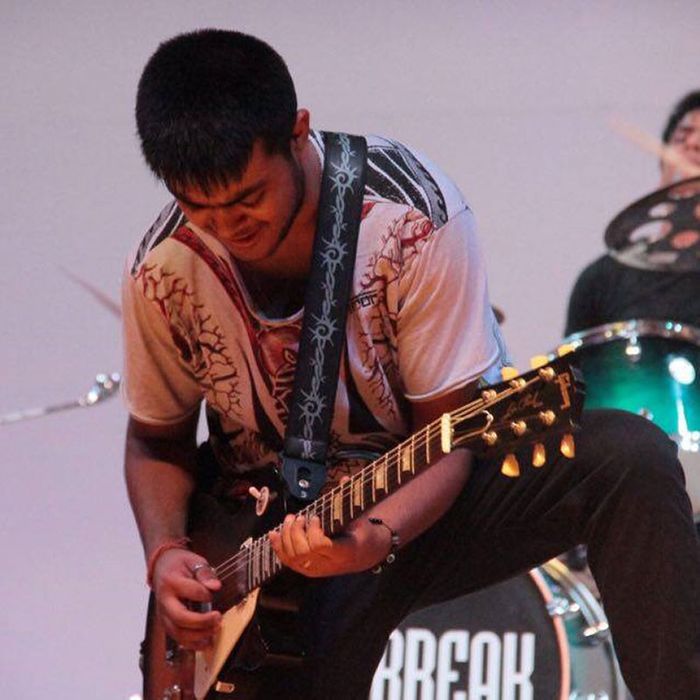 17-year-old guitar prodigy Nirvana Bista.
"I understand why people think it's fake," says Nirvana Bista. "It's unbelievable even for me to watch that video. It just doesn't look real."
The video in question opens with Bista sitting on a small stool, dressed properly in slacks and a tie, with a guitar he jokingly says he's married to cradled in his lap. A metronome clicks, and Bista begins playing "Flight of the Bumblebee," an orchestral interlude written by Nikolai Rimsky-Korsakov, first at a relatively modest 170 beats per minute, then at 300 bpm. His hands start to blur when he plays it again at 500 bpm, then again at 800, and one more time, impossibly, at 1,360. But he isn't done. Here he is, a 16-year-old Nepali teenager, playing "Flight of the Bumblebee" at 1,600 bpm:
The current Guinness World Record holder for fastest guitar playing, Dr. Hot Licks, earned his title playing Bumblebee at 620 bpm. That was in 2012, the same year Bista first picked up a guitar at age 12. After 2012, Guinness froze the section because, according to the Guinness press office, it is "impossible to judge the quality of the renditions, even when slowed down." Guitarists move so quickly through the song, even musical experts can't make a judgement call. So for now, there's nothing Bista can do to officially take the crown. "If they ever reopened it, " he says, "I'd love to give it a shot."
What you see in the video isn't just a result of natural talent, but serious work. Bista practiced for months with five and ten-kilo weights tied around his arms to up his speed. "When I'm looking at the guitar, my brain has coordinated with my hand to make sure I can see it," he says.
When we reached him by phone in Mussoorie, India, where he studies at St. George's College, he was dead tired from playing a late-night show with his band, Channel Daybreak ("I was screaming into the mike, like, 'Whoaa sweet child of mine,' so that's why my voice sounds so scratchy," he explained). Nirvana, now 17, told us about getting bullied as a kid, how he learned to play so fast, and his dreams of attending Berklee College of Music in Boston.
So what made you want to start playing guitar?
It goes way back to when I was a little kid. My cousins used to play rock and roll. I was like, "Shit man, I wanna do that." But I couldn't really do it until I moved from Nepal to go to St. George's College for high school.
I was very much demoralized because of the society. There's this belief that music won't really take you anywhere. I don't like economics, I don't like accounting or commerce. But you have to study those things because you have to get that certificate. You can't really pursue what you want. Ever since I was a kid, I wanted to be a different kid. I was bullied a lot. I had a very different perspective on things. I really wanted to be different.
But my teacher Naveen John told me that he saw something in his eyes. He showed me something on the guitar really quickly, and I guess I picked it up very fast. He was very amazed.
Why are you so attracted to playing fast?
I started listening to a lot of Dream Theater and John Petrucci. At the end of one of the songs he does this tremolo picking, and my first thought was "I gotta beat that." That's what made me want it.
We play prog metal, and people would come up to me and say, "I can't see your fingers," but to me it wasn't fast enough. I love being fast. I love moving my limbs like BRRRRRR. When the house is, like, shouting at the top of their lungs. That feeling is really amazing.
But speed isn't everything. Musicality is more important because it's not about how fast you can go, it's about making something that people feel. I like to play fast, but only if I'm also playing well.
Why did you decide to try to beat the speed record?
My band really encouraged me. I went to YouTube and I'm like, "fast guitar playing." There's one guy playing 999 bpm. And there's another guy playing 1,300 bpm. I was like "Shit. I gotta do this."
So I started covering "Flight of the Bumblebee." I started practicing. The first time I ever played it, the tempo was like a nightmare. I had sore muscles. My hands were like hanging. After I played 170 for the first time, I sat on the bed for like two days.
You're only 17 years old! What do you hope is next?
The United States. That's where I want to go to to become a professional musician. I want to play music over there because I think people over there have more acceptance for the music that I play and my band plays. I would love to play music all my life. I really I hope to go to Berklee College of Music, if I can.
There's been a lot of sweat, a lot of pain in the muscles. There were a thousand moments when I put the guitar aside and said, "This is not my cup of tea." But playing guitar is what pushes me forward. I was never the kind of person who was such an extrovert. I was so introverted that I could barely say hi. Music gave me a home. I've been lucky enough to get this gift.