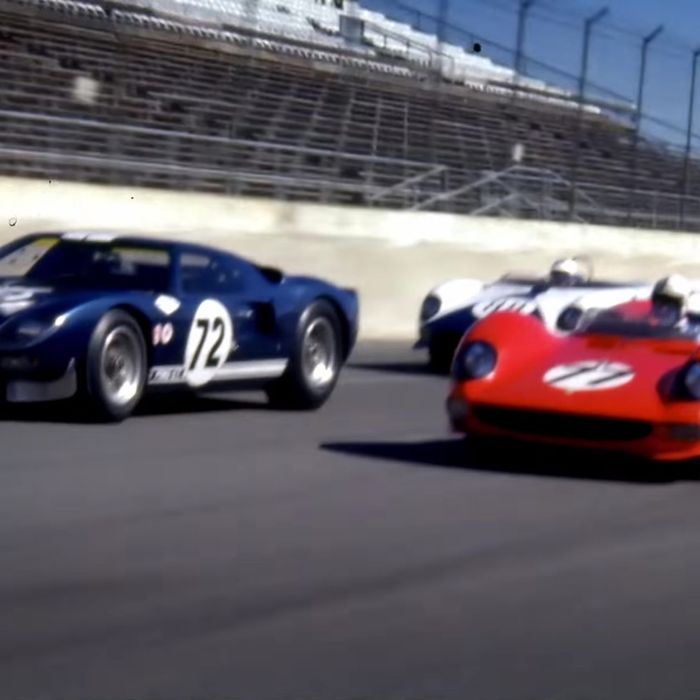 A Ford GT and a Ferrari P face off at Le Mans.
In the '60s, only two teams won the world's most esteemed and preeminent endurance race, the 24 Hours of Le Mans: Ferrari and Ford. The latter emerged victorious after Henry Ford II tried to buy Ferrari, only to have Enzo Ferrari himself turn his nose up at the deal. Ford, incensed at the rejection, vowed to beat Ferrari no matter what the cost. The epic, decade-long battle he waged on the tarmac resulted in the Blue Oval's iconic race steed, the Ford GT, which ultimately toppled the legendary Italian supercar.
It's been 50 years since Ford first bested Ferrari, but The 24 Hour War, a new documentary from Adam Carolla and his producing partner Nate Adams, takes us back for a vivid glimpse inside the duel. Carolla, a proper gearhead and race driver, also teamed up with Adams for the doc, Winning: The Racing Life of Paul Newman.
"What's interesting is how influential their battle was on the contemporary cars of today," Adams told New York. "Both companies had amazing vehicles and have stayed true to the roots of the vehicles from the '60s." You can see the DNA of those original racing icons, he says, in the current Ford Mustang or the Ferrari 488 GTB.
While both Enzo and Henry were obsessed with speed and winning, it consumed Ferrari. "Enzo was never a rich man because he poured every cent right back into racing and developing a faster car," said Adams. "Henry Ford II had something to prove and he proved it, but he didn't come back to Le Mans for 50 years. Enzo raced his heart out until his last breath."
After half a century, Ford returned to Le Mans this year with new GT40s (wearing livery numbers 66, 67, 68, and 69 to honor the winning '60s GTs) and again beat Ferrari for a class win. The fight for the podium was as intense as it was decades earlier, albeit a bit slower this time around. Despite advances in technology to the machines themselves, restrictions and regulations on engine size and specs, as well as the addition of chicanes — artificial turns on the track introduced to slow racers down for safety — mean that top speeds are lower now. "One driver, Sam Posey, told me his Ferrari went 248 miles per hour down the Mulsanne Straight back then," said Adams. "You don't get those speeds today." Indeed, the top speed recorded this year was 213.
They may be running slower, but modern Le Mans cars deliver ever-increasing performance. "While breakdowns were routine in the '60s, today's cars can now drive flat-out for the entire 24 hours," said Adams.
Below, an exclusive clip for the Speed blog from The 24 Hour War. The complete film is now available for purchase on Chassy.com, and to rent on Amazon or iTunes.