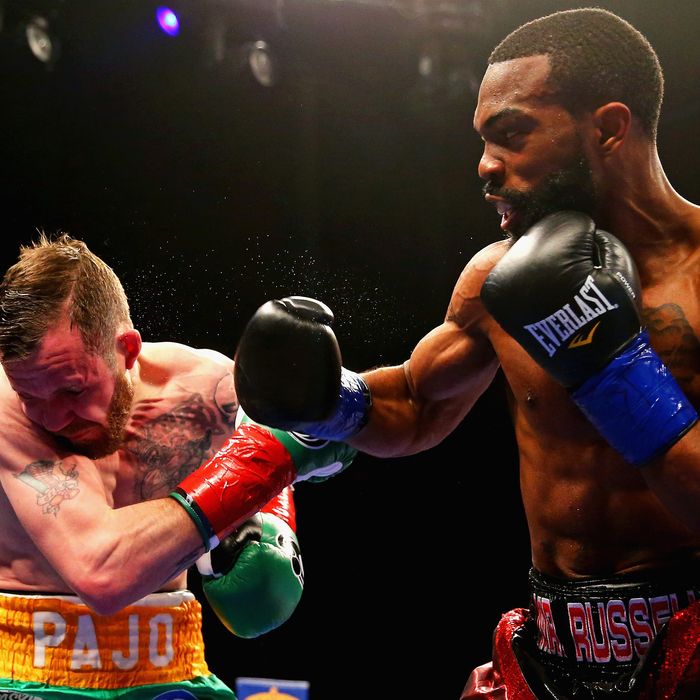 Gary Russell Jr. knocks out Patrick Hyland during the WBC World Featherweight Championship bout, 2016.
Photo: Maddie Meyer/Getty Images
Pro boxer Gary Russell Jr. was 14 years old when he first realized just how fast his hands were. "I was at the Junior Olympics, my first national tournament," says Russell Jr. "I could throw and land five or six punch combinations before opponents could get off one or two shots." In the 14 years since, Russell Jr.'s quick fists helped him win a U.S. Championship and National Golden Gloves title, land a spot on the 2008 U.S. Olympic team, and earn 2011 Prospect of the Year honors from ESPN, Sports Illustrated, and Ring magazine. In March 2015, Russell won his first title, beating Jhonny González for the WBC World Featherweight belt. Poll the sport's top cognoscenti, and they'll all tell you the same thing about the 28-year-old phenom. "He's got the fastest hands in boxing," says Showtime analyst Steve Farhood.
There is, however, a slight problem with Russell Jr.'s moniker — there's no scientific evidence to back it up. In most pro sports, metrics abound. Technology makes it easy to determine, without question, who has the fastest tennis serve on the ATP tour (John Isner, 157 mph), the best 40-yard-dash time in the NFL (Chris Johnson, RB, Arizona Cardinals, 4.24 seconds), or who is the MLB's hardest thrower (Aroldis Chapman, New York Yankees, 105.1 mph). Not so in boxing. The sport's lone statistical entity is CompuBox, a company that employs a computerized scoring system to record the number of punches thrown and the number of punches landed (categorizing each into jabs and power punches). CompuBox founder Steve Canobbio has long wanted to provide viewers with more information, particularly the mph of flying fists, but the technology just wasn't available. "We looked into punch speed as a metric but couldn't find anything to measure it accurately enough," Canobbio explains. "Especially during a fight."
So for the past century, determining the quickest mitts has always been done the old-fashioned way, with what sportswriters call the "eye test," also known as observation. "For those of us in the business it's pretty easy to tell who's fast," Eric Bottjer, a fight organizer for Jay Z's Roc Nation Sports, explains. "I'd say it takes about a round to know if a guy is really fast." In Russell Jr.'s case it's almost immediate. "I've been ringside for several of his fights," USA Today's boxing writer, Mike Coppinger, tells me. "His speed is so blinding that it's almost hard to see the punches connect."
Speed tends to reveal itself early. Russell Jr.'s father, Gary Sr., a former pro boxer, liked to take his 4-year-old son to fights around the Washington, D.C., area. Although Gary Jr. loved to box, he was still too young to formally lace up the gloves. Instead, the small boy would wow the fight fans by showing off his preternatural shadowboxing skills in the ring before the bouts began. Russell Jr. has come to see his hand speed as a God-given ability, but one that must be honed and improved. His workouts consist of resistance training with elastic bands, weight training carefully curated to prevent bulk and maintain flexibility, and sparring with 20-ounce gloves, which make the 8-ounce gloves he wears in fights feel virtually weightless.
And soon, he might just have some definitive proof to back up all the hype. While a couple of fist-speed apps have appeared on the market that require users to throw punches while holding their phone, a company called Hykso could be the potential game changer. They've developed a wearable wrist sensor that includes two three-axis accelerometers and a three-axis gyroscope, allowing the system to measure punch speed, punch count, and striking intensity. The data then shows up in real time on the Hykso mobile app for trainers and fighters to analyze.
At the moment, the only speed metric on the Hykso app is maximum punch velocity (which, for a very fast fighter, reaches into the high 30s in mph). Yet co-founder Tommy Duquette, a former U.S. national-team boxer, says there's more to come. "We're going to add things like punches per second, combination speed, and reaction time, which is especially difficult to measure," promises Duquette. "We're going to have both fighters wearing sensors and they'll be syncronized to the millisecond. When one throws a punch we'll be able to determine how fast the other fighter counters."
Russell Jr. has yet to try out the Hykso technology. In fact, he's never attempted to measure his hand speed in any way. "But I'd love to do it one day," he says. He should do it sooner than later, because as any boxing fan will tell you, hands inevitably slow down. According to the 2015 study "Hand Speed Measurements in Boxing," peak performance is usually achieved between ages 20 and 30. Of course, Russell isn't concerned. "I'm not going to be fighting another three more years," says the featherweight champion. "I plan to go out on top."