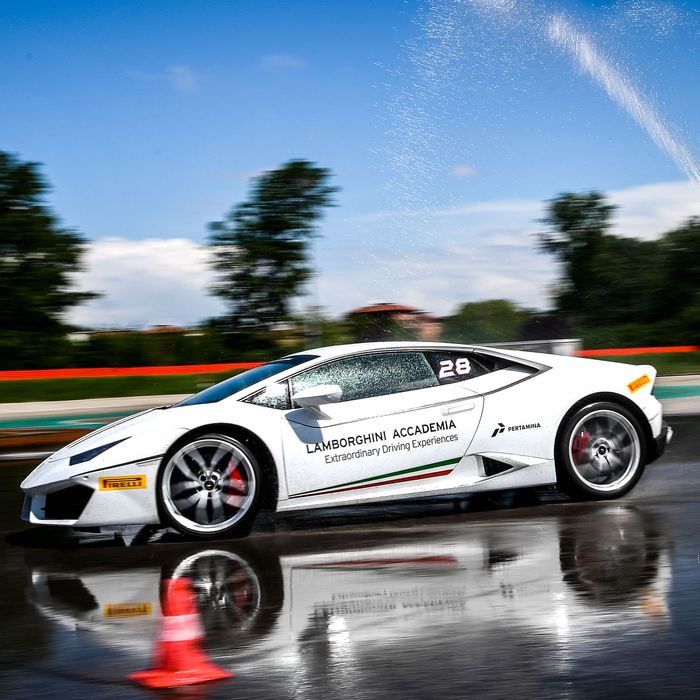 For most of us, learning to drive is something that happened in a beat-up old car lent by a forgiving relative, and crescendoed in a deeply uncomfortable interaction with a DMV employee who had no mercy when a parallel-parking attempt left you an inch too far away from the curb.
For $12,000, you can replace those bad memories with a decidedly more extravagant — and much, much faster — alternative. That's the price tag for that two-day Lamborghini driving academy at the Las Vegas Motor Speedway. And yes, this is an official Lamborghini service. The course, according to the supercar maker, "provides you with the perfect combination of the world's most prestigious and demanding tracks with the entire range of Lamborghini fleet models." And did we mention that insurance is covered?
Bloomberg's Matthew Miller recently gave the brand's "Accademia" experience a try, improbably but sincerely declaring it "quite a good deal." Unsurprisingly, he reported that most of his big-spending fellow students were already Lambo owners.
Should you enroll in the academy, you'll be welcome to take your choice of an alarmingly glamorous stable of supercars, including the not-yet-street-legal $350,000 Super Trofeo Huracán, for unlimited joyrides down the 2.4-mile course. The program also includes face time with Lambo's racing stars, track-specific coaching, and competitive time trials. Accademia is one of the three pillars of the "Lamborghini Squadra Corse," a specialist team dedicated to motorsports, including the Blancpain Super Trofeo series and GT Customer Racing.
Sure, sounds pretty fun, but consider this: If you divert your $12,000 Las Vegas budget to penny slots, you can occupy yourself — assuming an average rate of 600 spins an hour — for about three months. Your call.