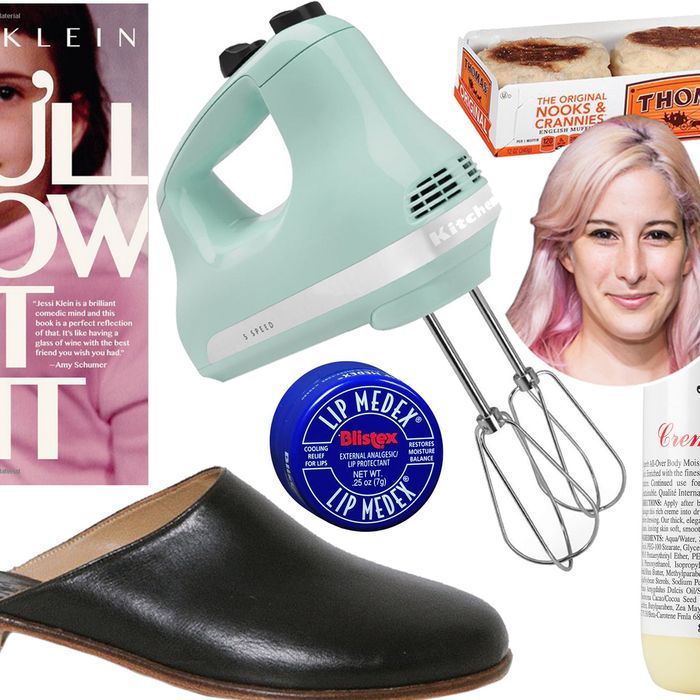 The fashion designer makes sandwiches with English muffins.
If you're like us, you've probably wondered what famous people add to their carts. Not the JAR brooch or the Louis XV chair, but the ground coffee and the noise machine. We asked fashion designer Rachel Antonoff which items she can't live without.
Photo: Courtesy of Vendor
The No. 1 thing for me is Blistex Lip Medex. If I had to choose between going away for a weekend without that or a phone, I would have to choose no phone. I have multiple ones of them everywhere — two in the office, and when I had a car, some in the car. When I started dating my boyfriend two years ago, he actually sent me a box of 200 of them, and they're gone now. It gives my lips that little tingle, and it's just the best. It's all about the tingle.
Photo: Courtesy of Vendor
I'm obsessed with my mint-green KitchenAid hand mixer because I have recently become really interested in baking. It's just so handy. To be able to make whipped cream out of basically nothing is astounding. The mother of my ex-boyfriend gave it to me years ago, and I thought it was a hilarious gift. I was like, "I'll never use this." But then I had the pleasure of meeting the chef Dan Churchill, and he taught me how to make a lemon meringue and it was on. I've made numerous lemon meringue pies, a blackberry pie, and a not-totally-edible key lime pie — but it was still well mixed.
I love Thomas's English Muffins. I like plain and raisin — I never get whole wheat. I always toast them. Sometimes I'll make a tuna melt — I do canned tuna, dill, and then sometimes a tomato or avocado with melted white American cheese. Sometimes I'll do peanut butter. Sometimes just butter. Other times butter and jelly. I haven't done a pizza yet.
Photo: Courtesy of Vendor
This is more of a concept, but I always need to have a funny book. It's like a friend. I just finished You'll Grow Out of It by Jessi Klein, and it was just so great. It made me laugh, but also well up a little bit.
Photo: Courtesy of Vendor
Kiehl's Creme de Corps, the classic moisturizer, the yellow one. I hate things that are perfumed, and it's just the right amount of thickness. I have a big one at home, and then a little one that I take with me on planes to slather on my feet in front of horrified passengers.