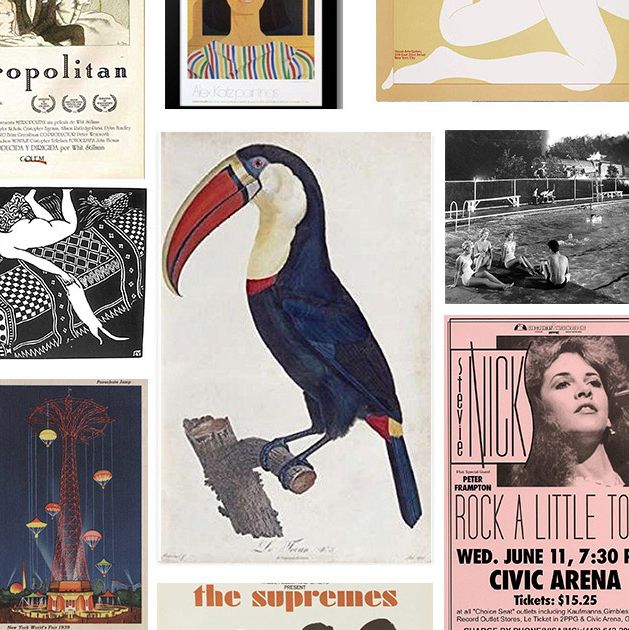 There are a lot of gems on Amazon if you know where to look.
Photo: courtesy of the retailer
It's not always clear what Amazon carries when it comes to the things-to-hang-on-your-wall department. (There's a lot of stuff like this.) But if you know what to search for and where to look, there are actually some fabulous posters and prints — 26 of which we've gathered below.
Photographer O. Winston Link spent a good part of the late 1950s traveling through small southern towns, documenting the steam engine's last hurrah and the major role it played in people's lives. This image is of a group of friends hanging out by a swimming pool as a train zooms by, and it feels so '50s.
The Supremes at Lincoln Center, courtesy of famed illustrator Joe Eula.
Foreign versions of American movie posters are always fun. Auntie Mame, the classic Rosalind Russell movie-musical, gets the French-poster treatment here.
Malditos. Burgueses. Enamorados. A Spanish poster for the cult Whit Stillman film.
Designed by Anna Huskowska, this Polish Dumbo poster would be perfect for a kid's bedroom.
A less traumatic coming-of-age tale.
The autographs aren't real … but no one has to know.
Some '90s nostalgia for the bedroom (or dorm room).
A very simple phases of the moon print.
Forget a vintage subway map: How about a poster from the movie about the person who designed the subway map? This poster is for Design Is One, the documentary about renowned designer couple Massimo and Lella Vignelli.
A 1979 exhibition poster that (very helpfully) comes framed.
$30 is an excellent price for a framed poster of a painting by Hilma af Klint, the early-20th-century Swedish painter who is the subject of a much-Instagrammed exhibit at the Guggenheim.
From 1896, and currently framed in a Strategist editor's bathroom.
There are few things more elegant than Alexander Calder's Galerie Maeght exhibit posters. This one's from a show of his signature "stabiles."