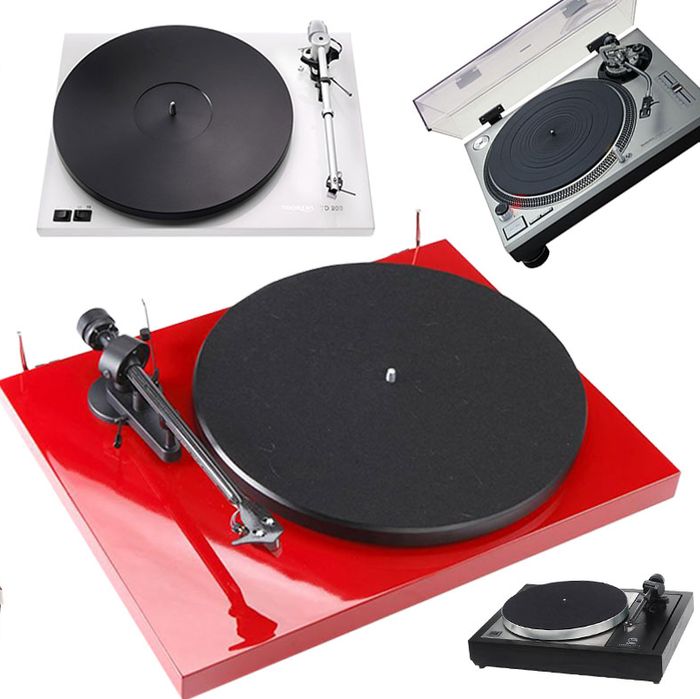 For impressing your audiophile friends.
Photo: Courtesy of the Vendors
There's one universal tip every DJ will tell you when you ask about what to look for when buying your first record player: Don't buy a record player. Turns out what you actually want is a turntable. Because while a record player is self-contained and will play vinyl without any additional audio components, they have notoriously poor sound quality. Instead, a turntable, which is simply the deck that holds a record platter, also requires a separate mixer (like Thorens's MM 008) and speakers (try Audioengine's A2+) to translate the vibrations of the needle into audible tunes, but the result is the purest-sounding analog home audio system money can buy. Here, Yale Evelev, along with DJs Mia Moretti and Scribe, recommend the best turntables in every price range.
Photo: Courtesy of the Vendor
Both Evelev, who founded Luaka Bop with David Byrne, and DJ Scribe, who's been organizing the all-vinyl party called I Love Vinyl since 2009, agree that the LP 120 is the best sound quality you'll get for your money, each separately comparing it to a more affordable version of the industry standard Technics SL1200 (more on that later). Some of the under-$500 turntables, like this one, come with a mixer (also known as a phono amp), simplifying the process so you only need to connect it to a speaker. The LP 120 also comes with a USB connection, so you can hook this up directly to a laptop and transfer your records to a computer. The only downside is its bulky frame, or as Scribe says, "It's not the sexiest."
Photo: Courtesy of the Vendor
With its seven high-gloss color options, including green and red, and slim look well-suited to a modernist living room, the Debut Carbon is the sexiest and most popular option in the under-$500 price range, according to Evelev and Scribe. Although the $400 version does not come with a built-in preamp, a slightly more expensive option with the same sleek look does.  
Photo: Courtesy of the Vendor
"Technics are the only turntable I would buy or recommend anyone buy," says Mia Moretti, a DJ and collector who likes to help her friends set up their home audio systems. DJ Cassidy, who was notorious for carrying ten crates of records to every party he played, agrees: "It is simply the standard. I don't think there's ever been a piece of musical equipment that's endured in the same way for, like, 38 years." (Note: Even though the Technics were originally used in clubs, they look just as cool in your home.) Turntables in this price range and above don't come with built-in preamps, because the ideal turntable system has separate components to avoid extra vibrations that might distort the sound of the music. (In other words, the simpler and heavier the turntable itself, the steadier it is and the purer the sound.) The Technics SL1200 weighs about 25 pounds and is nearly indestructible, so even though they've been discontinued since 2009, many are available used and in good working condition. Or you can wait until a new version of the SL1200, the SL1200G — which is twice as heavy and costs $4,000 — hits stores this summer. 
Photo: Courtesy of the Vendor
The Debut Carbon's design was actually based off of the Rega 1, but this newest Rega is even thinner and sleeker than both of those. Evelev calls it a "fashion statement." And while he eventually wore out his Pro-Ject Carbon, this one is still going, helping justify the price tag.
Unfortunately this model has since been discontinued, but the Rega Planar 2 and Rega Planar 3 Turntables have similar specs at a similar prices.
Photo: Courtesy of the Vendor
According to Evelev, the Loft and Paradise Garage, two sound-obsessed New York City clubs that helped bring dance music to the masses in the '70s and '80s, used Thorens equipment. Evelev calls the Thorens 124, which sits on a tall wooden box that's more suited for a credenza than a DJ booth, "the pinnacle of vintage turntables." While the 124 is only for sale from turntable restorers for about $2,500, DJ Scribe recommends the beginner model TD-203, which is available new and also favored by Cassy, an Austria-raised DJ who often plays vinyl-only sets, because of the German brand's history: It's been making high-fidelity audio equipment since 1883.
The Strategist is a new site designed to surface the most useful, expert recommendations for things to buy across the vast e-commerce landscape. Some of our latest conquests include the best umbrellas, steak knives, rolling luggage, bandannas, and yoga mats. Note that all prices are subject to change.
If you buy something through our links, New York may earn an affiliate commission.