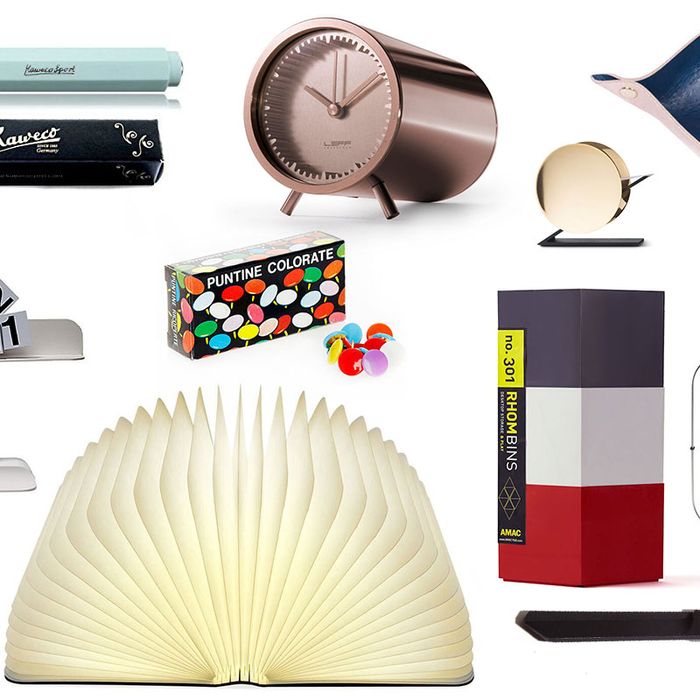 You don't have to be a student to get excited about school supplies. And now that you're older and wiser, you and your desk don't have to settle for the Mead notebooks and Bic pens of your youth. Here, a roundup of some of the most impeccably made German pencil sharpeners, Belgian stationery sets, Italian pushpins, and Dutch desk clocks the internet has to offer.
Handmade in Texas, this leather tray will make your random office junk — spare paperclips, your key card, a tangle of receipts — look a lot less junky.
Note: Unfortunately this is sold out, but these catch-all trays from Good Thing are incredibly beautiful and useful.
A paper filer that isn't hideous.
Note: This file holder is sold out, but here is another option that is simple and not horrible.
Add some mood lighting (and a bit of bookish charm) to your workspace. Designed by San Francisco architect Max Gunawan, the Lumio can sit flat on a desk or be fanned out 360 degrees to hang from the ceiling.
Postalco founders Mike and Yuri Abelson are so committed to traditional Japanese craft that when they started their business back in 2000, they uprooted their life in Brooklyn to move closer to their artisans. Now, 16 years later, they're still creating beautiful goods, like this pressed cotton notebook and top-folding jotter — perfect for any meticulous planner.
The yellow Postalco A5 Jotter is available for $12 at Need Supply.
Apparently, this lovely British-made doodad is stable enough so that tape can be dispensed with one hand; it doubles as a mirror for pre-meeting touch-ups.
These stainless-steel scissors are made by sword artisans in Gifu, Japan — of course.
A pen that'll look great on Instagram, designed by the Germans over at Kaweco, who've been in the pen business since 1883.
For keeping track of smallish papers (receipts, invitations, business cards) and displaying photos.
This perpetual calendar designed by Enzo Mari for Danese Milano is inspired by rail signs with display cards that easily spin around to indicate the date. (An added little bit of fanciness: The dates are in Italian.)
Note: There are only a few of these left, but MoMa has a few interestingly designed perpetual calendars here and here.
First manufactured in the 1920s and still made at the same Paris workshop built by Gustave Eiffel, this desk pad will give your midday scribbles and phone call notes a more handsome look.
Note: The large pad is nearly sold out, but there are smaller sizes here.
Write your thank-you notes like royalty. The company has been supplying the Belgian Royal Family with their handmade styles since 1870.
Note: Sadly, this has sold out in cream but is still available in pink and blue on Amazon.
This copper clock by Dutch designer Piet Hein Eek takes unlikely inspiration from a design tool called an extrusion ring that's used to mold materials.
Note: There are only a few left of the copper tube clock, but here's the stainless steel version and here is another copper clock from Leff Amsterdam.
Among the pencil-world elite, these are the best, no question. John Steinbeck and Stephen Sondheim were apparently fans.