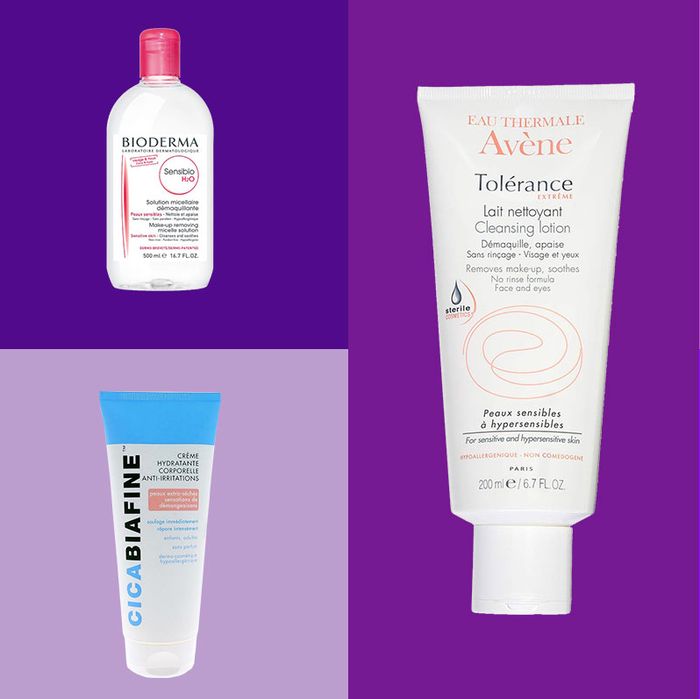 French beauty
Photo: Courtesy of the retailers
Open the medicine cabinet of any beauty-obsessed friend or well-traveled aunt and we bet you'll find some commonly-found-in-French pharmacy beauty products. The benefits of brands like Bioderma, Avène, and Embryolisse have been widely extolled: The ingredient lists tend to be short (just the necessities), the products nonirritating, and the packaging, of course, understatedly handsome. "All the runway models bring empty suitcases to Paris so they can hoard all of the cultish and (relatively) cheap lip ointments and lightweight moisturizers they find in the drugstore aisles," says the Cut's beauty director Kathleen Hou. If a trip to Paris's famed City Pharma drugstore is not in your imminent future, fear not — lots of French pharmacy products are available on Amazon, including a sunburn salve beloved by Inès de la Fressange, and Gwyneth Paltrow's favorite Retin-A cream. To compile a comprehensive list of all the best French pharmacy products you can order comfortably from your couch, we consulted with Hou and two other beauty experts regarding their go-to cleansers, ointments, dry shampoo, and more.
Best French pharmacy cleansers
French pharmacy products are often said to be particularly gentle (and effective) for people with sensitive skin, and this Avène cleansing lotion, which comes recommended by Into the Gloss brand strategist Emily Ferber is no exception. "I recommend Avène everything — they have products for almost every skin type, but particularly excel at making things for highly sensitive or sensitized skin," Ferber says. "I'm on my umpteenth bottle of their Extremely Gentle Cleansing Lotion, which soothes my skin when I'm dry or breaking out."
If you're looking for something a bit stronger to combat breakouts, Ferber recommends the brand's Cleanance Cleansing Gel. "I like to have the Cleanance Cleansing Gel on hand in the summer or any time I want to cleanse the hell out of my skin (after a flight or on nights when I wear a lot of makeup)." she says. "It'll get you really clean — just make sure to moisturize well afterwards, as it's slightly stripping."
Best French pharmacy micellar waters
Micellar water — a kind of cleansing water infused with "micelles" (small balls of oil) — is a gentle product that can be used for everything from cleansing skin to removing eye makeup. "Hands down, this is one of the best makeup removers I have ever tried," says the Cut's beauty director Kathleen Hou. "It works the way you wish water would — it washes away even the thickest layers of makeup, making your skin feel refreshed and free of grime. It also cuts through waterproof makeup and the smokiest of smoky eye shadows." And, she says, there's a Bioderma for everyone — it comes in formulations for sensitive, normal, and oily skin. "The one with the pink cap is the regular version; you'll often spot makeup artists buying it in bulk."
If you want to take your micellar water on the go, beauty consultant Alexis Page recommends these travel-size capsules from La Roche-Posay, which she buys by the boxful when she's in Paris. "The individual packages might not by the most sustainable, but they're great for travel," she says. "You don't have to lug around a whole bottle of makeup remover — and they're very cute."
Best French pharmacy thermal water
As you've probably noticed, the French prefer products that do not treat the skin harshly. This mineral-infused thermal water is one such gentle product, and, according to Hou, the bottle "delivers a mist fine enough to water an orchid." She suggests using it on planes or to calm down any dry or irritated patches of skin. It can also be used to refresh your makeup if your foundation or concealer starts to look dry during the day.
Best French pharmacy moisturizers
"This is often the only moisturizer makeup artists carry backstage because it won't irritate models' skin, no matter the weather conditions outside or the number of times they've had their makeup done and removed that day," says Hou. It doesn't contain much fragrance, and the milky texture makes it soothing to all skin types — making it a perfect, unfussy basic.
Page told us that she's been a longtime Embryolisse Lait-Crème Concentré fan, but that lately she's been particularly into La Roche-Posay's Toleriane Ultra moisturizer, which, unlike the (very lightly scented) Embryolisse is entirely fragrance-free. "It's sort of a 'nothing' moisturizer," she says. "I try so many products for work that at some point I burn out and want a 'nothing moisturizer' — a simple tried-and-true. Embryolisse used to be that for me, now it's this La Roche-Posay."