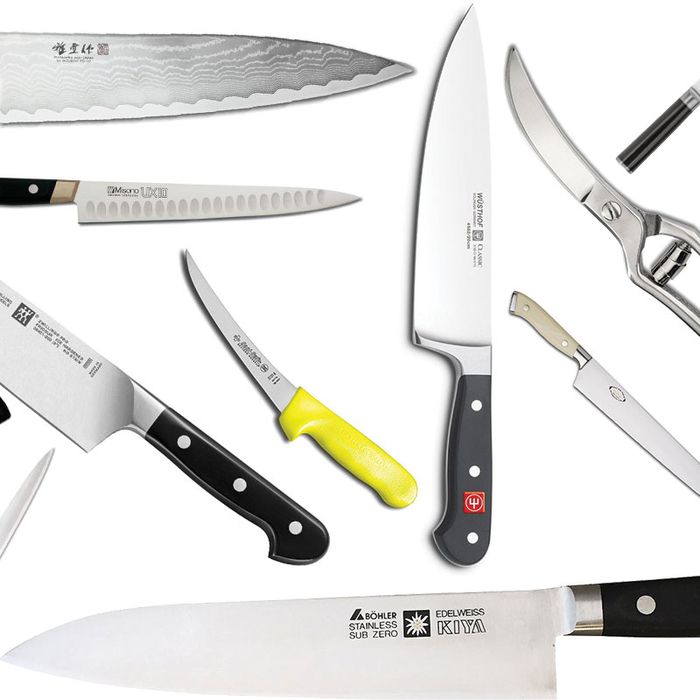 Carbon-steel slicers, poultry shears, and sashimi knives picked by the hottest names in the restaurant scene — including one who loves his blade so much he had it tattooed on his arm. For even more knife porn, check out Grub Street's buying guide.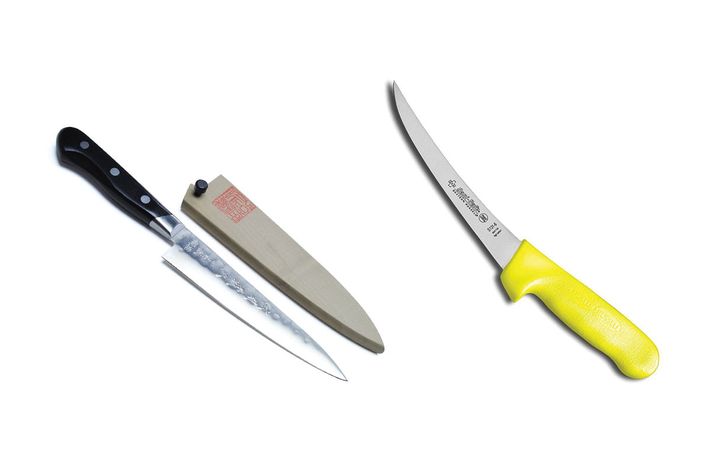 "In building a core knife arsenal, the value of a petty knife is often overlooked. They're kind of the awkward teenager of blades, not as small as those baby paring knives and not as large as a grown-up chef's knife. These knives really excel when working with small vegetables, but I'll break them out when filleting sardines or deboning chicken legs. There are a bunch of good Japanese brands that make great blades, but not all make them in the five- to six-inch range. I want a relatively straight blade, but that has the ability to rock back and forth a bit for dicing and mincing veggies like shallots and garlic. Yoshimuni makes a good blade that fulfills these petty knife wishes." - Matt Griffin, Bar Sardine and Fedora

Buy it:
Yoshimuni Kurouchi Petty 135 mm; $100 at Amazon
Dexter-Russell, Narrow Boning Knife, 6"; $25 at Amazon

"My mom bought it for me for Christmas in 1986, the first year I was in pastry school, working as a cook. I learned to bone out lamb legs and veal legs with it; the way I know how to butcher relates specifically to this knife. There's now a little indent where my thumb fits perfectly." - Patti Jackson, Delaware and Hudson
"I bought this knife from JB Prince after I saw my chef de cuisine Kevin Pemoulie using the same manufacturer's chef knife. It's been just about eight years since I've had this knife in my bag, and it's been a good friend to me. The handle is wood and shows the years of use, and it just feels right in my hand. The edge is 80/20, which means most of the cutting edge is on the front side of the knife, allowing for a thinner edge to make more precise and accurate cuts. I've used it to cut vegetables, butcher fish and chicken, slice sashimi, and pretty much anything else. As long as you take care of it, it will always take care of you." - Paras Shah, executive chef at Kat & Theo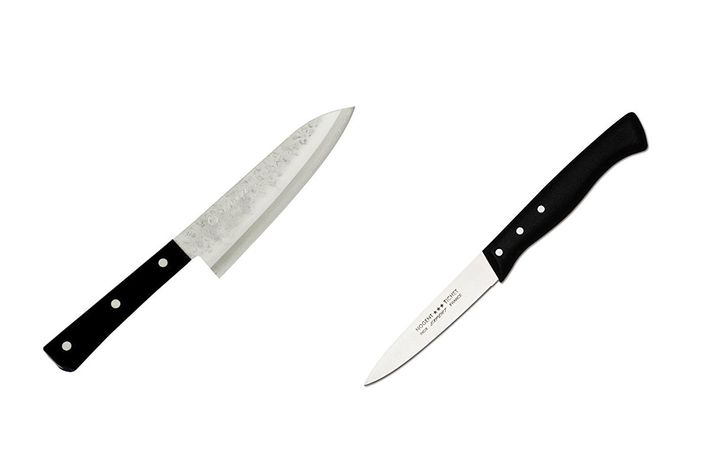 "I started using Takamura knives about two years ago and I will never switch to another chef knife again. They're super sharp. That said, I love using cheap paring and tourné knives from JB Prince, too. Then, when someone steals it, who cares? It costs just a few dollars. " - Andrew Whitcomb, Colonie
Buy it:
Takamura Chef's Knife; from $160 at MTC Kitchen
JB Prince Paring Knives; from $13 at Amazon

"A knife is the most personal tool a chef has. When we find one like this one, that we work and feel best with, we tend to cherish them for a long time. The best knife-work can only be executed with a knife that feels the best. I use this one for tasks as diverse as: cutting chives, slicing fruit, portioning out meat pieces and fish filets to cutting a terrine." - Gabriel Kreuther, Gabriel Kreuther

"The weight is just perfect, and the wood handle with metal bolster makes the knife so easy to use. I like to cut fish with this knife as it is very easy to cut through bones and flesh. For example, I have a black cod on our menu and it's so easy to fillet as the knife blade is sharp all the time and easy to handle." - Julian Medina, Toloache Restaurant Group
"For Japanese cuisine, the length of time a chef holds and works with a knife is relatively longer than for other cuisines. That makes the balance and feel even more important. Also, knives are traditionally considered sacred in Japanese culture, and, in that regard, a personal knife helps a chef work toward his/her dishes faithfully and sincerely." - Masaharu Morimoto, Morimoto
"I purchased this knife at Tsukiji market in Tokyo as a young chef and have babied and coddled it over the years. It's super well-balanced with a great carbon-steel edge which I've used for cutting hundreds of fish throughout the years." - Ken Oringer, Toro
"This was the first professional knife I purchased when I got my first catering gig, so it's very special to me. Its weight and balance is perfect for my grip. I go from event to event, location to location, but no matter where I am, I know my speed and cuts will be exactly what I want." - Tony Cacace, Oro Restaurant

"The thinner, lighter Japanese knives are very popular now, but I prefer the the weight and thickness of the blade of this heavier knife. I've used it for 20 years. A knife gets broken in like a great pair of shoes — molded to the way you use it. It becomes completely unique to your hand and techniques." - Shannon Swindle, Craft Los Angeles, pastry chef
"My left arm is tattooed with the words 'ALL OR NONE,' written in my own handwriting. It's inspired by the Pearl Jam song that reflects my tendency toward the extreme, whether it be my dark past with drugs or intense passion for cooking. The words are surrounded by a piece of caul fat — the membrane surrounding a pig's internal organs — wrapped around a piece of meat and punctuated by a slicer from Japanese knife-maker Misono. I got it in 2005, while I was in a work-release program, newly sober and cooking my heart out." - Jesse Schenker, The Gander
"Since I oversee a few restaurants I keep my tool set pared down. I have been a fan of Nenox for a while now. I love the balance of their knives and how long they maintain a sharp edge. They're also stain-resistant and nonreactive to acidic foods, which is huge benefit. I am able to accomplish almost all of my duties with it due to its length and weight, everything from vegetable prep to butchery to slicing roasted meats. They do need to be thinned a bit, but after investing some time they perform excellently. I was taught that the knife a cook uses represents what kind a chef they will become." - Adam Schop, Miss Lily's
"I bought several pairs before even signing our restaurant lease. I even handed them out to our investors. Whether we are carving ducks, guinea hens, or chickens, these make the job neat, precise, and efficient. Their quality is in their weight, the length and curvature of the blade, and the spring action. And I love that they are a little scary-looking!" - Georgette Farkas, Rôtisserie Georgette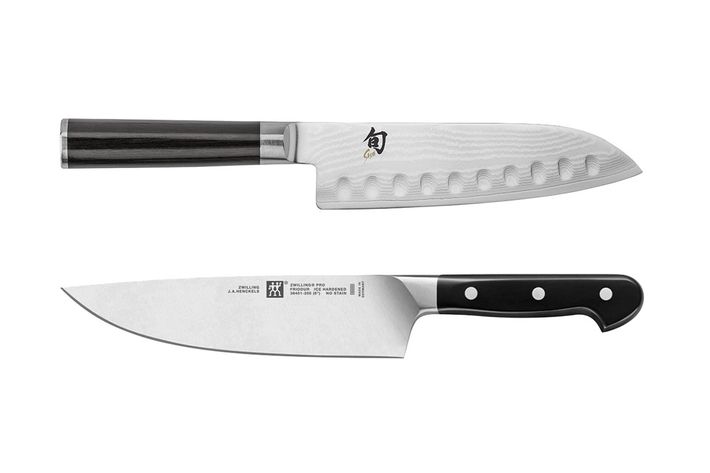 "These are two very different styles but both great knives. I like the heft of a Henckel and the swiftness of a Japanese blade like a Shun. They both keep a great edge; the choice is up to you." - Josh Capon, Bowery Meat Company
Buy it:
Shun Classic 7" Santoku; $133 at Amazon
JA Henckels Twin Pro S 8" Chef's Knife; $130 at Macy's

The Strategist is a new site designed to surface the most useful, expert recommendations for things to buy across the vast e-commerce landscape. Some of our latest conquests include the best umbrellas, steak knives, rolling luggage, and yoga mats. Note that all prices are subject to change.
If you buy something through our links, New York may earn an affiliate commission.