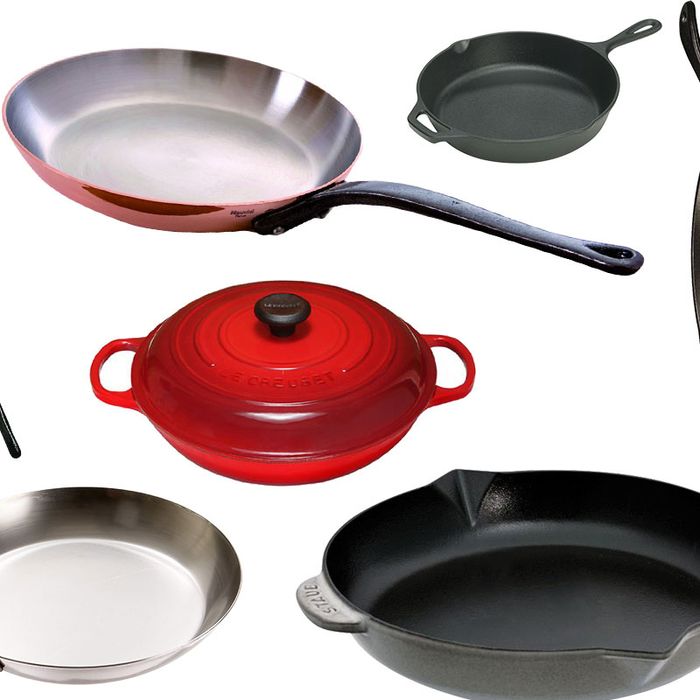 Cooking fish, roasted chicken, or saffron risotto just isn't the same without them.
"This pan used to belong to my mentor Jean-Louis Palladin. I like this, as it has a heavy base with a really heavy-set handle. The pan itself is about three inches deep and curved toward the bottom on the inside, which is great when whisking, as the whisk will hit all sides." - Eric Ripert, Le Bernardin
"Mauviel products are amazing in both quality and design. Every time I have the chance to go to a houseware store like Williams-Sonoma or Sur La Table, my eyes are drawn to them. The pots have nice weight with beautiful sloping interiors, perfect for mixing and whisking." - Emma Bengtsson, Aquavit
Note: This skillet is currently out of stock, but similar versions with stainless steel handles are available here.
"It's beautifully made, and the handle stays cool, even when using high heat. The skillet is beautifully designed with superior heat conductivity. It's a pleasure to cook anything in this pan." - Marc Meyer, Vic's and Rosie's Cookshop
"This pan was a gift from my mother-in-law the first Christmas that I was dating my now-wife. Every single meal we have eaten in the last 16 years has been cooked in this pan. Every one. Every roast chicken, steak, breakfast, lunch, dinner, every Thanksgiving stuffing, corn bread, Parker House roll, and focaccia. Every time I pick it up to cook I am reminded about all the wonderful years that I have had with my wife and all the comforting meals we have cooked in that pan." - Kevin Adey, Faro
"Before opening Luksus, I used this skillet at home. Now it hangs in the main kitchen. It's comforting to have it there. Like most cast-iron skillets, it's wonderful for cooking over open fire and distributes heat amazingly well." - Daniel Burns, Luksus and Tørst
"These guys have even heat, durability, and you can cook fish in them because of the sloped sides. And we never wash them. Just a lot of kosher salt, and put them over a high flame and let them dry out. Then scrub dry with a towel." - John Fraser, Dovetail, Narcissa, and Nix