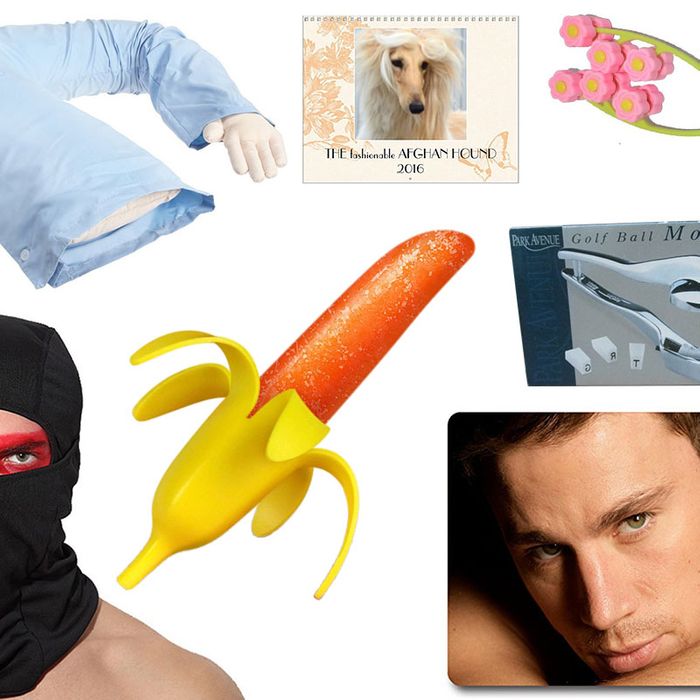 In 1983, folk singer Steve Goodman released a song called "Vegematic" about a guy who falls asleep with the TV on and dreams that he orders everything on the late-night mail-order ads. Four to six weeks later the mailman arrives with "the Vegematic, and the Pocket Fisherman, too … And a bamboo steamer, and a garden weasel, too, and a tie-dyed, Day-Glo souvenir shirt from Six Flags over Burbank." Anyone who has late-night binge-shopped knows the feeling. Goodman's song anticipated SkyMall, the company that offered us the "Pet Crate End Tables" and pierogi Christmas-tree ornaments we never knew we needed. Now there's Amazon. Vanilla by day, Amazon moonlights as a source for the wild and weird. We took a dive into the annals of Amazon and gathered ten of the most bizarre, but actually kind of useful, things you can buy.
The full name of this product sounds like a mistake, but really it's a testament to its many, many uses: "The Greenwon Massage Massage Facial Massager Thin Face-lift Elastic Facial Roller Massage Cogit Cellulose Roller for Face Up." Meant to create a "graceful face curve," this plastic-botanic device could be used as a kind of stress ball for your face, or a fake bouquet in a pinch. The product description even promises that with your newly massaged face, you will be "the most CHARMING" at any party.
Speaking of parties, nothing says "louche barbecue guest" like a grilled hot dog in one hand and a banana-shaped Popsicle in the other. Note the drip-catching peel for melty days.
Sometimes sunscreen isn't enough, and what you really need is to swaddle your entire head in opaque, polyester UV protection. There are at least six ways to wear this thing, but the decision to wear it with red eye paint is completely up to you. Great for the beach, just don't wear it to the bank.
Even if you weren't born a WASP, you can still monogram your golf balls like one with the Park Avenue Golf Ball Monogrammer. It looks suspiciously like a lemon press, which raises the question: Can it be used to monogram small fruits? We hope so.
Spice up your desk and excite your co-workers with this nonslip neoprene Channing Tatum mouse pad. Technically, it's a "gaming mouse pad," but caressing this tap-dancing, vogue-ing, strip-teasing star's face with every click is no game. One reviewer says, "Perfect for my gaming needs! I love Channing Tatum, so it's great!" That about sums it up.
The next time someone asks "Is there a mohel in the house?" you'll be prepared.
Add 12 months of beauty to your surroundings with these fashionable Afghan hounds. Can be repurposed as framed wall art for 2017.
One reviewer says, "It was a smaller than I expected; the boyfriend must be a minor, an under-aged boy." Okay, maybe the yellow shirt comes in extra large?