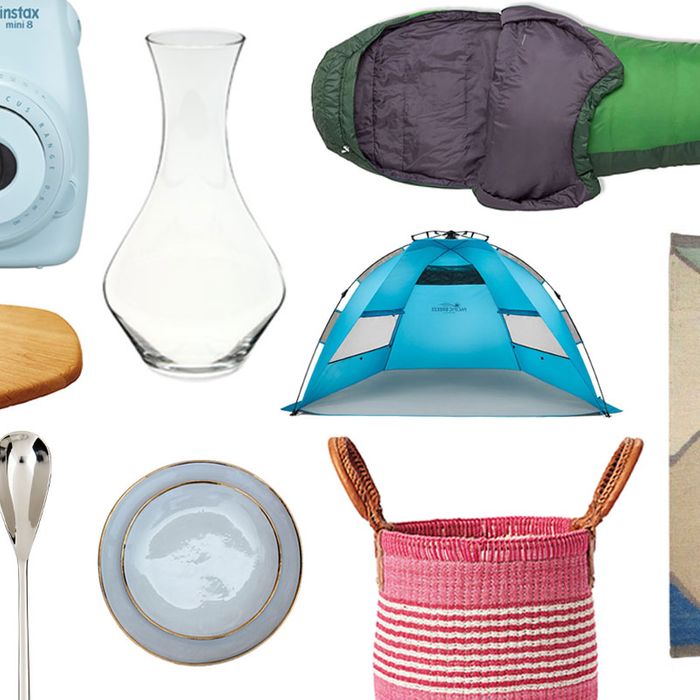 We've already featured wedding gifts for $50 and under, so now we're highlighting items in the $51–$100 price range. This list isn't just a resource for wedding guests. If you're a bride- or groom-to-be looking for inspiration for your Zola or Amazon registry, you may just find everything you need to register for right here.
And a decanter to serve the wine from.
"We love the colors of this beautiful china set, as well as how flexible it is. It's casual enough for everyday use and also fancy enough for a dinner party!" — Brittany Graham, lifestyle publicist, and Corbin Graham, real-estate developer, San Francisco
Cozy as a sweater, for the bed or the couch.
When you're not bringing it with you on camping trips, it folds up to fit neatly in the closet. 
"We love to host dinner parties and celebrations at our apartment. Having this camera out for friends to take pictures is a really fun way to capture and share our memories. The instant gratification of taking the picture and having a physical copy right away is such a treat in a world where your best photos otherwise live on your phone." — Emilie Johnson Pires, vice-president of SutherlandGold Group, and Struan Pires, CEO of Carrington Fox, Williamsburg, Brooklyn
Like a Mondrian painting for your floor.

"My fiancé and I will be moving into a Manhattan-sized studio, and there are few truly chic ways to divide a studio apartment. I really like the industrial feel of the curtain room dividers from Room Dividers Now, and it's a temporary solution, which works perfectly for a renter like me." — Keria Martin, public-relations representative, and Omari Tate, associate producer, New York
A pop-up beach tent comes in handy whether there are kids in the future or not.

Turn one person's art into joint property by having it custom-framed and delivered to your home ready to hang (the service can be used on any unstretched canvas, art print, photograph, or poster).

Add retro flair to morning OJ with these cups made from hand-pressed, diamond-cut glass, produced by an Ohio company that's been manufacturing it for 30 years.

These plates and other dinnerware sets are made from Limoges porcelain — hard-paste porcelain produced near the city of Limoges, France — but what's more important is that each piece is simple and subdued, with not a chintzy flower in sight.

Photo: Christine Han Photography
The colors on the glaze of this porcelain bowl were inspired by a sunset over Utah's Bryce Canyon — a claim we'd guess no other fruit bowls can make.

The woven basket gets a cool industrial update when it's done with wire instead of straw — and the rust-proof lacquer it's finished with keeps it (and whatever you store inside it) pristine.

A mummy-style bag is a must for sleeping outdoors in cold, damp weather, and this one keeps you warm even when it gets wet.

Cheese and crackers (or whatever you're chopping and serving) never look more appetizing than on this satiny-smooth hexagonal cherrywood slab.

Home storage becomes a way to do good with these jute, cotton, and leather containers, which are made by a women's collective in India; all of the profits go to support them.

These six pinch pots are each etched with a different red-and-white pattern and can hold anything small, from tea bags to olives — or wedding rings.

Upgrade your picnic blanket: This totable mahogany table (that comes with a canvas bag) is a must-have for alfresco eating.

As classy-looking as a Frette quilt. 
Dessert plates make the grown-up; plus, these have gold rims.

The Strategist is a series of smart, obsessive shopping guides from the New York Magazine section of the same name. We've scoured the web to bring you the best of the best. Some of our latest conquests include rolling luggage, umbrellas, beach tents, ice cube trays, white T-shirts, nail clippers, and yoga mats. If you buy something through our links, we may earn an affiliate commission. Please note that all prices are subject to change.