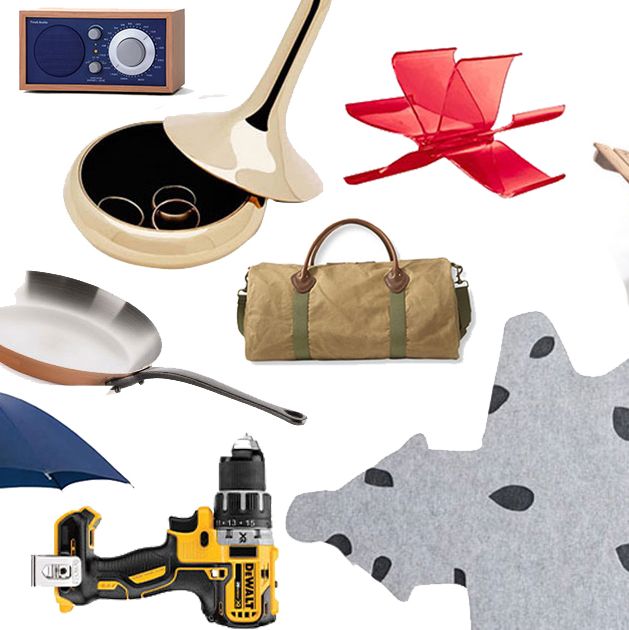 This week we're helping you get through the beast that is wedding season with the best dresses, shoes, gift ideas, and more. Now where's the open bar?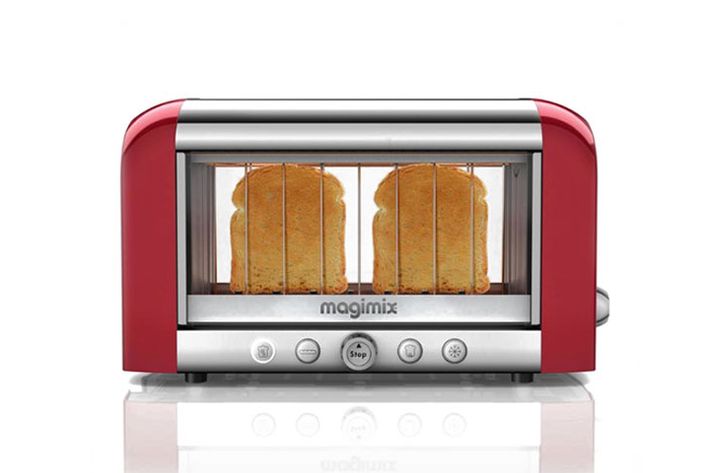 If you haven't found anything from our under $50 edition or under $100 edition, the following list of fail-safe wedding gifts, organized by price, includes carry-on suitcases they've always wanted, the Scandinavian pepper mills they never knew they needed, and enough tableware to last through their golden anniversary — some of which has been picked by newlyweds with fantastic taste. And this isn't just a resource for wedding guests. If you're a bride- or groom-to-be looking for inspiration for your Zola or Amazon registry, you may just find everything you need to register for right here.
Salt and pepper shakers to pass down to future generations.

An iconic Swedish design piece.

An upgrade to your bodega umbrella.

"We love this robe because it reminds us of being away at the Four Seasons. Who doesn't love to come back to the room on vacation and lie around in plush resort robes?! Now we can come home after a long day of work and have the feeling of vacation at home." — Anthony Castro, owner of Valor Wrestling Club, and Danielle Hand, administrative assistant, Old Bridge, New Jersey
Sturdy enough to withstand years of weekend getaways.

The bird at the spout whistles when your water is boiling, which — as a bonus on rushed mornings — the tea kettle's wide base makes happen quickly.

"Garrett and I, along with one of our close friends, have just started ourown small wine company and we will no doubt be needing a proper place to store our first bottles as they come in during the next month." —Elizabeth Dilk, design director at Partners & Spade, and Garrett Morin, creative director at Harry's, Fort Greene, Brooklyn
Three limited-edition cheeses selected just for you arrive each month from the classic West Village shop, accompanied by tasting notes and pairing suggestions.

"We both love cooking, but there are ways to making cooking easier. Pre-portioned and prepackaged is the way to go. This vacuum sealer allows us to buy in bulk and then break the food down so it's easier to cook later — and we always have just the right amount, never too much." — Alec Watson, retail store manager, and Adrien Lake, radio and television personality, Columbia, South Carolina
They're incredibly soft and last two times as long as cotton.

This thin, sleek temperature dial (with a crisp display) actually looks nice enough to hang on the wall, and it helps save money on your utility bills, too. 
Hand-thrown and splattered with indigo glaze by Los Angeles designer Chris Earl, no porcelain cup in the set of four is exactly the same.

This is the least-boring area rug around, made with laser-cut felt.

The black stripes on this porcelain pot have a matte, velvety finish — a cool graphic counterpoint that works with everything from flowers to succulents — and the black-edged dish it sits in will keep things tidy.

"We are avid travelers and cannot wait to use this luggage on our honeymoon to Bora Bora. We wanted something that was durable, lightweight, and easy to use." — Jill Jacinto, career consultant, and Sander van den Bergh, management consultant, New York City
The tuner on this table radio is designed to bring in even the weakest stations, and the simple wood cabinet it's nestled in improves the acoustics even more.

Give your mattress new life with this comfy topper.

The polished-copper exterior heats more quickly and evenly than other metals, and the sides of the pan are high enough to stop most spattering.

These three solid-copper mixing bowls (in 2-, 4.5-, and 5-quart sizes) are essential for whisking eggs and more, and each has a hanging ring so it can double as kitchen décor.

This tray might inspire breakfast in bed, or for the non–early risers, it works just as well at cocktail hour.

This small speaker gives you big sound — and no where's-the-remote? headaches; it's controlled by an app on your phone.

This indestructible carry-on is made out of premium German polycarbonate — a material unrivaled in strength and impact resistance — but it's still light enough to hoist into the overhead bin (it weighs only 7.2 pounds) and has two USB ports, so there's no crawling around the hotel room searching for a plug.

Register for this compact tool now, tuck it away, and hope you never have to get it out again.

Vista Alegra, the Portuguese company that makes this coffee pot, also provides fine china to Queen Elizabeth II of England, King Juan Carlos of Spain, and Queen Beatrix of the Netherlands.

A string of lights is all the décor any outdoor space needs.

The Stockholm-based designers of this sculptural ring holder describe it as "a jewelry box for the bedside table"; the rings slide over the handle, and necklaces and bracelets are tucked away inside the felt-lined base.