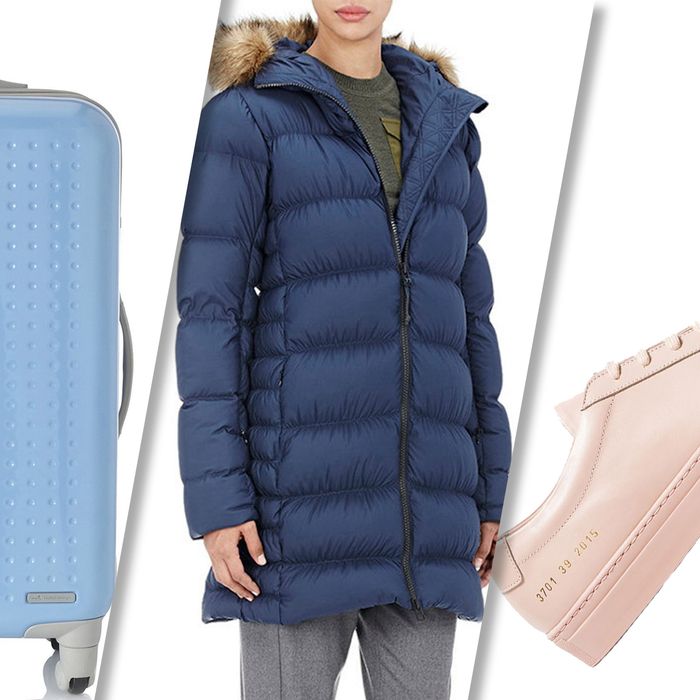 some highly-giftable on sale items.
The concentric circle where gift season and sale season converge is getting bigger … we sniffed around the internet to find the best deals that also make the best gifts, including a year's supply of fancy laundry detergent and a YSL scarf.
A mock-neck sweater from sustainable sweater brand Solosix; inspired by '70s Olympic skiers.
Original Price: $280
Some festive workout leggings for your favorite lady of athleisure.
Original Price: $110
A pair of millennial pink Common Projects sneaks are a surefire crowd-pleaser.
Original Price: $411
For an additional 11 off percent sitewide on Need Supply through November 11, use code SINGLESDAY at checkout.
Some good "Starter YSL." (Note, it's only available in red at this time.)
Original Price: $495
A perfect holiday party pump that is a whopping 77 percent off.
Original Price: $1,155
A Halston bucket bag in an unexpected shade of melon.
Original Price: $395
Buying (clear, plastic) sunglasses in the winter is always a smart move.
Original Price: $175
A cold-weather fashion hat from hipster-milliner Gigi Burris.
Original Price: $300
A year's supply of The Laundress's cultish signature laundry detergent makes an excellent and useful gift.
Original Price: $123
This Japanese-made lightweight suitcase is apparently super easy to maneuver. And it comes in a lovely light-blue hue. (For more suitcases we like, click here.)
Original Price: $259
A beautiful boxed set of Jane Austen's complete works from Juniper Books. Original Price: $159
For someone with a very, very sweet tooth: made from organic peanut butter, marshmallow, and sweet milk-chocolate chunks. It supposedly tastes delicious between two graham crackers. (For other cult condiments we love, click here.)
Original Price: $13
For your fancy friend: There is little more timeless and elegant than a Royal Copenhagen pitcher.
Original Price: $160
A very warm-seeming and handsome North Face puffer (with a subtle logo). Original Price: $1,050