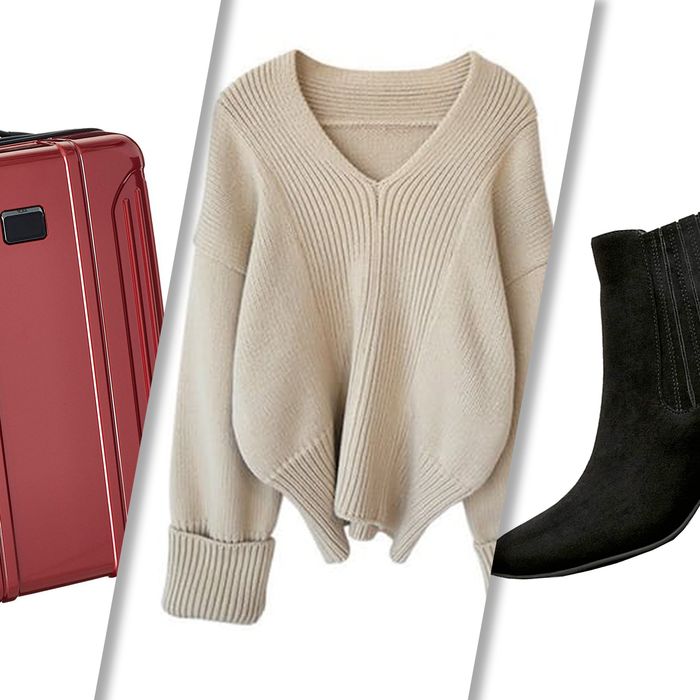 Are you having sales fatigue? They're almost over! Here are the Cyber Monday deals that are actually worth getting riled up about, including a pair of $49 ankle boots and $25 Kylie Jenner–esque workout pants.
This plaid wrap is very 1950s co-ed.
Original Price: $60
Update: This sold out! Here's another on-sale, collegiate-inspired wrap.
A 50 percent off four-wheel Tumi suitcase that you can throw in the overhead (and that's only on sale today). For more rolling luggage we like, click here.
Original Price: $495
Pair with your favorite pencil skirt or jeans.
Original Price: $320
These "structured" J.Crew pants are basically work-appropriate leggings. Original Price: $88
A pair of workout leggings with the Adidas logo tastefully down by the ankle.
Original Price: $35
A pair of cashmere Rag & Bone mittens that can easily convert to texting gloves.
Original Price: $150
Update: These sold out! They're still available in red, though.
An oversize, cozy, cropped "fashion" sweater from Genuine People. Original Price: $122
What's better than a pair of scalloped sheets? A pair of 71 percent off scalloped sheets! (Here are more sheets we love.)
Original Price: from $188
This denim skirt is the grown-up version of the one you wore in middle school.
Original Price: $198
See what all the hype surrounding this mask is about.
Original Price: $69
An everyday cardigan that's a little bit cooler than your normal everyday cardigan.
Original Price: $128
A playful hat for braving the elements. The eyebrows are actually made of metal.
Original Price: $214
A 59 percent off pair of elegant ankle boots.
Original Price: $119
A smart-looking French press with extremely glowing customer reviews. Original Price: $69
Replicate the treatment typically reserved for your dermatologist's office in the comforts of your own home.
Original Price: $159
Now's as good a time as any to make the KitchenAid leap.
Original Price: $549
This suede Baggu features an adjustable shoulder strap and silver hardware.
Original Price: $160
May the force of your lashes be with you.
Original Price: $18
This silk tie has Browne's signature tricolor striping and tonal stitching. Original Price: $215