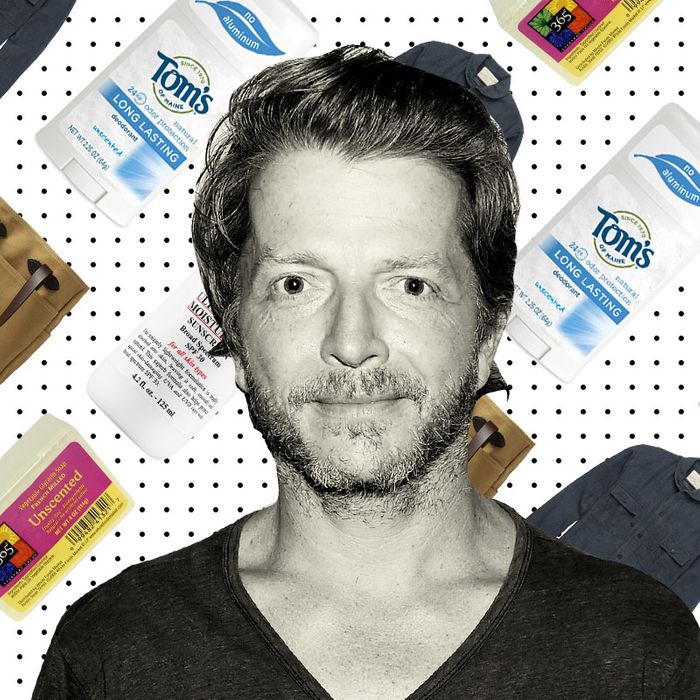 If you're like us, you've probably wondered what famous people add to their carts. Not the JAR brooch and Louis XV chair, but the ground coffee and the bathroom rug. We asked designer John Derian (whose 400-page photo book came out last month) which items he can't live without.
"I like that this moisturizer is light and unfragranced. Plus, it has sunblock, which I slap on my face all year round. I was one of those fair-haired children who burned far too much as a child. Nowadays, I don't lie in the sun. I know better! I've tried a lot of daily moisturizers that incorporate sunscreen, and this one doesn't cake up, and it's thin and light and not smelly. Of course, there are some other cool sunblocks from childhood that have that very particular smell. Don't get me wrong, those give you great memories, but sometimes you just really need something unscented."
"I've been using this unscented deodorant for a million years — are you sensing a trend? — and I've never had any problems with it. I appreciate that it's a roll-on. Somehow it works even though it doesn't have aluminum that regular deodorants do. I have to say, though, I'm not a big sweater, so I don't think I'm in need of something incredibly heavy duty. Actually, my boyfriend sweats a lot, and he uses it, too — I mean, he uses his own, obviously."
"This soap has become so much a part of my routine. I feel like it does a good job. It's not harsh on the skin. It doesn't have all the weird detergents and additives and other things you'll find in the soaps you get just at the regular drugstore. I'll walk to the Whole Foods store and get a bunch of bars at a time. I only live a block away from the one on Bowery, so it's right near my shop. I like going to the store and getting it. I'm old-fashioned I guess."
This is currently unavailable, but here is a very similar product available on Amazon.
"I used to like to pick out my own vintage clothes because there was something I liked about the quirkiness of different cuts and knowing that no two things were the same. I don't do that so much anymore (it's a lot of work!), but that's the thing I love about Double RL — they copy old things and update them just the slightest bit so you feel like you're wearing cool, authentic, old things. I've got three different pairs of shoes from Double RL. I have these khaki chinos I love. The thing I just live in though is this jacket that's kind of in between a jacket and a shirt. It's not really one or the other — it's both. It's versatile enough to wear all the time."
This is currently unavailable, but here is a very similar RL overshirt.
"I don't just use this pen; I've actually been carrying it around for years. My handwriting is all over the place — and crazy looking — but when I use this pen, somehow it magically seems a little bit more controlled. I can't exactly explain why. I have to slow down a little bit, I guess, I take my time, and it's just better all around for everyone. It's special because it's got one fat end and one skinny, flat-tipped end, which allows you to do some interesting printing. I was always buying new pens at the art-supply store New York Central Art which sadly just closed. In the shop, actually, we use it to write the pricing on all the tags in the store. I wanted all the tags to look consistent, so we have to use this pen. It's sort of a shop fixture."