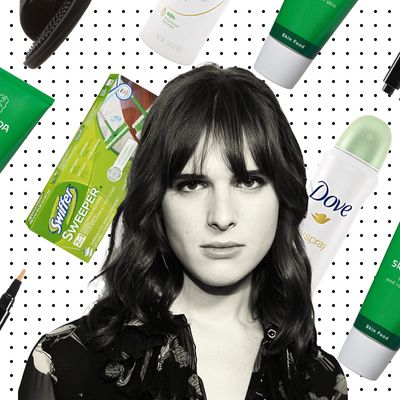 If you're like us, you've probably wondered what famous people add to their carts. Not the JAR brooch and Louis XV chair, but the ground coffee and the bathroom rug. We asked actress and model Hari Nef which items she can't live without.
When I went on photo shoots, makeup artists kept pulling out this little green tube. It had this distinct fruity smell, and I remembered the bottle. Whenever they used it to prep my skin, it was just so rich — it instantly makes your skin shiny and dewy and nourished. Really, it feels the way it sounds. It's like your face is having a meal. The medication I take makes my skin kind of dry, so I'll slather this stuff on, especially during the winter. It's such a great, gushy moisturizer because it's so cheap and better than a lot of expensive ones. I'm not saying you should use only the Skin Food though. It's not exactly a daily moisturizer because it's so thick, but on days that I've just gotten off a plane or gotten out of a shower and my skin is really thirsty, nothing beats it.
I hate walking on wood floors in bare feet so I wear these whenever I'm at home in my apartment. Actually, I wear them in the shower, too, just so I don't slip. Basically they don't leave the house unless I'm traveling somewhere I need a bathing suit. I've had the same pair for maybe three years. They're so gross but not that gross because I don't really leave the house in them. Leaving the house in a pair of flip-flops in Manhattan is disgusting to me, no shade. But if my food is here, I'll come down the stairs in them. I live in a studio apartment, and I don't leave my shoes in the front. I clean my floor a lot, but I don't necessarily feel like walking around barefoot on my floor, especially if I have had people over. These are so comfy because they have the squishy beads on the sole that massage your feet. I remember I bought them during the normcore moment, and I broke my Celines so they're my only proper sandals right now. They're the only pair of sandals I own right now, and they do get washed in the shower. I'm very thorough in the shower.
Girl, sometimes, things get a little dusty. I live in a little studio apartment so I try to keep the space super clean at all times. This an iconic product, and I will follow the Swiffer sweeper into the dark. You know when you wake up, and someone's coming over and you're like, Ah! I want to stress: I live in a teeny studio apartment, and when it's clean it's a fabulous place to be, but when it's not clean, it's the worst. It's so gross you feel like you're in a closet. I love that you can slap the dry Swiffer sheet on to dust and then use the wet Swiffer to deal with other things. It's just so all purpose. I keep it in the corner of the apartment. When I was living in L.A. and had a house, I hired someone to clean because it's a house, but other than scrubbing the surfaces above the floor and breaking out the Magic Eraser and obviously bathroom stuff, you're kind of covered if you have the Swiffer. And it's fun to throw on some music and do it. I tweeted recently, "you ever Swiffer in the nude and listen to Panic! at the Disco?" And I think I was completely naked and/or very close to naked. I actually just Swiffered. It was a very therapeutic moment.
I try to wear as little makeup as possible in my downtime, but I was at the Gucci store on Fifth Avenue — I hang out there with the sales associates a lot — and I wandered into the makeup section and was like, "Well, what do you have?" And they have this concealer that's lightweight without being too sheer. I don't need a full coverage foundation, but I like to cover a few different parts, and this one feels substantial and gives coverage without feeling super thick and layered on. It has a really cute and clicky tube, too.
These li'l panties disappear underneath whatever you're wearing. I always wear them to shoots. There's this rule for models that you have to wear a nude panty because you don't know what they're going to put you in. If it's a white sheer dress, and you're in your Hello Kitty underwear, that's not the look. So wearing a barely-there panty is the norm and expected. These are like a nudeish color, though that's a heavily politicized word in the fashion industry. Let's check if they're in a variety of skin tones. I know they have the anemic colors, which is me, and they have the darker ones but I don't think they're the ones a black woman would call a nude, you know? Colors aside, they really don't show under a dress. You can wear a body-con dress, and it's fine. And it's also not a thong, at least not the way we traditionally think of them. I hate those.
I got the Fire Stick as a gift at the Amazon Emmys after-party in 2015, and because I haven't lived in a house with cable television since I lived with my parents as a child, I've just streamed everything. I can afford cable. I have a television. But I only stream things. You plug it in, and you download the apps of all the streaming channels or Netflix or HBO Go or Hulu or whatever, and that's it. It's low maintenance and takes up no space. I've been watching Atlanta, which is super dope and smart and atmospheric. I like shows for atmosphere. I don't know, I think a plot-driven show is so boring and masc4masc and gross.
This is dumb, but whenever I'm getting ready, I really focus on my clothes. So I get dressed before I think about doing my makeup or smelling cute. And then I'm done with my outfit, and I haven't put on deodorant. I love that I can just cram this li'l tube up my shirt and spray — unlike solid deodorant, this goes on really sheer without staining clothes or making your armpit all mealy. I hate a mealy pit. There's nothing worse than a mealy pit. This is like air. You're spraying delicious anti-odor and antiperspirant air. And if you give it two seconds to dry, it won't mark up your clothes or give you a moist product pit. It has a clean smell, which is nice, but I wonder if they have an odorless version, too. I'd like that. [Editor's note: There is an original clean version.]
The Strategist is a new site designed to surface the most useful, expert recommendations for things to buy across the vast e-commerce landscape. Some of our latest conquests include the best notebook, black t-shirts, fashion editor-approved jeans, toothbrush and apartment decor. Note that all prices are subject to change.
If you buy something through our links, New York may earn an affiliate commission.