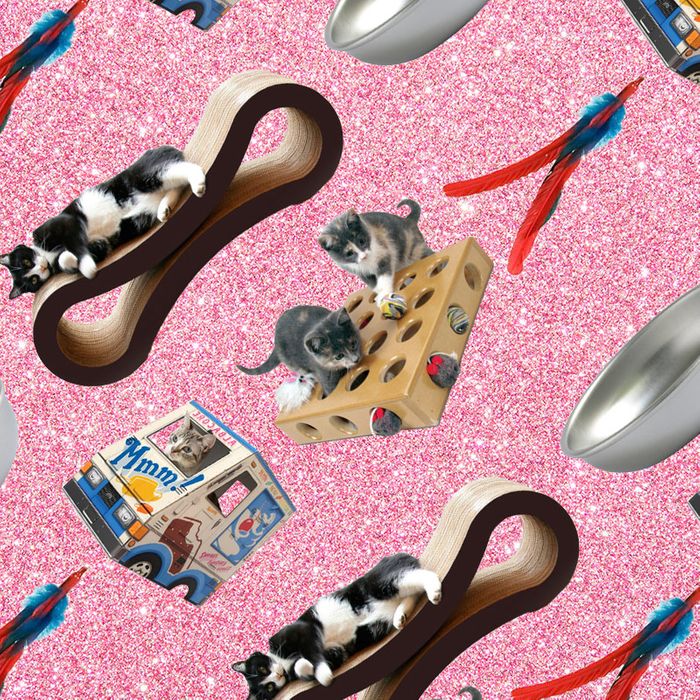 This holiday season, we're asking the toughest people to shop for — from a grandmother to a 16-year-old to a wellness enthusiast to a gourmand — the simple question: "What do you want for the holidays?" Here, avowed cat lady Kristin Perrotta on her highly curated wish list.
How long have you had your cats?
We've had Simon for about five years and we've had little Hazel for almost two. (By "we" I mean my fiancé and I — there's a cat man here, too.) We love dogs just as much. But our dog, Casey, passed away and we haven't yet adopted someone else.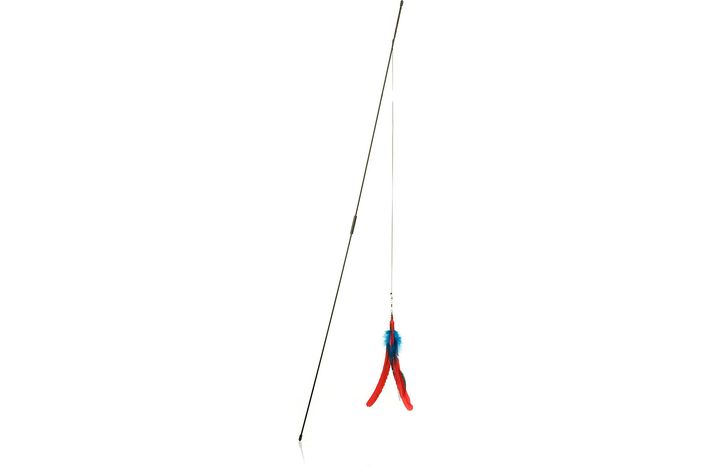 What kinds of toys would you want in the house for Simon and Hazel?
These guys aren't very refined in their tastes. We've bought just about every piece of cat crap out there over the years, and what they like most is to play fetch with little plastic springs and foam soccer balls. What they do love to do is wake and bake with catnip-like produce (carrots, lemons, tomatoes) and cigars. And they lose their minds over Da Bird.
Wait, what's Da Bird?
If you haven't heard of Da Bird, here's the lowdown: It's this ingenious piece-of-shit, flimsy plastic stick with a skinny elastic string that dangles a bunch of feathers from it. All cats go mental for it, but the feathers fall off, like, every time you use it because the cats are absolutely rabid and trying to eat the damn thing, and the string and stick break constantly, too. Still, it makes them so happy … so we buy the replacements.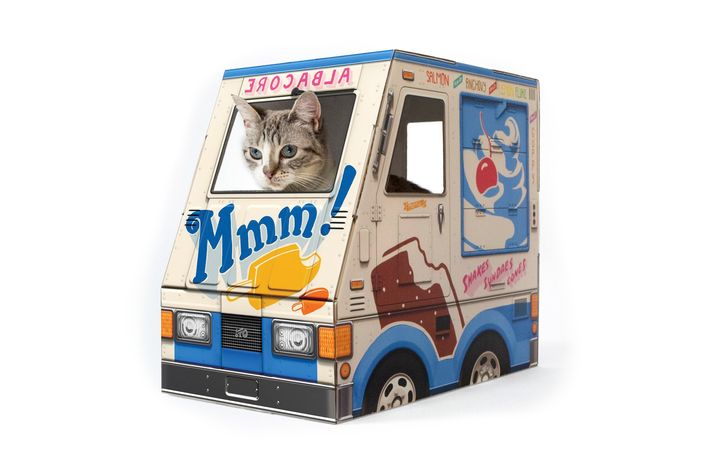 What else do they love?
Oh, they like their cardboard ice-cream truck from Famous Oto. It's so funny to see one sitting in it. The other one usually then gets on top and bops the crap out of whoever is driving the truck, through the window. Famous Oto now also makes a Brooklyn House for cats, but we don't have that. The place is starting to look like shantytown-meets-Restoration-Hardware with the mix of cardboard and furniture.
What's so special about the Brooklyn House? Is it like a hutch?
I just think it's hilarious. It's just a cardboard house with a square opening in the back. We used to have a cardboard teepee that cracked us up, too. Simon would bat the shit out of Hazy (or our former cat, Greggie) if they even attempted to enter it.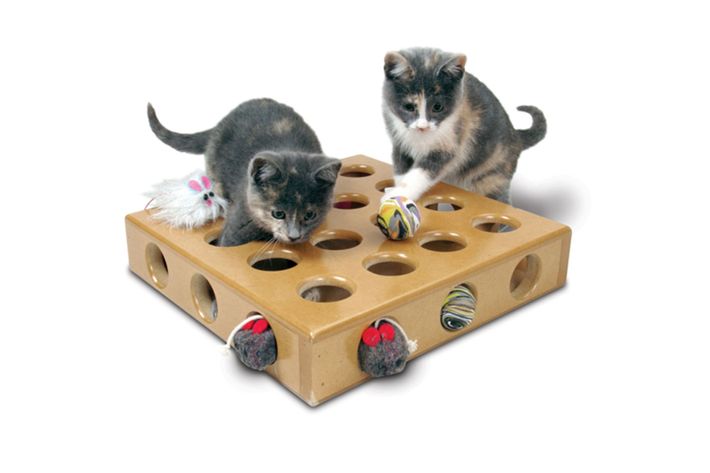 Any other house-like toys?
And the SmartCat Peek-A-Prize Toy Box is great. It's a wooden box with lots of holes. You stick all their balls and springs and stuff in it, and they have to work to fish out whatever they want to play with. Simon and Hazel are super into it. I think it's like a Rubik's Cube for cats.
How do you discover this stuff?
You know, clicking around on the internet just leads you down dark holes? I don't even really know! Which leads me to the real truth about what makes them happy: cardboard boxes and paper bags. Deliveries from Fresh Direct and Amazon are very exciting for Simon and Hazy. I read a study once that cats who had a cardboard box or two were actually happier; the boxes, aside from being fun to play in, give them a sense of security when they want to hole up. Maybe I need a box!
What kinds of toys do they NOT like?
They aren't really jazzed by little animals. Then again, every once in a while I find this small monkey in a strange place. So I guess they like animals when they're in the right mood? Who freaking knows?
What's something you've regretted buying your cats?
That piece of garbage they advertise on TV called the Cat's Meow — the yellow sheet with a mouse that moves around under it. Our cats killed the motor in about ten minutes. And then we were stupid enough to replace it a few times and they did the same thing. It's a piece of garbage — and not cheap enough to just keep replacing.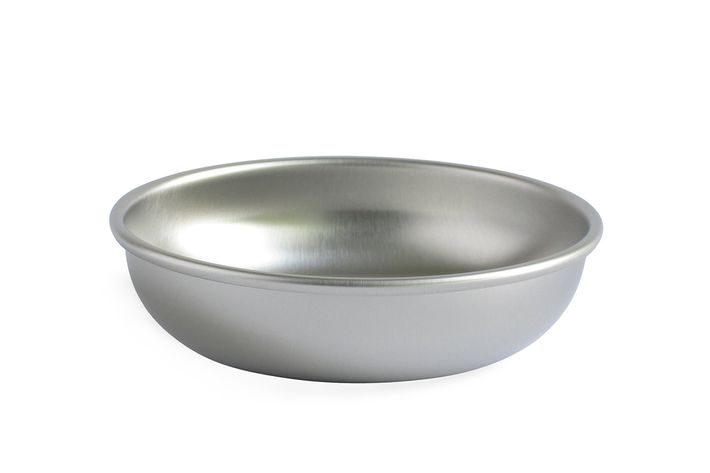 What kind of dish do you feed them in and why? Have you experimented?
We only feed them in stainless-steel dishes. I buy the ones from Basis Pet because they don't contain mercury and lead. Cats have really sensitive digestive systems and kidneys and they can even become sick from things that come off of glassware and pottery.
Is there special food that would be a nice splurge for someone to gift you?
Nope — changing a cat's food just for kicks is a bad move. They get upset stomachs, etc. I also buy the kids really good food from Halo and Petcurean. Human-grade ingredients. My fiancé has already claimed the flavors he plans on eating himself if the world ends.
You're such a thoughtful pet owner. Do you clean your home in any special way for the cats?
I only buy cleaning products from The Good Home. They make a cleanser that you can use on everything that's totally safe for cats (and dogs) — but especially cats, who can be poisoned by the essential oils in a lot of natural cleaners.
Are there any grooming items that you would like to be gifted?
Oh jeez, no. I don't want or need any more cat crap. Plus, cats are low maintenance. Ours love the Tangle Teezer (it's a soft plastic brush for humans) and then you need nail clippers. Done.
Are there kitty litter–related items that you might like to be gifted?
Is this a serious question? Oh, right, you mean that pooper scooper I've been obsessing over!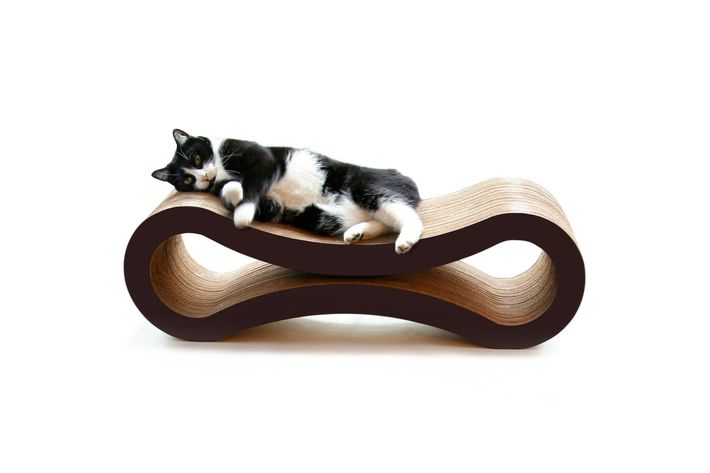 Is there a luxe scratching post that makes a good gift?
The only one any cat I've ever had used — and seemed to really like to scratch and sleep on — is the cardboard one that looks like the symbol for infinity, the PetFusion Cat Scratcher Lounge. It's great because it's cool-looking and you can flip it over when your cat annihilates one side. They can also play in the holes and bop each other in the face through them. Always fun to watch.
Are there any great websites you recommend?
Actually, to find cat stuff that doesn't look like all the bad cat stuff out there, hauspanther.com is a good resource. I've also just googled "modern" and "cat" and searched sites. A few years ago, I found a great-looking thing for them to sit in or on top of and look out the window — and it doesn't look like one of those horrible carpet-covered cat trees. It was $200, but they actually fight over it and use it constantly.
Is actual catnip a thing? Do you have a favorite you like to give them?
It's a thing, but only for some cats. Both Simon and Hazy, as I've mentioned, love produce that has catnip-like qualities. We tried once to just dump a little bag of actual catnip on the floor — my sister said her cats liked to roll around in it — but the two of them just looked at us like," What's this shit? I hope you're planning to vacuum up this mess."
Okay, so what's the one thing I can buy a cat person? What do they never have enough of?
That damn bird. It's always a winner with cats and it will break in a week or less. —as told to Jason Chen
The Strategist is a new site designed to surface the most useful, expert recommendations for things to buy across the vast e-commerce landscape. Some of our latest conquests include the best notebook, black T-shirts, fashion-editor-approved jeans, toothbrush, and apartment décor. Note that all prices are subject to change.
If you buy something through our links, New York may earn an affiliate commission.