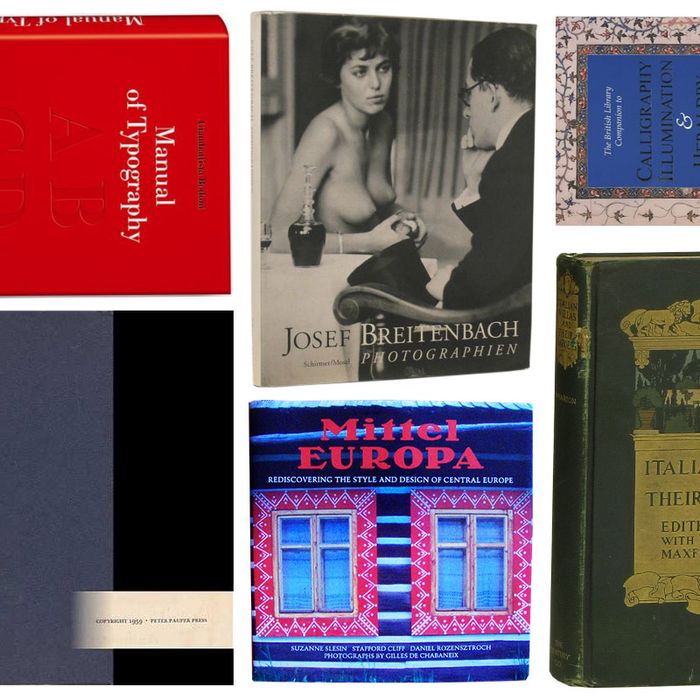 Out of Print is a series of gift posts we'll be running this month and next, where we'll be digging through the dark recesses of Amazon and finding the best-looking versions of the best books that make the best gifts. Here, Luke Ives Pontifell of limited-edition book publisher Thornwillow Press, on the best vintage coffee table books.
The coffee-table book is one of my favorite things to gift. Unlike novels, they can be opened at random, and more often than not, they have pictures. Whereas coffee-table books today concern themselves with everything from fashion to movies to cars, older coffee-table books largely stuck to a handful of subjects — architecture, gardens, typography, photography, obscura. In general, I suggest the first edition if you can get your hands on it, as it's usually more in keeping with what the author and publisher had in mind.
And because as a collector, I simply can't help it: Keep your books standing up perfectly straight or lying flat on their sides. Keep them out of direct sunlight. Buy dust-jacket protectors (I like the ones from Talas, but you can also find them on Amazon). And please don't let your guests use them as coasters.
The Country Diary of an Edwardian Lady by Edith Holden (1977)
More than a century ago, Edith Holden kept a journal of the plants and animals she saw in the British countryside — when it was found and published in 1977, the book became a runaway success. Confession: It's because of this book that I started keeping a journal and sketchbook as a youth. It's only worth getting a hardcover edition; this book should be savored.
Italian Villas and Their Gardens by Edith Wharton and Maxfield Parrish (1904)
In case the price didn't give it away (yes, it's expensive), this is the holy grail for garden and landscape lovers. It brings together two legends, the sharp-witted observer Wharton and brilliant neoclassical illustrator Parrish, in a survey of some of Italy's most lush gardens. Forget the anemic reprint published last year and get your hands on a first edition.
At Home With Books: How Booklovers Live With and Care for Their Libraries by Estelle Ellis (1995)
An actual tour of people's private libraries around the world. The people, collections, and spaces come together in a book that contains actual service about how to curate and edit your library, care for your books, find out-of-print editions and even source the right shelves and lighting.
Mittel Europa: Rediscovering the Style and Design of Central Europe by Suzanne Slesin (1994)
A quirky glimpse into the design of Middle Europe. Not so much France or Sweden, but Austria, Germany, Hungary, and the Czech Republic. Slesin explores both rural and urban, simple and grand — it's a collection exploring an aesthetic language you probably didn't know about (but should).
Jay's Journal of Anomalies by Ricky Jay (2003)
This collection of illustrated curiosities (along with Celebrations of Curious Characters and Learned Pigs and Fireproof Women) by celebrated magician and magic historian Ricky Jay are must-have gifts for anyone with a left-of-center and slightly macabre sense of humor. Drawn from his own massive collection of books and materials on magic and curious characters, each entertains while actually contributing to magic scholarship.
Social Gardens by Charlotte Frieze (1988)
Featuring 250 pages of American gardens (and only American gardens) by the talented landscape designer (and former garden editor at House & Garden) Charlotte Frieze, Social Gardens remains among my favorite garden books. Her eye for curated collections of gardens, courtyards, and entryways shines through in this hard-to-find volume.
Josef Breitenbach: Photographs by Josef Breitenbach (1996)
The lesser-known German photographer Josef Breitenbach lived in Paris in the 1930s and emigrated to the United States afterward, flourishing under the Surrealist movement. This book collects his work on his centenary, and the images capturing Europe and New York are stark and inspiring today. It's a blockbuster.
Bodoni: Manual of Typography by Stephen Füssel (2010)
Before we were watching documentaries on sans serifs, Giambattista Bodoni (1740-1813) was laying down a credo on typographical design. His philosophy was published posthumously in 1818, and Taschen's re-creation is one of the ultimate volumes for anyone who loves the printed word. There are other versions, but the cover on this particular facsimile edition is a must have. 
An Uncensored Anthology by Anonymous (1939)
This is, in fact, not a coffee-table book, though it does belong on your coffee table. It is a volume of off-color poetry that has "passed triumphantly through a censorship which rigorously excluded any poem with too little wit — or too much refinement." The hardcover is a masterpiece of the genre.
The Dwiggins Marionettes: A Complete Experimental Theater in Miniature by Dorothy Abbe (1970)
One of the greatest type designers of the 20th century, William Addison Dwiggins bears a legacy that lives on in contemporary graphic design today. Less widely known is that he was also an artist, and, in particular, a sculptor of marionettes. The book captures the fruits of his side passion — realistic and meticulously whittled wooden puppets of surprising intricacy.
The Strategist is a new site designed to surface the most useful, expert recommendations for things to buy across the vast e-commerce landscape. Some of our latest conquests include the best notebook, black T-shirts, fashion-editor-approved jeans, toothbrush, and apartment décor. Note that all prices are subject to change.

If you buy something through our links, New York may earn an affiliate commission.