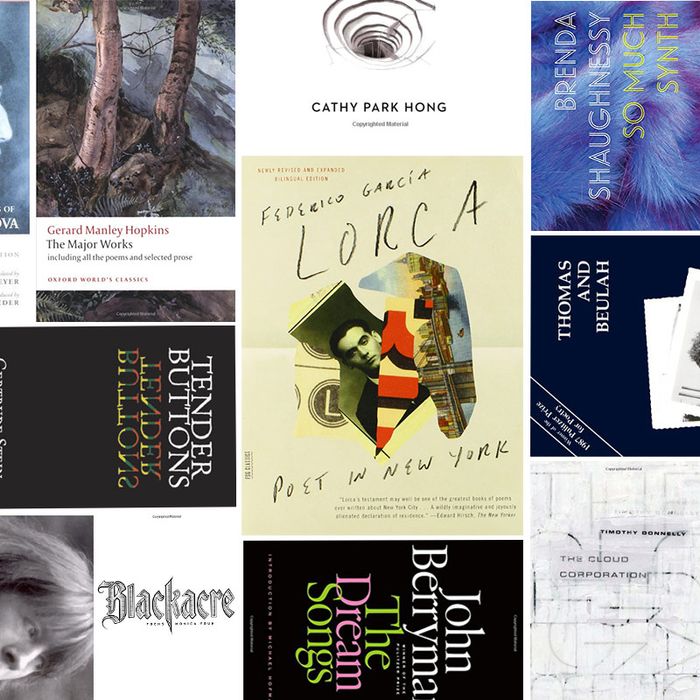 This month and next we'll be running a series of posts called Printed Matter, in which we probe New York editors and outside experts for books that make the very best gifts.
I like to give poetry to people as gifts whenever I can. I feel like I am doing my part. Poetry is vital for our culture, especially now. Our country is not going to heal from this national psychotic break with another Facebook post. Those friends or family members who say they don't understand poetry or don't read poetry are the ones who need it most.
An added bonus to giving the gift of poetry: You are greatly helping out the poets of the world. Poets make zero money, especially from their books, but poets are as important as bees — pollinators of our emotional lives that need our special care. Think of buying and giving poetry as helping our spiritual ecology (we've provided handy Amazon links, but it's a good idea to support your local bookstore, too).
Here are some suggestions below. They are totally, purely, my vibe. If they don't work for you, hang out on the Academy of American Poets website and search for poetry that speaks to you — or join their "poem-a-day" service.
The Complete Poems by Anna Akhmatova
This beautiful, huge two-volume set of the quintessential Russian poet's work is a major, meaningful gift giving for someone in your life who may need to feel connected to the arc of human history right now. Akhmatova survived Stalin's regime, while secretly working on Requiem, her definitive masterpiece about life under the dictator. She didn't publish it until after Stalin's death. It is a unifying, emotional exploration into life under a terrible despot, but told through the unifying lives of ordinary Russians. A memorialization of suffering
Tender Buttons by Gertrude Stein
These cubist word-mantras take mundane objects and settings and give them new life. You will never look at a table, rhubarb, or coffee the same way again. For an update, try to get your hands on Trimmings — the excellent, experimentally daring poet Harryette Mullen's exploration into feminine clothing and aesthetic. Both are great gifts for your fashion obsessed friend who may need a break from Net-A-Porter.
So Much Synth by Brenda Shaughnessy
No poet writes like Shaughnessy. She is a true original with a style that is conversational, funny, heart-stabbing, and cosmic all at the same time. Her new book, So Much Synth is dazzling, plunging the reader into hungry, cringe-inducing, uncontrollable puberty, exploring what it means to grow up female. With many poems titled after New Wave music hits, it's also quite accessible. Give it to your older sister obsessed with the '80s. Maybe she will finally move on. 
Blackacre by Monica Youn
Long-listed for the 2016 National Book Award in Poetry, Youn takes her personal struggle to conceive a child and does what poets do: expands her emotions outward to explore barrenness as a landscape, fertility of the imagination, and the porous borders between pain and spirit. Overall, it's a book about the body, desire, and the tenacity to continue creating, despite the results of a pregnancy test (or an election, for that matter).
My Life by Lyn Hejinian
Long before those choppy "stories" on Instagram and "one second a day" videos, Hejinian created the experimental poetry classic, My Life. Initially written when Ms. Hejinian was 37, it consists of thirty-seven poems, each one thirty-seven sentences long (she later expanded it when she turned 45). Sentences repeat, images wash in and out like memories do, and a life is built with more emotional impact than any traditional memoir.
Thomas and Beulah by Rita Dove
One of our country's greatest living poets, the former poet laureate Dove's work is clear, lyrical, and strangely palliative, even when dealing with hard topics. Her collected work came out this year (and is long-listed for the National Book Award) but if you want a place to start, try her 1987 Pulitzer Prize–winning collection Thomas and Beulah, a fictionalized account of her grandparents and their journey to Akron during the Great Migration. An American story universal in its specificity and heart, it's great for moms and History Channel–addicted uncles who may need a different perspective.
Sonnets by Bernadette Mayer
Often in the "poetry as gift" crowd, people give out Ginsberg's Howl, or Frank O'Hara's Lunch Poems. If you want a different perspective of New York when it was cool, try Ms. Mayer's honest, gritty, bald yet beautiful sonnets. A founding figure in the '70s and '80s St. Marks Poetry Project scene in the East Village, Mayer is as noisy and unrelenting as a squealing radiator. I mean:
Bring specific flowers I will not know the names of
As you already have and already will and already do
As you already are with your succinctest cock
Sonnets by Bernadette Mayer
The Cloud Corporation by Tim Donnelly
Using indulgent, incantatory language and exclamation points like poets did before life became ironic, Donnelly's crazy, great work feels like it should be engraved somewhere. "If Whitman had had a young kid and a Brooklyn apartment, too many bills, and a stack of takeout menus in the top drawer of his Ikea desk, he would have written these poems," as Dan Chiasson in The New Yorker summed him up.
The Major Works by Gerard Manley Hopkins
This undersung Victorian-era mystic poet must have been on ayahuasca way before it was cool. His later poetry is the bridge to the unknown, to insanity, to the expanded mind. He also uses a lot of made-up words that brighten your mind and eyes when you read them. It's like combing your brain with a soft brush.
Poet in New York by Federico García Lorca
Put aside the laudatory coffee table books of NYC. You can't find a more lustful, hungry, complicated look at New York City life than Lorca's work. Written while he was a student at Columbia University, 1929–30, Poet in New York is palpably full of his hungry, youthful, sexual (and sometimes angry) energy. He was in New York during the Great Crash of 1929, and its effect is palpable. 
When My Brother Was an Aztec by Natalie Diaz
In her first collection, Diaz addresses a brother's drug addiction to meth with mythic, sensual intensity. A Mojave American, Diaz speaks clearly and without self-pity about life on the reservation. Aside from the riveting images, her dark humor gives necessary perspective to an ignored America. 
Engine Empire by Cathy Park Hong
Is there such a thing as sci-fi poetry? This is a book for people who watch — even through covered eyes — Black Mirror. Visionary, otherworldly, and sometimes terrifying, Hong finds a way to write our possible future as if it is happening right now, important work as we trip into a new, uncertain world. 
The Dream Songs by John Berryman
And God has many other surprises, like
when the man you fear most in the world marries your mother
This masterpiece of modern poetry is funny, mesmerizing, intricate, and no one who reads it hates it. Berryman recounts the adventures of an American antihero (and possible cipher), Henry, who falls in and out of love, in and out of depression, and in and out of longing. So hilarious, painful, and accessible, it's good for boyfriends. Also good for people who like comedy. Also for people who say they "don't understand poetry." 
The Dream Songs by John Berryman
The Strategist is a new site designed to surface the most useful, expert recommendations for things to buy across the vast e-commerce landscape. Some of our latest conquests include the best notebook, black t-shirts, fashion editor-approved jeans, toothbrush and apartment decor. Note that all prices are subject to change.
If you buy something through our links, New York may earn an affiliate commission.