Photo: Kabir Fernandez/Kabir Fernandez
My husband is uncannily good at giving gifts. It's not an effortless process for him — he tends to go all-in on research, combing both the internet and brick-and-mortar stores; surveying friends and relatives; consulting with salespeople until their patience has been thoroughly tested. Unfailingly, he ends up with something incredibly thoughtful that I didn't even know I needed or wanted, yet subsequently can't live without. When it's been a thing I can wear, the experience has always been the same: I open the gift, cock my head, and think, Is this my style?, then proceed to wear it every day, feeling utterly panicked if I so much as forget to bring it on a weekend trip — or worse, think I've lost it.
Three years ago, on my birthday, I unwrapped a plain black leather Baggu bag: small, bucket-shaped, with a drawstring and a long strap. It was not dissimilar to a vintage Coach bag I'd admired and spent some time debating whether to buy at the Brooklyn Flea before deciding it was a bit too '80s — it had some gold hardware and an adjustable strap that could turn it into a mini backpack and leather that had gone stiff and shiny. Ever since, I had wanted a black bag, and though I hadn't spoken that desire out loud, my husband had perceptively figured it out.
At first, I wondered if this one was too plain — uncinched, it was basically just two pieces of leather stitched together, unhemmed at the opening. But once I'd pulled the drawstring and knotted the strap so that the pouch hit just below my waist when I slung it over my shoulder, I realized it was perfect. The leather was exceptionally buttery. The simple construction and total lack of hardware meant it transcended eras and styles to be actually timeless: It would look as at home on the hip of an 18th-century fur trader as it would on a chic pod person in some proto-futuristic television show, or on me, with literally any of my outfits. It was Mary Poppins–esque in size, somehow big enough to hold my wallet and cell phone and keys and makeup bag and even a slim paperback book and a compact umbrella, though it didn't look it.
I've worn it almost every day since: to work, on weekends, even to the occasional wedding, dressing it up and down. When circumstances demand — air travel, or an after-work event that requires a change of shoes — I carry a large tote or a backpack, and I simply tuck the Baggu, essentials undisturbed, inside the bigger one. It always fits.
Baggu Drawstring Purse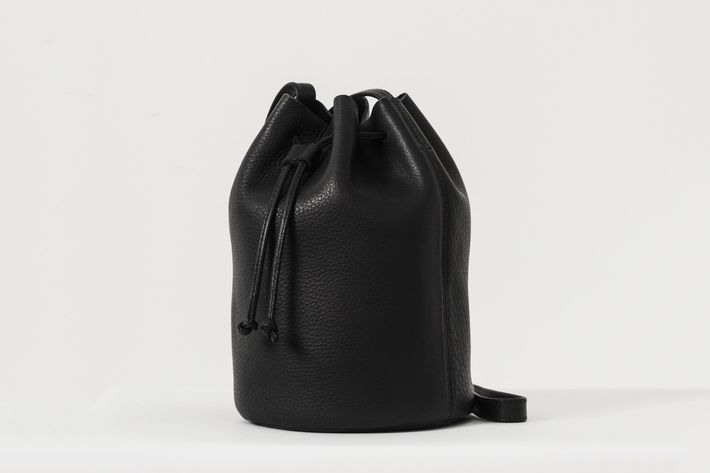 The Strategist is a new site designed to surface the most useful, expert recommendations for things to buy across the vast e-commerce landscape. Some of our latest conquests include the best notebook, black T-shirts, fashion-editor-approved jeans, toothbrush, and apartment décor. Note that all prices are subject to change.

If you buy something through our links, New York may earn an affiliate commission.