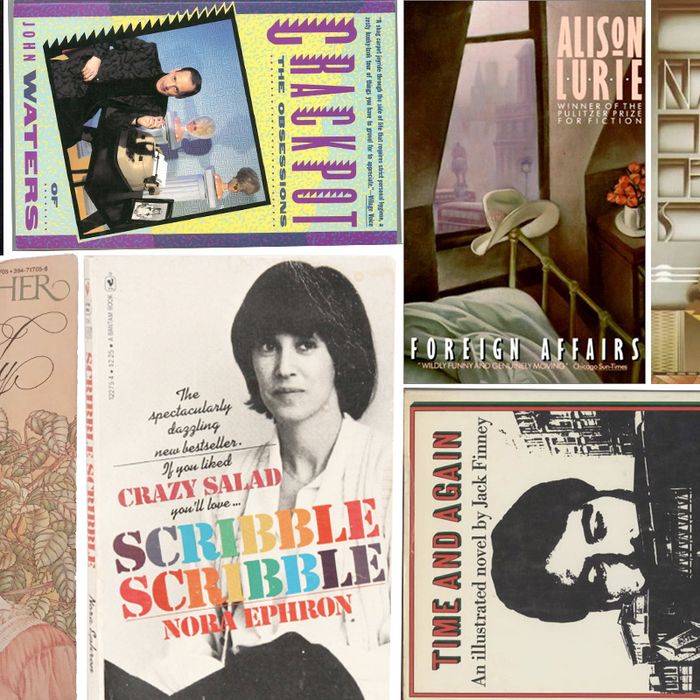 Amazon is full of old chestnuts.
Out of Print is a series of gift posts we'll be running this month and next, where we'll be digging through the dark recesses of Amazon and finding the best-looking versions of the best books that make the best gifts.
They say we eat with our eyes first. Well, guess what? We also read with our eyes first. And also, uh, second and third. What I'm getting at is, a well-picked vintage copy of an excellent book is a much better gift than a brand new copy of the same book. A new copy is a commodity. A vintage copy is a treasure. Don't you want to give treasures?
Here are eight recommendations for fiction and nonfiction.
Scribble Scribble by Nora Ephron
THIS is how you write about the media (acerbically, but with a featherlight touch). Every person deserves a terrific vintage copy of this Nora Ephron anthology.
Foreign Affairs by Alison Lurie
Here we have a lost gem. Not long-lost, but lost enough that your intended recipient will likely enjoy the gift of discovery. It's a strange, funny love story with several mild but satisfying twists. Takes place in London. Feels very indoorsy.
The rantings of a true madman — a stringently disciplined, gut-combustingly funny madman whose essays provide the last word on tabloids, Pia Zadora, Los Angeles, and how to become famous.
In a Free State by V.S. Naipaul
Do not be fooled by the earthy neutrals of this book's cover; this is a cold-hearted killer of a novel. Give it to the Joseph Conrad fan in your life, or anyone interested in postcolonial studies, or — hell! — anyone living in a place with a problematic colonial legacy. Give it to anyone is what I'm saying.
For people who fan out on Westworld and things of that nature.
Have you opened the can of worms that is "minor Willa Cather"? No? Well, I much prefer this particular worm-can to her more well-known novels like "My Antonía." Her shorter works have an eerily contemporary feel, prose-wise — it's hard to believe this one was first published in 1923.
Blue Skies, No Candy by Gael Greene
Great title. Great cover. Did you know that Gael Greene wrote novels? She did. This proves that she was really good at it, too. Buy it for the sassy life-loving individual in your life. M