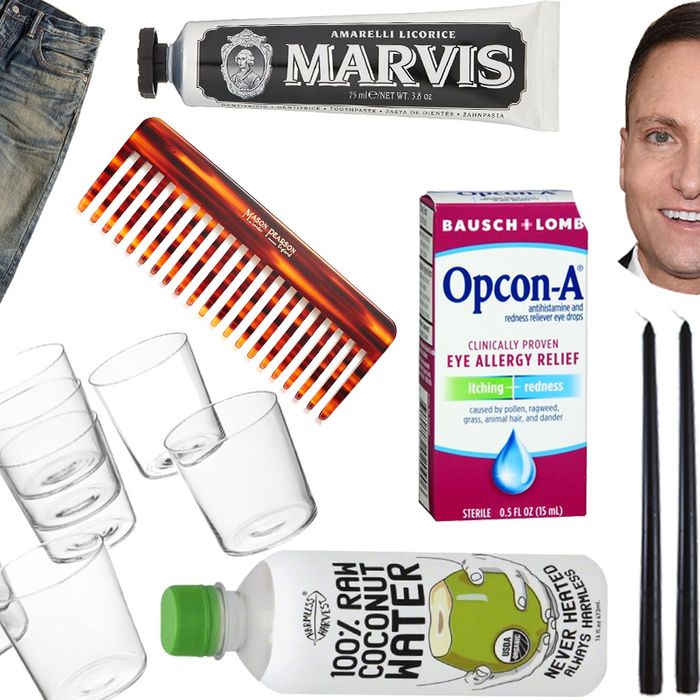 The San Francisco event decorator's favorite things.
If you're like us, you've probably wondered what famous people add to their carts. Not the JAR brooch or the Louis XV chair, but the ground coffee and the noise machine. We asked interior and event designer Ken Fulk which items he can't live without.
I was told by someone recently that in some cultures black candles are bad luck, but I don't believe that. I like the masculine quality these have. Don't get me wrong: I think white tapers are beautiful, but these have rusticity and glamour without being precious. What's great about them is that they almost disappear except for the flame. It's like you get to see this dancing flame around a candle that is almost not there in the evening. I buy them by the dozen when I go to Provincetown from our local purveyor Perry's Liquors, and use them a lot at our house every single day. I love white taper candles because they're just more dramatic than simple votives, but the black ones are more appropriate to me for everyday use.
I have a side part and a close-cropped haircut that requires a nice comb, but combs are not so popular these days! Everyone has messy hairstyles that they just style with their hands, but I think a comb can be a gentleman's best friend. These are beautiful handmade tortoise combs, and I like the wide tooth because it's almost like running your hands through your hair — it's not overly perfect, but it keeps that just-came-from-the-barber look that I think is classic and timeless, compared to that I-just-rolled-out-of-bed head.
I'm giving up a state secret by telling you about this barware. I used to have this super fancy Italian, hand-blown, razor-thin glassware that was literally $65, $70 a stem. I would lose one at every dinner party — surprise — and think, "Shit!" So I'm not a snob about these things and am all about a balance of high and low, so one day I discovered this barware and got converted. The double old-fashioned glasses are so thin and beautiful and clean and modern. They're great for cocktails, for water, for juice. I put a big chunky ice cube in it to make an old fashioned, or I'll mix them with expensive crystal on a formal table. And here's the thing — they're nearly identical to the expensive Italian glasses that cost 70 bucks a pop.
I think I was traveling somewhere in France or Italy when I tried this toothpaste for the first time. It's such an indulgence to brush your teeth with something that looks and tastes different than what we're used to. It's funny, I'm not a big licorice eater, but having this almost savory quality to a toothpaste was so much more pleasant than the bright sugary note that we think of as toothpaste. It's a little herbal; it's a little decadent. It makes brushing my teeth a pleasure.
These are actually a little bit hard to find, but I'm told they're Ralph's personal favorite so I think they'll stick around. They fit so well and are flattering in all the right places. What I love is that they're sorta against the trend of everything that's either super skinny or super baggy — these are just in between. Jeans are sort of everyone's holy grail, and when I found these five or six years ago, they became my favorites instantly. I like fitted clothes, but I think the skinny jean around the ankle isn't the most flattering. It looks like every man has leggings on. It makes me crazy. Everyone looks like they have Frankenstein boots on because their jeans are too tight and their shoes are too big.