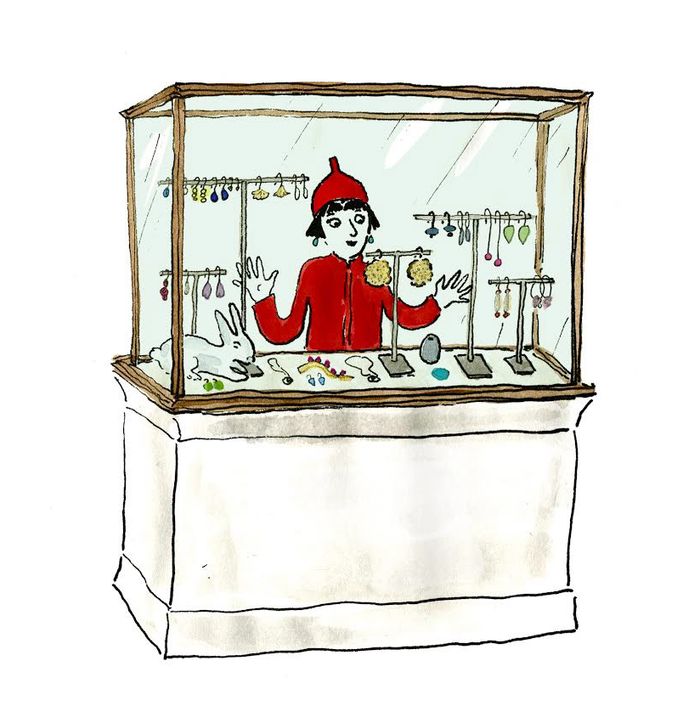 Admiring Ted Muehling earrings in their museum-like display case, as illustrated by the author.
In the opening scene of the 1953 French film The Earrings of Madame de… a woman walks into a church, drops to her knees at the altar, and cries out in anguish: "Dear saint, please make him buy them! I won't forget it!" What she wants is a pair of earrings, and divine help or not, she gets them. In a complicated plot involving jealousy, betrayal, and regifting, the earrings ultimately cause her to spiral out of control, lose her mind, and end up in a sobbing heap — such is finding the perfect present.
In New York there is a similar hysteria around giving and receiving earrings: Ted Muehling earrings.
I first found out about Ted Muehling when I was 15. On Andy, my best friend Pippa's mom, I noticed a pair of gleaming rice kernels dangling from her ears. "They're Ted Muehling," she said with a luster in her voice. "Kit got them for me for our anniversary." Soon after I noticed a similar sight on my friend Georgia's mom: Two bugs of midnight-blue buzzed beneath her lobes. Then I spied a pair on a lady at the Met: carnelian acorns. A woman on the subway: golden moth wings. Once you know the visual vocabulary to spot a Ted Muehling, you'll see them everywhere. The identifier is that they are perfect.
At this point in my life, I was wearing hoop earrings with my astrological sign scripted across the diameter, and I was still reeling from an infected belly-button piercing (Saint Marks Place). Price point aside, Ted Muehlings were not for me. It was a full decade later when I was in need of a Christmas gift for my mom — something that really screamed love and thanks, but did so through the whisper of maturity — that I remembered these magic beans and went out in search of them. The search was a short one as the store is right on White Street.
The earrings are kept in museum vitrines, hung from equally covetable miniature porcelain-cast branches. They range in price from attainable ($160) to dream-worthy ($2,445). An attendant with elegant blue hair will help you retrieve them. Customers shuffle carefully about. I heard a man shopping for his wife decline various suggestions, explaining politely, "She already has that pair." A woman cackled: "I just got a divorce — give me something with spikes!" A sexagenarian admiring her reflection in black-pearl cluster hoops informed both her husband and the store attendant: "These are the ones."
It has been said that Colin Firth is "the thinking woman's heartthrob," and this, too, is Ted Muehling as jeweler. You are telling your loved one that you appreciate their appreciation for form and beauty and craft. You are in fact complimenting their brain. "These are Ted Muehling that my sweetheart got me," Jennifer Aniston gushed in Harper's Bazaar, and I immediately rearranged my personal opinion of Justin Theroux.
I know my mom's present was a success because she only removes the earrings for an occasional in-store buffering. Recently, I counted five women in Ted Muehling earrings at an art opening. I commented to my friend John that both our moms were wearing Ted Muehling. "Oh, yeah, she loves those. They are her favorite gift to give and receive." He actually said that.
Ted Muehling Turquoise Berry Earrings
The Strategist is a new site designed to surface the most useful, expert recommendations for things to buy across the vast e-commerce landscape. Some of our latest conquests include the best notebook, black t-shirts, fashion editor-approved jeans, toothbrush and apartment decor. Note that all prices are subject to change.

If you buy something through our links, New York may earn an affiliate commission.