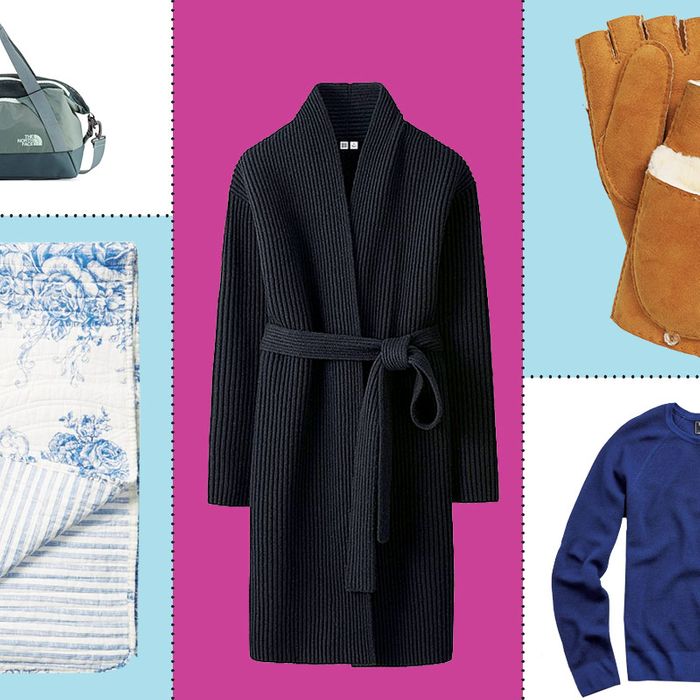 Getting a perfect gift, which is also on sale, is one of life's greatest pleasures (or is that just true for a Strategist editor?). Whatever the case, we rounded up 19 great gifts — from a Want Les Essentials bag to a Tina Belcher figurine — that also happen to be on sale.
A wooly bomber jacket from River Island that can be worn as a cardigan in colder months.
Original Price: $83
For the 10-year-old who is extremely excited for Rogue One: A toy "Striker" (which comes with Nerf darts) for chasing down enemy starships. (Click here for 72 more Star Wars gift ideas.) Note: This particular Striker is sold out; here's another one.
Original Price: $50
A cozy Atari-inspired made-in-Italy wool scarf from Band of Outsiders. Original Price: $375
This North Face gym bag has lots of zippers and as well as a vented external shoe/clothes pocket for sweaty gym gear.
Original Price: $55 Note: This is sold out! But here's an on-sale North Face tote bag that'd be great for the gym for $26.
This gray marble mortar and pestle from Copenhagen-based studio Nordstjerne will sex up their kitchen counter.
Original Price: $95 Note: This is sold out! But here's a Nordstjerne gray marble rolling pin that strikes a similar note — on sale for $46.
When in doubt: Go with a nice wool sweater. This Todd Snyder one "wears like a sweatshirt," and is made from Italian merino.
Original Price: $188
Also an extremely safe bet: super-soft Eberjey pajamas in an unoffensive color, and with some understated piping.
Original Price: $120
This quilt is for the woman who grew up with a Laura Ashley bedroom —and kind of misses it. Note: This is almost sold out—here's a duvet cover in the same pattern that comes in either a red or grey.
Original Price: $200
Totally stumped? A week's supply of Related Garments matching socks and underwear is somewhat foolproof.
Original Price: $145
This heavy lambswool cardigan from Uniqlo is the perfect "just throw this over an outfit when it's freezing" sweater.
Original Price: $90
Perfect for a college student: This handsome, portable record player has built-in speakers and a headphone jack (so they can listen to their Dylan records without waking up the roommate).
Original Price: $100
This perfect little Want Les Essentiels shoulder bag has two, zippable compartments, one of which has a built-in wallet with eight card slots. Original Price: $790
Tina Belcher is obviously the best Bob's Burgers character. Get this Funko Pop figurine for someone who agrees.
Original Price: $11
It's hard to figure out who wouldn't love suede, shearling-lined fingerless gloves from Mackage (which come with a little, buttoned mitten cover). Note: These sold out. They're available in black suede, at full price, here. Original Price: $225