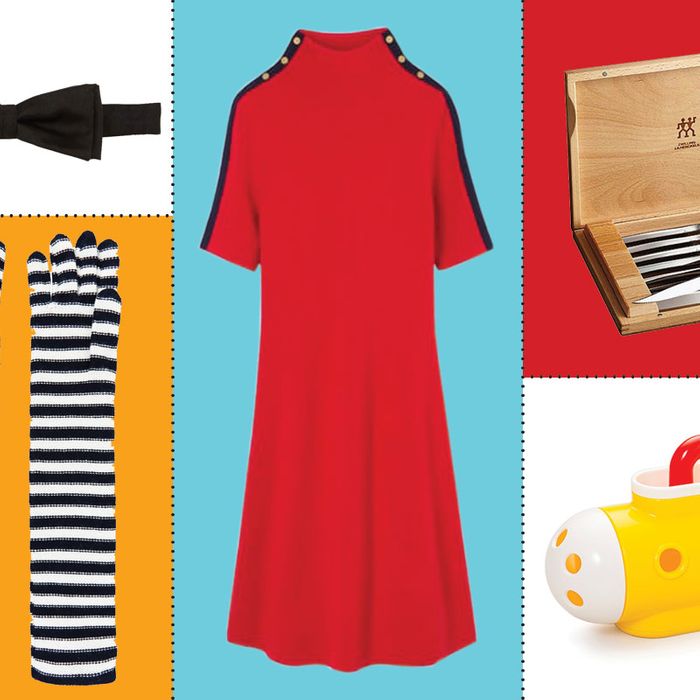 Whether you're looking for a party dress or a bath toy.
We dug through the internet clearance bin and found 20 on-sale items — from an $80 pair of Sonia Rykiel gloves to a $50 set of steak knives — that we think would make excellent gifts.
A practical gift: this black canvas everyday tote from Rag & Bone.
Original Price: $125 Note: This is sold out! It's for sale at full price here, and for $62 here, in olive green.
A less practical (but no less incredible) gift: a Fendi monster-creature tote, where the zipper's the mouth!
Original Price: $1,500.
The perfect kicky little winter party dress, from Tory Burch.
Original Price: $295
There is little that is more elegant and chic than a single pearl on a gold strand. Note: This is sold out! But here's a 50-percent-off pair of Laura Lee pearl stud earrings.
Original Price: $320
A Woolrich buffalo-plaid throw: for their new cabin in Narrowsberg. Original Price: $95
What a good gift this is: a set of eight Zwilling J.A. Henckels steak knives, which come in a handsome wooden case. (Some other steak knives we love.)
Original Price: $160
Can't really go wrong with an Acne Studios three-quarter-length-sleeve black top.
Original Price: $120
They'll look like an (adorable) abominable snowman in this Patagonia bunting.
Original Price: $119
Keep their elbows warm (and chic) with these extra-long, blue-and-white striped Sonia Rykiel gloves.
Original Price: $200
An après-ski tee from London line Etre Cecile.
Original Price: $100
A basic, elegant moss-colored wallet from Michael Kors.
Original Price: $148
This is the cutest submarine bath toy we ever did see.
Original Price: $24
If he has some black-tie functions ahead … nothing sharper than a black-silk bow tie from Hugo Boss.
Original Price: $95
A classic holiday gift — a KitchenAid stand-mixer — that's 60 percent off. (If you have a small apartment, might we suggest the KitchenAid mini.)
Original Price: $500