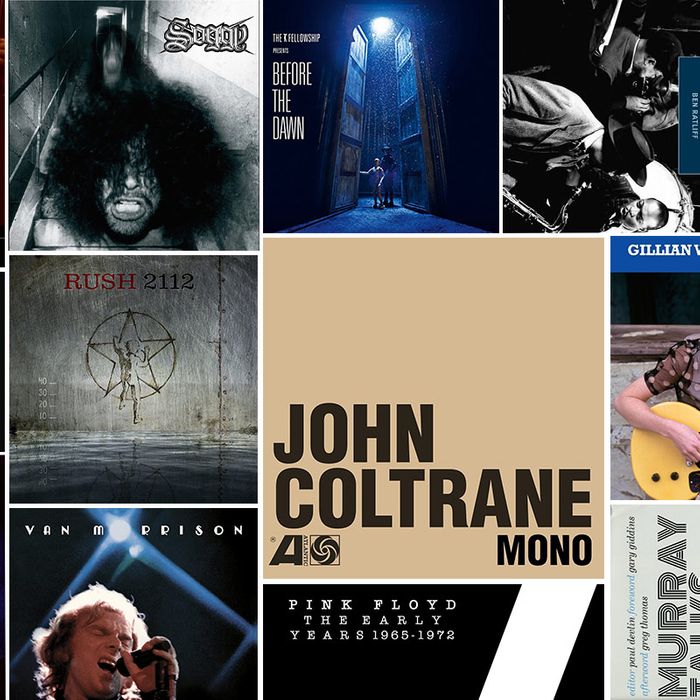 Music snobs are hard to buy for — they think they know everything. The key, then, is to focus on stuff they couldn't have heard yet. That's why this list focuses on newly unearthed and rediscovered music, reissues that contain previously unreleased material, and music books that collect the previously uncollected.
John Coltrane, The Atlantic Years in Mono
Every period of John Coltrane's career deserves close attention. The recordings the saxophone icon made for Atlantic Records in the early '60s are a valuable bridge between his early earthy efforts and later forays into the cosmic avant-garde. The Atlantic Years in Mono is a true aficionado's artifact: a six-LP set, in mono, just like the original recordings.
Pink Floyd, The Early Years 1965–1972

1973's The Dark Side of the Moon is the clear pivot in Pink Floyd's career, the album that took them from underground favorites to stadium-filling megastars. The Early Years is a comprehensive, enlightening gathering (of 27 CDs) of what came before, including unreleased tracks and BBC sessions.
Mezz Mezzrow, Really the Blues

The good people at NYRB press have republished jazz man Mezzrow's picaresque and delightful 1946 memoir, co-written with Bernard Wolfe. As a window into the jazz world, the origins of hipster culture, and the life of a musician dedicated to racial fluidity, there are few, if any, better reads. And the period language is amazing: "You don't detour off the glory road just because some stinchy simp repossess your buggy."
Total Chaos: The Story of the Stooges As Told by Iggy Pop

Not only is Iggy Pop one of rock's legendary front men, he's also one of its best raconteurs. Reading his accounts of the Stooges' career — Jeff Gold is his interviewer in Total Chaos — is almost as energizing as that band's ferocious music. The coffee-table book also includes detailed reproductions of memorabilia from the Stooges incredibly influential career.
Gillian Welch, Boots No. 1: The Official Revival Bootleg

Released to commemorate the 20th anniversary of folk singer Welch's debut, Revival, Boots No. 1 features outtakes, demos, and alternate versions, each raw and revealing, each showcasing Welch's luminous singing.
Led Zeppelin, The Complete BBC Sessions

Insofar as a band as mighty and popular as Led Zeppelin has any overlooked recordings, I've always thought the BBC Sessions never quite got their due. The music, recorded for the Beeb between 1969 and 1971, is leaner and looser than what the band is best known for. The Complete BBC Sessions expands on the material included in the original 1997 archival release.
Kate Bush, Before the Dawn

Kate Bush's London concerts in 2014 were the ensorcelling English singer's first live shows in 35 years. Before the Dawn — three discs and 155 minutes long — captures the performances in sharp detail, and the album's track list burrows deeper than Hounds of Love.