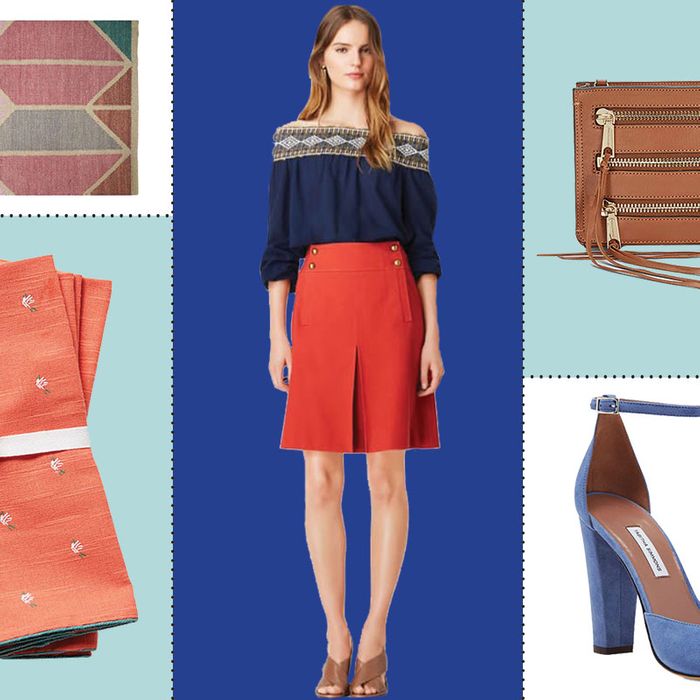 Not totally satisfied with your gift haul? Well, luckily it's serious sale season right now, so you can spend your holiday money on things that you actually want, like some sexy Raf Simons for Adidas sneakers and a gorgeous Milanese scarf.
If you got a bunch of hideous wallets … exchange them and get this extremely handsome one from Everlane that's now $84, as part of their choose-what-you-pay sale.
Original Price: $120
After we finish writing this sales post, we are going to buy these wide-leg pants for $56.
Original Price: $80
Okay, and the last thing we're coveting from the Everlane sale: this perfectly slouchy mock-turtleneck sweater.
Original Price: $140
A pair of knit tights from Wolford, purveyors of the best tights around.
Original Price: $67 Note: This particular style is sold out. But these still available.
Highlights of this MM6 Maison Margiela sweater include the ten gold (functional) buttons along the left arm and the chunky-ish white collar. Original Price: $490
If you broke a few wine glasses at your holiday party, this set of six stemless Sur La Table ones are 50 percent off.
Original Price: $30
A perfect LGD (Little Gold Dress) for your New Year's party. (Pair it with some sparkly heels.)
Original Price: $245
A pair of waterproof, everyday Chelsea boots.
Original Price: $220
A cozy, gray, made–in–New Zealand sheepskin rug. Perfect for the bedside.
Original Price: $69
Another bedside rug: This one has an Art Deco–y pattern, and was made by designer Alyson Fox in collaboration with Hawkins New York.
Original Price: $75
A shearling-lined leather moto jacket that'll be perfect for those not-too-freezing winter days.
Original Price: $300
Our husband had an allergic reaction to his mother's dog over this past holiday weekend, and she told him to dab some peppermint essential oil under his nose, and he stopped sneezing. We're now believers.
Original Price: $30
An easy, breezy black-chiffon jumpsuit. P