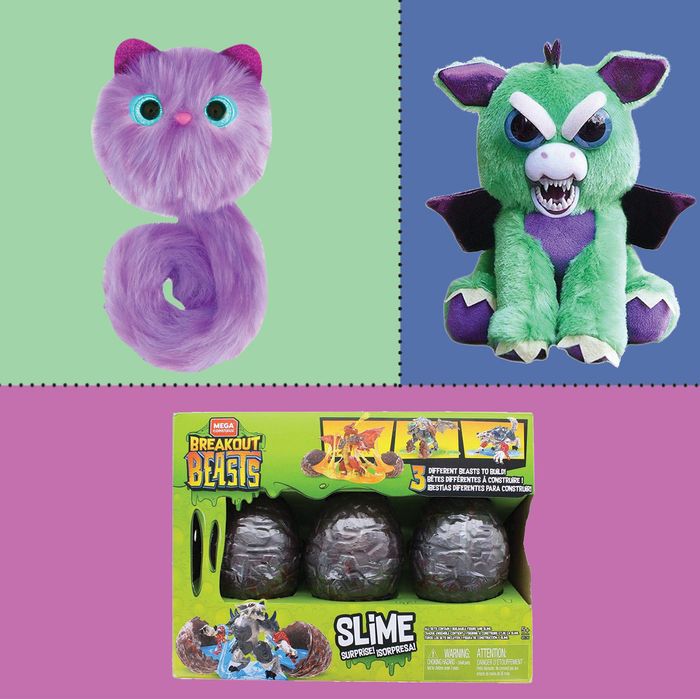 Photo: courtesy of the retailers
For the third year in a row Hatchimals reign supreme at the top of every hottest Christmas toys list — along with Unicorn Poopsie Surprise. And though the furry interactive half Furby/half Tamagotchi babies haven't totally sold out yet, we're predicting they will very soon. Maybe you're hoping to score some Hatchimals (or Hatchibabies CollEggtibles) but also want to keep your options open. Or perhaps you already stocked up and are looking for more interactive pets to add to your child's collection. Whatever your reason, we worked with toy experts and trend forecasters to pull together a shortlist of alternative hot holiday toys the kid in your life is guaranteed to love.
When we visited Ebay's Toytopia toy fair in Chelsea Market the first thing that caught our eye was this interactive TRex (and the kids who couldn't put him down). He may not hatch out of a large speckled egg, but this adorable baby dino responds to kids who feed or wave at him with 35 distinct sounds and movements.
Like Hatchimals' mythical Pengulas and Draggles, Torch is a mythical baby dragon whose favorite food is a toasted marshmallow. He makes his own marshmallow by blowing fire (it's actually water vapor) that turns the treat from white to a crispy brown. Then place it on Torch's tongue and he'll make eating noises and calm down, finally satiated.
Dragons are almost as hot as unicorns this year and this guy from Feisty Pets is heavily featured in Ebay's annual holiday toy book. Like Torch, Ferdinand is a cute baby dragon. Unlike Torch he changes facial expressions from sweet to scary with a squeeze of his sides.
There are plenty of other toys that hatch from eggs, like this surprise baby dragon who comes with her own crystal cage. Listen for her growl and watch her hatch. Put her back in her shell and watch again and again.