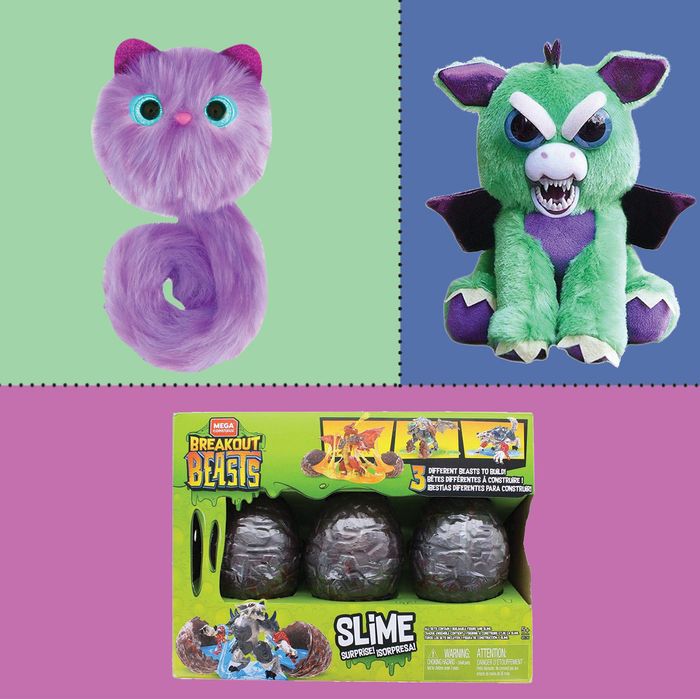 Photo: courtesy of the retailers
For the third year in a row Hatchimals reign supreme at the top of every hottest Christmas toys list — along with Unicorn Poopsie Surprise. And though the furry interactive half Furby/half Tamagotchi babies haven't totally sold out yet, we're predicting they will very soon. Maybe you're hoping to score some Hatchimals (or Hatchibabies CollEggtibles) but also want to keep your options open. Or perhaps you already stocked up and are looking for more interactive pets to add to your child's collection. Whatever your reason, we worked with toy experts and trend forecasters to pull together a shortlist of alternative hot holiday toys the kid in your life is guaranteed to love.
When we visited Ebay's Toytopia toy fair in Chelsea Market the first thing that caught our eye was this interactive TRex (and the kids who couldn't put him down). He may not hatch out of a large speckled egg, but this adorable baby dino responds to kids who feed or wave at him with 35 distinct sounds and movements.
Like Hatchimals' mythical Pengulas and Draggles, Torch is a mythical baby dragon whose favorite food is a toasted marshmallow. He makes his own marshmallow by blowing fire (it's actually water vapor) that turns the treat from white to a crispy brown. Then place it on Torch's tongue and he'll make eating noises and calm down, finally satiated.
Dragons are almost as hot as unicorns this year and this guy from Feisty Pets is heavily featured in Ebay's annual holiday toy book. Like Torch, Ferdinand is a cute baby dragon. Unlike Torch he changes facial expressions from sweet to scary with a squeeze of his sides.
There are plenty of other toys that hatch from eggs, like this surprise baby dragon who comes with her own crystal cage. Listen for her growl and watch her hatch. Put her back in her shell and watch again and again.
For slime fans or fans of something a little more savage than a Hatchimal, this three-pack of mystery eggs hatch to reveal both.
When we asked Laurie Schacht, chief toy officer at The Toy Insider about 2018's top toys she immediately recommended Pomsies, and sure enough these little interactive animals you can attach to your backpack are selling like hot cakes.
In the same universe as Pomsies and Hatchimals, Lil' Gleemerz talk, react to your touch, and light up their tails.
Furby, an old distant relative of the Hatchimal, slips back on the scene as the Furby Connect, which works alongside an app via Bluetooth. Inside the app, players care for Furby by hatching and nurturing baby Furblings and feeding Furby with a food cannon, while the physical Furby will respond to things happening in the digital world by automatically updating itself with new qualities. If you totally disconnect from the app, Furby will still respond to sound and motion, so you can tickle, pet, hold, and shake Furby to receive multiple responses, feed Furby with your finger, and even talk to it — in Furbish, of course.
Made by the same company behind Hatchimals, the Zoomer Chimp has similarly expressive eyes that (although they're admittedly a little creepy) will also change colors based on whatever activity he's up to and respond to user commands. If he sees your hand stretched out in front of him he'll follow it, he does tricks like flipping and waving his butt in the air while making monkey noises, and he also has a dancing mode.
For a non-electronic option, unzip this basketball to transform it into a plush teddy bear. It's kind of like a hatching egg.
The Strategist is a new site designed to surface the most useful, expert recommendations for things to buy across the vast e-commerce landscape. Some of our latest conquests include the best notebook, black T-shirts, fashion-editor-approved jeans, toothbrush, and apartment décor. Note that all prices are subject to change.

If you buy something through our links, New York may earn an affiliate commission.