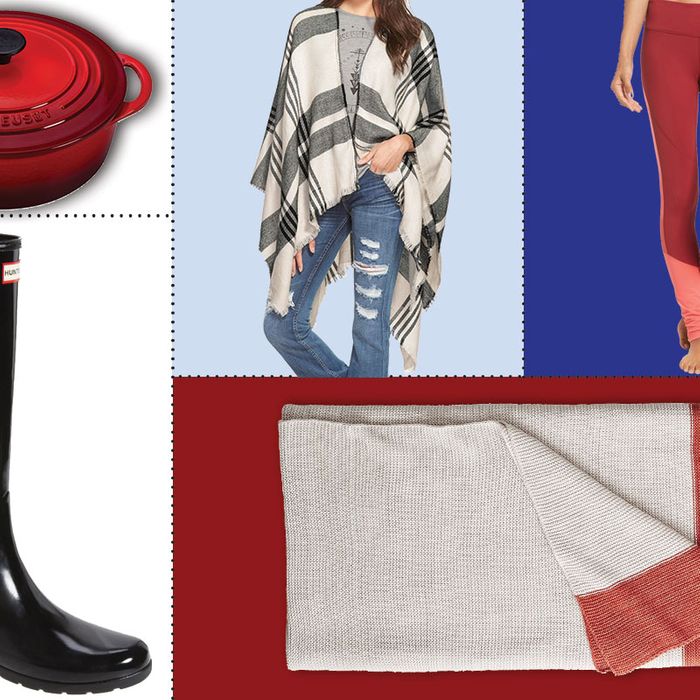 Chances are, you received some kind of gift card this holiday — maybe from a boss or a well-intentioned aunt — and aren't quite sure how to spend it. That's why we went and found some nice things (many on sale) at five very different stores: Now you can collect on that gift instead of letting it gather dust in some drawer.
A high-shine and sophisticated take on the rain boot.
Like wearing a comfy and cozy plaid blanket, but with an actually flattering shape.
For when you're bored of basic black: multicolor leggings in red and pink.
Original Price $59
A slouchy, speckled sweater with slits on the sides that you can live in all winter.
Original Price: $65
Like a cross between a leather biker and a knee-length wool coat.
Original Price: $160
A 100 percent cotton throw with a handsome red border would make a great addition to the love seat.
Original Price: $99
A chunky merino sweater with none of regular wool's scratchy irritation.
Original Price: $98
Like a simple sweatshirt modernized with thoughtful details like a scoopy collar and three-quarter-length sleeves.
Original Price: $50
An unlined black coat stripped down to its most basic silhouette.
Original Price: $195
The stripey sailor shirt is slightly longer in the trunk, which looks just as great untucked or front-tucked.
A super-soft beanie worn with a puffer or wool coat captures that easy model-off-duty vibe.
For all the stews and onion-browning you could want to do through February.
Original Price: $230
You can feel the German precision in this essential kitchen tool.
Original Price: $140
A little New Age–y, sure, but the rose-colored glow it casts is flattering on anyone.
A baker's essential, the professional-grade stand mixer is heavily discounted and the best assistant for batters and doughs.
Original Price: $350
A slick layering piece for when you don't want to wear a parka but need some extra insulation.
Original Price: $70
A perfect pair of running shorts for helping you reach your 2017 fitness goals.
Original Price: $30