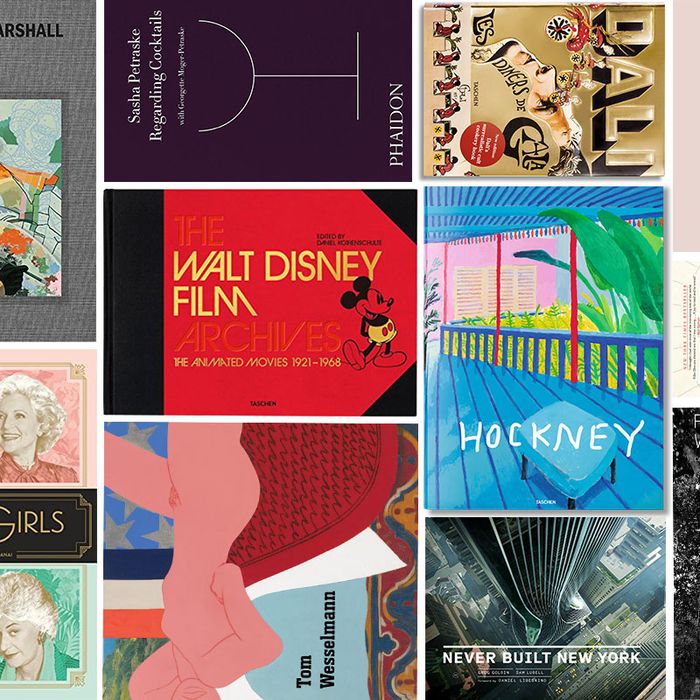 Click here for the most giftable coffee table books of 2017.
So far we've rounded up the best, most giftable, fiction and nonfiction books, and now we're taking on giftable coffee-table books for the holiday season. Below, 30 of the most beautiful, giftable options for the Star Wars freak, New York nightlife alum, wine snob, and '90s snowboarder. (If you're reading this and the weather is above 60 degrees, we've also just released a list of the best, most giftable coffee-table books for spring.)
A reissue of Salvador Dali's cult 1973 cookbook (there were only 400 copies published), Dali: Les Dîners de Gala. This gorgeous book features recipes and trippy photo collages from the over-the-top dinner parties the artist threw with his wife Gala, where guests were required to wear costumes and dine on odd dishes like veal cutlets stuffed with snails and toffee with pine cones.
Portraits of Lower East Side artists and writers during the '70s and '80s (among them Susan Sontag, Robert Wilson, Fran Lebowitz, Joe Brainard) from the late great photographer Peter Hujar.
For a jet-setting type: This box-set includes ten tomes filled with photographs by Alessandra d'Urso of fabulous Europeans enjoying luxurious long weekends at the Borghese palace in Montevettolini, Jacques Garcia's Château du Champ-de-Bataille in Normandy, and private islands off of Cartagena.
The second volume (here's the first) of artists reinterpreting famous movie posters including Pee Wee's Big Adventure, Dazed and Confused, Donnie Darko, Back to the Future, and Labyrinth.
For years, photo collector Jochen Raiss scoured flea markets and old shoe boxes in search of photographs of women sitting in trees. This book is the delightful (somewhat nonsensical) result.
John Derian, designer and influential store owner, has assembled 400 pages of insanely delightful images (like this, this, this) that have inspired him over the years.
Buckminster Fuller's plan to put a geodesic dome over Dodger Stadium. John Johansen's Leapfrog City, a proposal to plop a city above the tenements of East Harlem. These are some of the 200 plans for New York City (that never saw the light of day) and are featured in Never Built New York.
Published in conjunction with the Gagosian London exhibit showcasing the two artists, with essays by John Richardson, Mark Francis, Michael Bracewell, and Ara Merjian.
If you got them a Darth Vader toaster last year: This two-volume boxed set is an homage to Ralph McQuarrie, the artist who worked closely with George Lucas to create Star Wars' visual aesthetic.
Photos from the golden age of snowboarding (the '80s and '90s), a time of "off-season skateboarders and generation X's outcasts trying to find their way through early adulthood and adolescence."
Cocktail recipes and wisdom from the late cocktail icon Sasha Petraske, who passed away last year.
A definitive monograph of the painter Kerry James Marshall's work, timed to his retrospective at the Met Breuer, which Jerry Saltz (and many others) have called "magnificent."
Between 1989 and 1993, at the height of his fashion "It" boy status (Unzipped followed him a year later), Isaac Mizrahi allowed British photographer Nick Waplington backstage to document the fittings before his fall and spring shows. For any fans of the Supers (Christy, Naomi, Kate, Linda, Cindy), it's a must.
The traveler in your life who poo-poos Fodors and Lonely Planet guides will love Atlas Obscura's guide to the weirdest, off-the-beaten-pathest attractions around the world.
Photos of socialite ladies sitting by the pool in Palm Springs and sunbathing on Greek islands abound in the latest Slim Aarons compilation, Women, written by Aarons's former assistant Laura Hawk.
This massive 624-page book from Taschen is a comprehensive overview of Disney's "golden age of animation," and features hundreds of concept paintings, storyboards, cell setups, illustrations, as well as essays from Disney scholars.
From an 1861 photo of Cathedral Rock in Yosemite to the first cell-phone picture, Time magazine has culled together what they've declared the most influential images of all time. (Here's Vulture's piece on the book.)
A collection of Newton's images for fashion magazines such as Elle, Amica, and Vogue, this Taschen title juxtaposes Newton's arresting photography — sexy and bold with a menacing edge — with anecdotes and inspiration behind the work.
This, the first-ever Golden Girls retrospective, includes over 200 behind-the-scenes photos of Dorothy, Rose, Blanche, and Sofia, along with interviews and apparently "never-before-revealed stories."