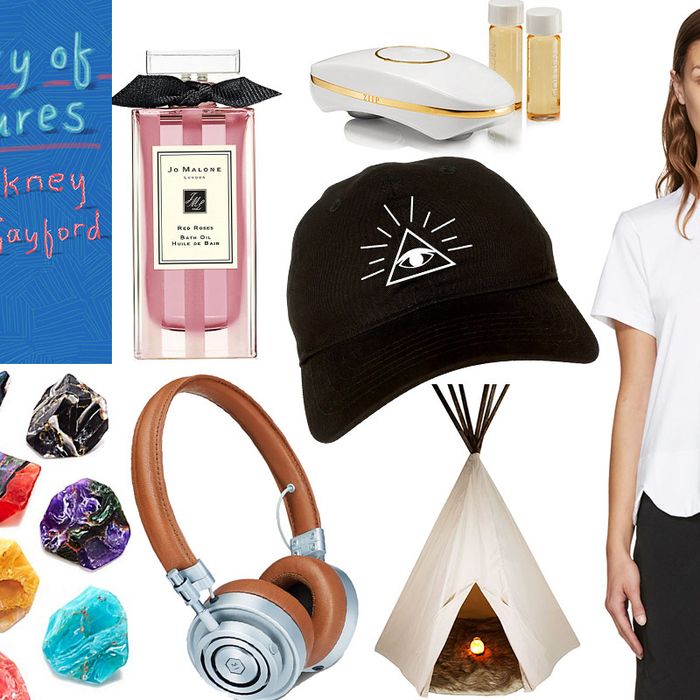 To be a Strategist editor we have to be obsessive, exacting, and a little bit crazy when it comes to finding things to buy on the Internet — so you, the reader, don't have to be. Which is why we thought that letting you in on gifts we'll be giving (and the gifts we will be wanting) might be useful. Mom, dad, niece, roommate — please don't read this.
The Gifts I'll Be Gifting
Monogram tumblers for my aunt who's always saying, "Is this my scotch?"
I'm not giving Elena Ferrante's terrifying new picture book to a child — it's about a little girl's doll who gets lost on the beach and is taunted by a man with a rake who tells her to "drink up the pee" — but my friend who loves Ferrante will appreciate it.
My brother-in-law recently got into meditating via the Headspace app. I wish I could afford to get him one of those Headspace meditation pods, but instead I might go in with another family member on this meditation teepee.
The Gifts I Want to Get
I thought of body wash as something only my dad uses, but I discovered this one by accident. I thought they were body lotion, because the texture is so silky and creamy, and because the labels are all written in French, which I don't speak. Then I tried it and it made my skin so soft that I didn't even need to put on moisturizer after my shower. And the best part is the sweet, gentle aroma it leaves — like you're a newborn baby in a garden of the Loire Valley. I want one in every scent.
I want everything warm from Uniqlo: First and foremost, these fleece-lined hoodies — the inside is so velvety-soft, I would believe you if you told me it was mink. And also their latest "Extra Warm" Heattech under layers, which are supposedly 1.5 times even warmer than their regular Heattech.
People (and by people I mean Jennifer Aniston) swear by micro-current facials. The idea is you try to relax while someone runs an electrical stimulation device all over your face to supposedly boost circulation and collagen production and plump the skin back to where it was ten years ago. But they're the type of facials you're supposed to do all the time in order to see the best results, which can get insanely expensive. Now that there's this well-reviewed at-home version (which over time is a lot more affordable than going to a spa), I would like to get in on the experience.
Mainly because I want to know what Hockney has to say about the seawater in Disney's Pinocchio.
A milk frother: This one comes with a convenient little stand — so I can make endless cups of steaming, extra-foamy golden milk and live forever.
The Gifts I'll Be Giving
I used to think a candle was the most basic and uninspired gift idea, but then my roommate settled for a mini Feu de Bois because she didn't want to spend over $60 on a candle for herself. That's where I come in. I'm going to get her the big one this year.
For my little sister in art school who knows nothing about soccer, but once saw someone cool wearing this Juventus with light-wash ripped jeans on Instagram and sent me the picture.
The Gifts I Want to Get
I am on an eternal quest to find the best looking, best sounding, most comfortable over-ear headphones that will also fold up and fit comfortably into whatever bag I'm using that day. I think these might finally be the one.
I'm all about the kimono around-the-house look, but the one I bought at Pearl River a few years ago isn't real silk and it's time for an upgrade. I'd like this one from Anthropologie.
There is nothing in the world I want more than a Yeezy shearling and when you think about it (which I have, over and over again) it's actually the most normally priced Yeezy item available.
The Gifts I'll Be Giving
I got this a few years ago from a coworker — the German-made bottle opener also functions as a resealer for unfinished beverages (it has fun diagrammatic instructions etched right on it). Perfect as an inexpensive stocking stuffer with some design bona fides.
In my apartment, it's always a certain type of houseguest — well-moisturized friend's mom, awash in cream and taupe — who will comment, "Yummy, what is that smell!" Most candles have that resinous and woodsy or else ecclesiastical-incense note, but this is bright, citrusy, and effervescent. A super mom present.
Apparently this was a craze that swept Facebook last year, but I hadn't heard of it when my brother brought it out at Thanksgiving two weeks ago, when my tween cousin went bonkers over it. The game is basically Russian roulette with whipped cream in the face (it's as dumb and unsophisticated as it sounds), but it's also a bull's-eye group activity when you've run out of ideas for small talk with various cousins' girlfriends.